Agrapart 7 Crus Blanc de Blancs Brut NV (6x75cl)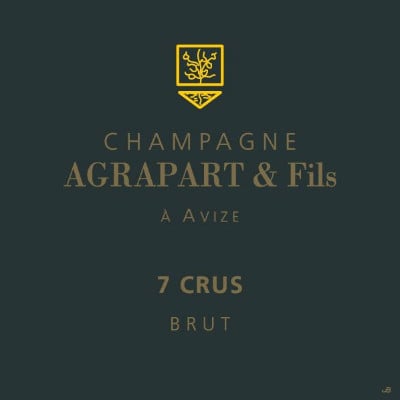 Based half-each on vintages 2010 and 2009, and with 10% Pinot Noir "smuggled in," Agrapart's NV Brut Blanc De Blancs 7 Crus – named for the seven Cote des Blancs villages from which it is sourced, and in this instance disgorged in May, 2013 – displays uncommon delicacy, buoyancy, tension and nuance for an "intro-level" cuvee, and that uncannily combined with a sense of richness and purity to its white peach and grapefruit. Almond and pistachio cream lend allure; chalk and salt along with piquancy of peach kernel and toasted pumpkin seed impart interest, invigoration and saliva-inducement to an effusively juicy, succulent and refreshingly sustained finish. Seven grams of residual sugar, incidentally, is fairly high by estate standards but perfectly complements this wine's forward fruit without engendering any sense of outright sweetness. This exceptional value in Champagne should remain irresistible for at least the next couple of years, and I shall be anxious to experience what happens further down the pike as I revisit the bottles I recently purchased (because older "intro-level" bottles are not usually something that growers – or, for that matter, most self-styled wine collectors – can lay their hands on to pour for you).
Floral and fresh, this elegant version offers hints of blackberry, slivered almond, tangy apple and smoky mineral riding a tightly knit, silky texture.
91
Antonio Galloni - Vinous
The NV Brut Blanc de Blancs Premier Cru 7 Crus is a lovely, introductory-level Champagne from Agrapart. Bright and focused, but also with more than enough mid-palate richness to be accessible upon release, the 7 Crus is super-expressive today. The inclusion of 10% Pinot Noir a few years back has changed the 7 Crus in a meaningful way in making the wine more accessible in its youth. The creamy, spiced finish is hugely appealing, but there is a lot to like here, including the wine's overall balance. This release is a blend of equal parts 2013 and 2012. The seven villages in the blend are Avize, Oger, Oiry, Cramant, Avenay Val d'Or, Bergères les Vertus and Mardeuil.
Details

Year

NV

Colour

White

Country

France

Region

Champagne

Sub Region

NA

Designation

Classification

Pack Size

6x75cl

LWIN

119615710000600750

Reviews (3)

Based half-each on vintages 2010 and 2009, and with 10% Pinot Noir "smuggled in," Agrapart's NV Brut Blanc De Blancs 7 Crus – named for the seven Cote des Blancs villages from which it is sourced, and in this instance disgorged in May, 2013 – displays uncommon delicacy, buoyancy, tension and nuance for an "intro-level" cuvee, and that uncannily combined with a sense of richness and purity to its white peach and grapefruit. Almond and pistachio cream lend allure; chalk and salt along with piquancy of peach kernel and toasted pumpkin seed impart interest, invigoration and saliva-inducement to an effusively juicy, succulent and refreshingly sustained finish. Seven grams of residual sugar, incidentally, is fairly high by estate standards but perfectly complements this wine's forward fruit without engendering any sense of outright sweetness. This exceptional value in Champagne should remain irresistible for at least the next couple of years, and I shall be anxious to experience what happens further down the pike as I revisit the bottles I recently purchased (because older "intro-level" bottles are not usually something that growers – or, for that matter, most self-styled wine collectors – can lay their hands on to pour for you).

Floral and fresh, this elegant version offers hints of blackberry, slivered almond, tangy apple and smoky mineral riding a tightly knit, silky texture.

91

Antonio Galloni - Vinous

The NV Brut Blanc de Blancs Premier Cru 7 Crus is a lovely, introductory-level Champagne from Agrapart. Bright and focused, but also with more than enough mid-palate richness to be accessible upon release, the 7 Crus is super-expressive today. The inclusion of 10% Pinot Noir a few years back has changed the 7 Crus in a meaningful way in making the wine more accessible in its youth. The creamy, spiced finish is hugely appealing, but there is a lot to like here, including the wine's overall balance. This release is a blend of equal parts 2013 and 2012. The seven villages in the blend are Avize, Oger, Oiry, Cramant, Avenay Val d'Or, Bergères les Vertus and Mardeuil.

Producer

In the Agrapart Family since its foundation in 1894, this classic grower's domain extends to 62 parcels of vines across the Cote des Blancs. Everything about Agrapart oozes tradition, with the focus on minimal chemical intervention and reliance upon 'proper' technique to ensure the health and quality of the vines. The wines are bottled unfined, unfiltered and without stabilisation so as to offer the purest expression possible from some of Champagnes finest vineyards.

Value Comparison