Ausone 2016 (6x75cl)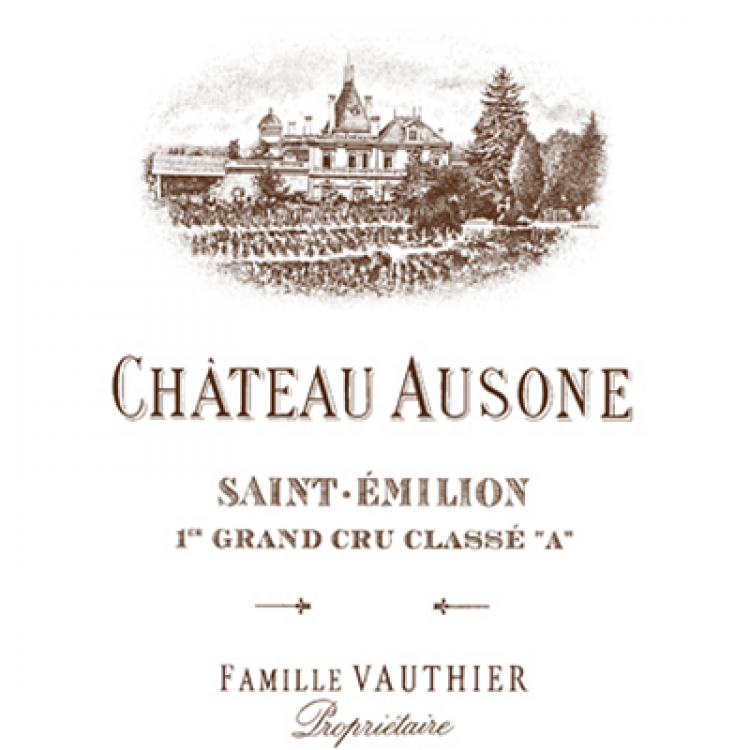 Ausone is always one of the most thrilling wines during our annual Primeurs visit to Bordeaux. In 2016 it may be one of the only Saint-Emilions to genuinely challenge Cheval's supremacy. Absolutely beautiful.
100
The Wine Cellar Insider
Deep, dark garnet in color, you are instantly hit with a unique note of flowers and crushed rocks as you first nose the wine. On the palate, it tastes and feels liquefied essences of rocks and perfectly ripe, dark pit fruit and blackberries. The wine has symmetry. Everything is in balance between the fruit, tannins and acidity. The seamless finish, with its non-stop waves of fruit coats your palate in all the right ways. The wine remains with you for over 60 seconds! From a blend of 50% Cabernet Franc and 50% Merlot, this is one of the wines of the vintage. If you have cash, and the time to wait for maturity, this is a future legend in the making!
Reviewer Name: Jeff Leve
Review Date: 21st September 2019
The incredible succulent power in Ausone puts a different perspective on other wines, as it so often does. The epitome of perfumed finesse. The yield is up at 40hl/ha, high for these poor limestone soils, and the remarkable clarity of expression that runs right through the delicate but fleshy raspberry and smoke-tinged palate is helped by a pH of 3.5 (compared to 3.6 last year). In my book this counts as one of the truly exciting signatures of the vintage and that is only boosted by the limestone terroir. Stunning, with enormous persistency and a finish that just doesn't want to quit. From a blend of 50% Merlot and 50% Cabernet Franc, aged in 80% new oak barrels.
Drinking Window: 2027 - 2050
Reviewer Name: Jane Anson
Review Date: 3rd April 2017
The 2016 Ausone was mightily impressive from barrel. Bottled in July 2018, it has a very intense bouquet of black cherries, cassis, cedar and light pencil box aromas emanating from the 50% Cabernet Franc. The palate is medium-bodied with supple, filigreed tannin that belies the density and structure of this Ausone. There is something agile about Alain and Pauline Vauthier's wine this year. Yet the wine also reveals considerable depth and concentration, gently but insistently gripping the palate with a touch of white pepper and Earl Grey toward the persistent finish. There is not a hair out of place on this Ausone ­­– one of the finest produced in recent years.
Drinking Window: 2026 - 2070
Reviewer Name: Neal Martin
Review Date: 18th January 2019
The 2016 Ausone is a blend of 50% Cabernet Franc and 50% Merlot. Deep garnet-purple colored, it's quite closed at first glance, slowly unfurling to reveal the most incredible perfume of violets, chocolate-covered cherries, warm black plums, Black Forest cake and roasted nuts with suggestions of charcuterie, wood smoke and cedar chest. The medium to full-bodied palate offers a quiet intensity of flavors that grow in the mouth to unveil layer after layer of black and red berries intertwined with beautiful savory notions framed by firm yet velvety tannins, finishing with epic length and amazing energy. It practically tingles on the palate!
Drinking Window: 2022 - 2066
Reviewer Name: Lisa Perrotti-Brown
Review Date: 30th November 2018
Beautifully structured, this wine has elegance despite its heft and richness. It has the enticing acidity of the year as well as concentration and generous, spicy, perfumed Cabernet Franc. This is a wine to age and it will not be ready before 2025.
Reviewer Name: Roger Voss
Review Date: 1st May 2019
This is one of the most subtle and ethereal Ausones I have encountered in a while. It's a full-bodied wine, yet one that's very refined in texture, all the way to the extremely long finish. Shows real dignity and character. A throwback to the great years of the 1950s.
96-99
Antonio Galloni - Vinous
A regal, soaring wine, the 2016 Ausone is one of the wines of the vintage. Cabernet Franc aromatics meld into a core of beautifully layered, exquisite fruit. The flavors are bright, lifted and wonderfully focused throughout. Sweet red berry, blood orange, jasmine and sweet spice notes build into a super-expressive, silky finish supported by bright acids and vibrant salinity. Stunningly beautiful and precise, Ausone is shaping up to be a jewel of a wine.


Deep crimson. Very ripe nose and then rather chewy end. Drying finish. Not charming for the moment - even a little exaggerated. Though there is a broad panoply of fruit flavours that come rather precipitously to a drying end.

Details

Year

2016

Colour

Red

Country

France

Region

Bordeaux

Sub Region

Saint-Emilion Grand Cru

Designation

Classification

Pack Size

6x75cl

ABV

13.50°

Drinking Window

2027 - 2070

Drinking Recommendation

Not Ready

LWIN

100620520160600750

Reviews (8)

100

The Wine Cellar Insider

Deep, dark garnet in color, you are instantly hit with a unique note of flowers and crushed rocks as you first nose the wine. On the palate, it tastes and feels liquefied essences of rocks and perfectly ripe, dark pit fruit and blackberries. The wine has symmetry. Everything is in balance between the fruit, tannins and acidity. The seamless finish, with its non-stop waves of fruit coats your palate in all the right ways. The wine remains with you for over 60 seconds! From a blend of 50% Cabernet Franc and 50% Merlot, this is one of the wines of the vintage. If you have cash, and the time to wait for maturity, this is a future legend in the making!

Reviewer Name: Jeff Leve

Review Date: 21st September 2019

The incredible succulent power in Ausone puts a different perspective on other wines, as it so often does. The epitome of perfumed finesse. The yield is up at 40hl/ha, high for these poor limestone soils, and the remarkable clarity of expression that runs right through the delicate but fleshy raspberry and smoke-tinged palate is helped by a pH of 3.5 (compared to 3.6 last year). In my book this counts as one of the truly exciting signatures of the vintage and that is only boosted by the limestone terroir. Stunning, with enormous persistency and a finish that just doesn't want to quit. From a blend of 50% Merlot and 50% Cabernet Franc, aged in 80% new oak barrels.

Drinking Window: 2027 - 2050

Reviewer Name: Jane Anson

Review Date: 3rd April 2017

The 2016 Ausone was mightily impressive from barrel. Bottled in July 2018, it has a very intense bouquet of black cherries, cassis, cedar and light pencil box aromas emanating from the 50% Cabernet Franc. The palate is medium-bodied with supple, filigreed tannin that belies the density and structure of this Ausone. There is something agile about Alain and Pauline Vauthier's wine this year. Yet the wine also reveals considerable depth and concentration, gently but insistently gripping the palate with a touch of white pepper and Earl Grey toward the persistent finish. There is not a hair out of place on this Ausone ­­– one of the finest produced in recent years.

Drinking Window: 2026 - 2070

Reviewer Name: Neal Martin

Review Date: 18th January 2019

The 2016 Ausone is a blend of 50% Cabernet Franc and 50% Merlot. Deep garnet-purple colored, it's quite closed at first glance, slowly unfurling to reveal the most incredible perfume of violets, chocolate-covered cherries, warm black plums, Black Forest cake and roasted nuts with suggestions of charcuterie, wood smoke and cedar chest. The medium to full-bodied palate offers a quiet intensity of flavors that grow in the mouth to unveil layer after layer of black and red berries intertwined with beautiful savory notions framed by firm yet velvety tannins, finishing with epic length and amazing energy. It practically tingles on the palate!

Drinking Window: 2022 - 2066

Reviewer Name: Lisa Perrotti-Brown

Review Date: 30th November 2018

Beautifully structured, this wine has elegance despite its heft and richness. It has the enticing acidity of the year as well as concentration and generous, spicy, perfumed Cabernet Franc. This is a wine to age and it will not be ready before 2025.

Reviewer Name: Roger Voss

Review Date: 1st May 2019

This is one of the most subtle and ethereal Ausones I have encountered in a while. It's a full-bodied wine, yet one that's very refined in texture, all the way to the extremely long finish. Shows real dignity and character. A throwback to the great years of the 1950s.

96-99

Antonio Galloni - Vinous

A regal, soaring wine, the 2016 Ausone is one of the wines of the vintage. Cabernet Franc aromatics meld into a core of beautifully layered, exquisite fruit. The flavors are bright, lifted and wonderfully focused throughout. Sweet red berry, blood orange, jasmine and sweet spice notes build into a super-expressive, silky finish supported by bright acids and vibrant salinity. Stunningly beautiful and precise, Ausone is shaping up to be a jewel of a wine.



Deep crimson. Very ripe nose and then rather chewy end. Drying finish. Not charming for the moment - even a little exaggerated. Though there is a broad panoply of fruit flavours that come rather precipitously to a drying end.


Producer

About Château Ausone

Château Ausone vies with Cheval-Blanc to be Saint-Émilion's most prestigious estate. Named after the Roman poet Ausonius who once resided in this area, Ausone is one of four Premier Grand Cru Classé (A) wines in the classification of Saint-Émilion (along with Angélus, Cheval Blanc and Pavie).

Quite possibly the oldest winemaking estate in the entire region, the vines of Château Ausone occupy the same site as a villa owned by the Roman poet and proconsul Ausonius nearly 2000 years ago. The connection to the current name is clear to see, but the Vauthier family have owned these hallowed vineyards for several centuries into the 12th generation with Pauline.

Viniculture

Ausone stands tall over the town of St-Émilion itself, with a mere seven hectares of entirely classified vines – making it the single smallest First Growth in any appellation, on any Bank. Clinging precariously to steep, ancient slopes comprised of clay and limestone with particularly shallow soil cover, it has been said that Ausone is one of few properties in the region where one can simply tell from the sight of its terroir that the wine is exceptional. There are Cabernet Franc vines that are more than 100 years of age (planted 1906).

Striking chunks of limestone are immediately obvious, and it comes as no surprise to learn that such is the extent of said geological influence that there are deep quarries running beneath the vines. Actively worked between the 13th and 19th centuries, the dormant mines are now used by the Vauthiers to store oak barrels at a temperature of 12 degrees and a steady year-round humidity of 97% – in fact so effective are these limestone cellars that a dehumidifier had to be installed!

Aside from producing some of the greatest, rarest wine on Earth, Ausone's terroir is exceptional for its consistency. Vintage after vintage, both the Grand Vin and the second wine excel whilst others stumble – the latter representing a minuscule 10% of the total production of an already dramatically small amount.

Vintage Comparison

Valuation Tools

Wine Rating is intended to show the quality of the wine from an investment perspective. It takes into account the prices achieved by the producer, the quality of the vintage and the critics' scores for this wine. AAA is the best rating, and B the most speculative.

Please wait a few seconds whilst we process the market data for this wine...

Calculating...

Investment Rating

Wine Rating is intended to show the quality of the wine from an investment perspective. It takes into account the prices achieved by the producer, the quality of the vintage and the critics' scores for this wine. AAA is the best rating, and B the most speculative.

Show Investment Rating Guide

Graph