Ausone 2018 (6x75cl)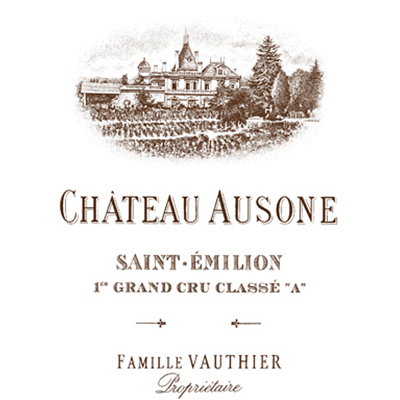 Comprised of 60% Cabernet Franc to 40% Merlot, it unveils an exceedingly complex array of aromas. Dense black fruit, anise, coffee, truffle and iron all combine to magnificent effect. This is a masterful display of wine-making finesse.
This is really exotic with wild-fruit character that I have seldom encountered in Ausone. Full-bodied yet reserved and very tight. Amazing depth and purity of fruit. Incredible beauty. Sexy.
Review Date: 11th April 2019
The 2018 Ausone is composed of 60% Cabernet Franc and 40% Merlot. The Merlot was harvested September 25 and 27, and the Cabernet Franc was harvested October 3, 8 and 9. Deep purple-black in color, it is an impenetrable wall to begin, unrelenting without persistent coaxing, at last uncoiling to offer glimpses at preserved plums, blueberry coulis, molten licorice and underbrush with emerging scents of lavender, iron ore, crushed stones, charcoal and Indian spices plus a waft of red roses. Full-bodied, rich, decadent and tightly knit, it offers layer upon layer of fruit, spice and mineral nuances with a firm frame of exquisitely fine tannins and bold freshness, finishing with epic length and heart-stopping beauty.
Reviewer Name: Lisa Perrotti-Brown
Review Date: 23rd April 2019
Pauline Vauthier is the 11th generation of the family to be producing wine here. It's always such an incredible wine, and as ever you can see that they are playing a different game from so many others. The juice, the slate, the minerality, the drip-drip-drip of freshly squeezed berries, spice and barely-there tannins, the sapidity on the finish. Amazing!
Drinking Window: 2028 - 2042
Reviewer Name: Jane Anson
Review Date: 11th April 2019
Ratcheting up the intensity, the 2018 Château Ausone has an essence of limestone-like character as well as thrilling notes of blackberries, black raspberries, white flowers, truffle, forest floor, and graphite. Possessing full-bodied richness, a deep, beautifully concentrated mid-palate, ample tannins, and a great finish, this is a powerful, layered Ausone that's going to need 5-7 years of bottle age but should knock your socks off over the following 25+ years. The 2018 is a blend of 60% Cabernet Franc and 40% Merlot, brought up in a mix of new and used barrels.
Review Date: 1st May 2019
The 2018 Ausone is off the charts. Deep, sensual and mysterious, the 2018 is going to need many years to show the full breadth of its potential. And yet, there is so much there. Rich and concentrated on the palate, with phenomenal persistence, the 2018 is loaded with energy, tension and precision, offering a compelling interplay of opulence, saline intensity and structure. It is without question one of the wines of the vintage.
Reviewer Name: Antonio Galloni
Review Date: 1st May 2019
Details

Year

2018

Colour

Red

Country

France

Region

Bordeaux

Sub Region

Saint-Emilion Grand Cru

Designation

Classification

Pack Size

6x75cl

Drinking Window

2028 - 2042

Drinking Recommendation

Not Ready

LWIN

100620520180600750

Reviews (5)

This is really exotic with wild-fruit character that I have seldom encountered in Ausone. Full-bodied yet reserved and very tight. Amazing depth and purity of fruit. Incredible beauty. Sexy.

Review Date: 11th April 2019

The 2018 Ausone is composed of 60% Cabernet Franc and 40% Merlot. The Merlot was harvested September 25 and 27, and the Cabernet Franc was harvested October 3, 8 and 9. Deep purple-black in color, it is an impenetrable wall to begin, unrelenting without persistent coaxing, at last uncoiling to offer glimpses at preserved plums, blueberry coulis, molten licorice and underbrush with emerging scents of lavender, iron ore, crushed stones, charcoal and Indian spices plus a waft of red roses. Full-bodied, rich, decadent and tightly knit, it offers layer upon layer of fruit, spice and mineral nuances with a firm frame of exquisitely fine tannins and bold freshness, finishing with epic length and heart-stopping beauty.

Reviewer Name: Lisa Perrotti-Brown

Review Date: 23rd April 2019

Pauline Vauthier is the 11th generation of the family to be producing wine here. It's always such an incredible wine, and as ever you can see that they are playing a different game from so many others. The juice, the slate, the minerality, the drip-drip-drip of freshly squeezed berries, spice and barely-there tannins, the sapidity on the finish. Amazing!

Drinking Window: 2028 - 2042

Reviewer Name: Jane Anson

Review Date: 11th April 2019

Ratcheting up the intensity, the 2018 Château Ausone has an essence of limestone-like character as well as thrilling notes of blackberries, black raspberries, white flowers, truffle, forest floor, and graphite. Possessing full-bodied richness, a deep, beautifully concentrated mid-palate, ample tannins, and a great finish, this is a powerful, layered Ausone that's going to need 5-7 years of bottle age but should knock your socks off over the following 25+ years. The 2018 is a blend of 60% Cabernet Franc and 40% Merlot, brought up in a mix of new and used barrels.

Review Date: 1st May 2019

The 2018 Ausone is off the charts. Deep, sensual and mysterious, the 2018 is going to need many years to show the full breadth of its potential. And yet, there is so much there. Rich and concentrated on the palate, with phenomenal persistence, the 2018 is loaded with energy, tension and precision, offering a compelling interplay of opulence, saline intensity and structure. It is without question one of the wines of the vintage.

Reviewer Name: Antonio Galloni

Review Date: 1st May 2019

Producer

Château Ausone vies with Cheval-Blanc to be Saint-Émilion's most prestigious estate. Named after the Roman poet Ausonius who once resided in this area, Ausone is one of four Premier Grand Cru Classé (A) wines in the classification of Saint-Émilion (along with Angélus, Cheval Blanc and Pavie). Only three families have ever owned Ausone, and Alain Vauthier (who manages Ausone with his daughter Pauline today) are direct descendants of the c17th owners. The tiny 7ha vineyard of Ausone is 65% Cabernet Franc and 35% Merlot and is located at the southern edge of Saint-Émilion atop a steep south-facing slope. The steep, hillside terroir is clay with limestone and limestone over Asteria limestone in the soil. This is what gives Ausone its intense mineral character. Ausone has some of the oldest vines in Saint-Émilion. There are Cabernet Franc vines that are more than 100 years of age (planted 1906).

Value Comparison