Ausone 2022 (6x75cl)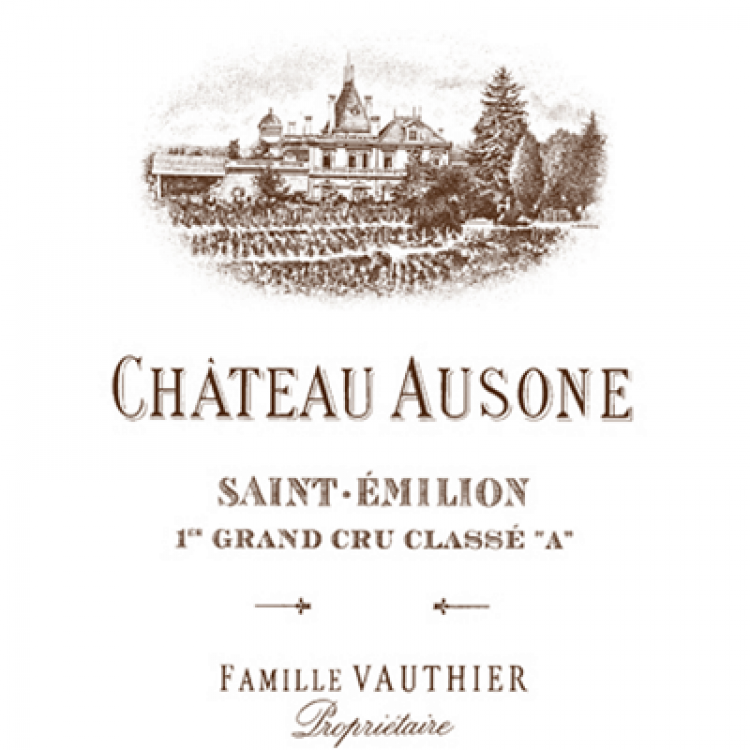 98-100
Jane Anson Inside Bordeaux
Intense and concentrated, with fennel, aniseed and liqourice root. Where Chapelle d'Ausone celebrates a wave of opulence in the vintage, this focuses more clearly on black tea, slate, intense black chocolate. Precise and well cut, this is creamy and exuberant without sacrificing elegance and balance. Amazing depths of flavour and grip. A true En Primeur sample where you know you are a long long way from this being ready to drink. The first year, incidentally, of not Premier Grand Cru Class A, although the ranking has not been featured on the label since 2012. No irrigation at Ausone. 100% new oak. Harvest September 5 to 27. 7.25ha. Conversion to organic farming since 2020, Philippe Baillarguet cellar master, Pauline Vauthier owner and winemaker. Potential 100.
Drinking Window: 2032 - 2050
Reviewer Name: Jane Anson
Review Date: 11th May 2023
97-99+
The Wine Independent
The Ausone 2022 is a blend of 50% Merlot and 50% Cabernet Franc, with a yield of 38 hl/ha. The Merlot was harvested between 5th and 7th September and the Cabernet Franc between 21st and 27th September. It has a pH of 3.57, a TPI of 66, and it is opaque purple in color. The wine is completely closed on the first smell, requiring a lot of swirling to begin to release fragrant notes of dried roses, licorice, cast-iron pan, and cumin seed, giving way to a core of Morello cherries, wild blueberries, and redcurrant preserves. The full-bodied palate is an exercise in elegance, featuring very fine-grained, very firm tannins and breathtaking tension to frame the tightly wound red and black fruit layers, finishing with epic length and mind-blowing complexity. Holding its cards close to its chest, it's a hard wine to read at first glance, yet there's a lot of nuanced sub-text bound within the rock-solid structure. I see this slowly unfolding over many years to become a wine for the ages.
Drinking Window: 2032 - 2072
Reviewer Name: Lisa Perrotti-Brown
Review Date: 14th May 2023
This is really open with bright and flamboyant aromas of cassis and cherries. Blueberries. Some peaches as well. I don't remember a young Ausone like that. Full-bodied with flamboyant fruit and energy. Very fine tannins. They are there but you don't feel them. Supple but very fruity. And intensely fruity at the end.
Review Date: 19th April 2023
The Grand Vin from this hallowed terroir is an even split of Cabernet Franc and Merlot that was fermented in wooden vats and will spend 20 months in new barrels. Its saturated purple hue is followed by an up-front, sexy, full-bodied Ausone offering a wealth of fruit as well as notes of black cherries, blueberries, chocolate, scorched earth, and an incredible sense of spring flowers. Concentrated and incredibly pure, with silky tannins on the palate, it has the texture and fruit to almost shine even now but should still evolve for 30 years or more.
Review Date: 5th November 2023
95-97+
Vinous - Neal Martin
The 2022 Ausone was picked from 5 to 30 September and matured for 20 months in French oak. These aromatics take a little time to open in the glass. Once they do, they are precise with wilted iris flowers infusing the black fruit and background pencil box and incense hints. The palate is medium-bodied with silver bead acidity threaded through the blackberry and bilberry fruit. Fresh and focused, this Ausone possesses a structured finish with a pinch of black pepper on the finish. Elegant in style, this Ausone almost creeps up in you and seduces, intellectual and persistent in the mouth. Upon departing, I couldn't help wondering if I had witnessed this Saint-Émilion demonstrates its full potential, hence the plus sign against my score. 14.4% alcohol.
Drinking Window: 2030 - 2065
Reviewer Name: Neal Martin
Review Date: 17th May 2023
95-97
Vinous - Antonio Galloni
The 2022 Ausone is dense, powerful and quite brooding in demeanor. Dark-toned fruit, spice, leather, licorice and dried herbs add to an impression of somber intensity. In so many vintages Ausone is immediately alluring, but the 2022 is a potent, backward wine that is going to require many years to be at its finest. The blend is equal parts Cabernet Franc and Merlot. Harvest took place between September 5 and 9 for the Merlot and September 21 and 27 for the Cabernet Franc. The 2022 is a decidedly hedonistic Ausone.
Drinking Window: 2032 - 2062
Reviewer Name: Antonio Galloni
Review Date: 5th October 2023
Unusually aromatic at this early stage. Complex floral and red- and dark-fruit notes. Uncompromisingly dense with plentiful but fine tannins. Smooth texture. No hard edges but firm and persistent. Plenty of potential. (JL) 15%
Drinking Window: 2032 - 2055
Reviewer Name: James Lawther MW
Review Date: 5th May 2023
A blend of equal parts Merlot and Cabernet Franc, the 2022 Ausone unwinds in the glass with aromas of plums, raspberries and cherries complemented by hints of crushed mint and spices, framed by a lavish patina of creamy new oak. Full-bodied, layered and rather muscular, it's deep and concentrated, its vibrant core of fruit framed by a serious chassis of rich, powdery tannins, concluding with a long, saline finish. Given its imposing levels of structuring extract, it will require patience.
Reviewer Name: William Kelley
Review Date: 28th April 2022
Year

2022

Colour

Red

Country

France

Region

Bordeaux

Sub Region

Saint-Emilion

Designation

Pack Size

6x75cl

Drinking Window

2030 - 2072

Drinking Recommendation

Not Ready

LWIN

100620520220600750
About Château Ausone

Château Ausone vies with Cheval-Blanc to be Saint-Émilion's most prestigious estate. Named after the Roman poet Ausonius who once resided in this area, Ausone is one of four Premier Grand Cru Classé (A) wines in the classification of Saint-Émilion (along with Angélus, Cheval Blanc and Pavie).

Quite possibly the oldest winemaking estate in the entire region, the vines of Château Ausone occupy the same site as a villa owned by the Roman poet and proconsul Ausonius nearly 2000 years ago. The connection to the current name is clear to see, but the Vauthier family have owned these hallowed vineyards for several centuries into the 12th generation with Pauline.

Viniculture

Ausone stands tall over the town of St-Émilion itself, with a mere seven hectares of entirely classified vines – making it the single smallest First Growth in any appellation, on any Bank. Clinging precariously to steep, ancient slopes comprised of clay and limestone with particularly shallow soil cover, it has been said that Ausone is one of few properties in the region where one can simply tell from the sight of its terroir that the wine is exceptional. There are Cabernet Franc vines that are more than 100 years of age (planted 1906).

Striking chunks of limestone are immediately obvious, and it comes as no surprise to learn that such is the extent of said geological influence that there are deep quarries running beneath the vines. Actively worked between the 13th and 19th centuries, the dormant mines are now used by the Vauthiers to store oak barrels at a temperature of 12 degrees and a steady year-round humidity of 97% – in fact so effective are these limestone cellars that a dehumidifier had to be installed!

Aside from producing some of the greatest, rarest wine on Earth, Ausone's terroir is exceptional for its consistency. Vintage after vintage, both the Grand Vin and the second wine excel whilst others stumble – the latter representing a minuscule 10% of the total production of an already dramatically small amount.



Wine Rating is intended to show the quality of the wine from an investment perspective. It takes into account the prices achieved by the producer, the quality of the vintage and the critics' scores for this wine. AAA is the best rating, and B the most speculative.

Please wait a few seconds whilst we process the market data for this wine...

Calculating...

Investment Rating

Wine Rating is intended to show the quality of the wine from an investment perspective. It takes into account the prices achieved by the producer, the quality of the vintage and the critics' scores for this wine. AAA is the best rating, and B the most speculative.

Show Investment Rating Guide
A free Cru storage account at all of our warehouse facilities is automatically created for you on your first purchase with Cru and your stock will be instantly allocated to this personal account. Whilst in Cru's care, this account is in your name and the contents will 100% belong to you, no matter what.

When storing with Cru you can choose to keep the stock in its current location or transfer it to another one of our 5 global storage locations.

Keeping stock in its current Cru storage facility is the safest, cheapest and most environmentally friendly option. It is also the best option if you're buying for investment purposes and intend on selling/trading your stock later.

To keep your stock in its current storage location, please select:

30 Days Free storage

is offered on all purchases from the point when the item has landed in your account. Full replacement insurance is also included in this period, as well as, when the stock is in transit to us.

Thereafter, our competitive storage (inc. replacement value insurance) rates are as follows:

If you choose to keep the stock where it is now, it will still be possible to transfer to another location or organise home delivery once it has landed in your Cru storage account. This can be paid and organised through your online Cru account later.
When ordering it is possible to either keep your stock in its current location (see Storage tab) or transfer it to your personal Cru storage account at another warehouse facility within the Cru network for further cellaring or to organise local home delivery at a later date.

To order this item and transfer it to another Cru storage facility, please select:

As always,

30 Days Free storage

is offered on all purchases from the point when the item has landed in your desired location - see 'Storage' for more details.

Once the item has landed into your desired Cru storage account you will be notified and you will then be able to organise a local home delivery or transfer to another storage provider.

For faster transfer to our facilities in Hong Kong SAR China or Singapore then Air Freight can be paid for and organised through your online Cru account. See 'Delivery' tab for more details.
Home delivery can only be organised once your stock has arrived at a local Cru storage facility. For example, if you are based in Singapore, the stock will need to be transferred to Cru's Singapore storage facility before you can arrange and pay for delivery and taxes.

If the stock status is:

In Stock

- you will be able to organise delivery (or transfer) immediately after placing your order by going to "Deliveries" in your online Cru account.

Due in

- place your order immediately, so not to miss out, and you will be notified by email when the stock has landed so you can organise and pay for delivery and taxes.

Timings are estimated on our best available ETAs but are subject to change depending on global and local logistics delays.

If you select the following option, the stock will automatically be transferred to your local Cru storage facility:

Once stock has been transferred to United Kingdom, estimated home delivery cost £19.20 including tax.

Home delivery is Free for orders over

- mainland UK, EU, SG and HK only - for US and other locations please contact us before making your purchase.

For faster delivery to our facilities in Hong Kong SAR China or Singapore then Air Freight can be paid for and organised through your online Cru account.

To do this, please select "

Keep stock in its current location

" when you place your order. You will then be able to organise and pay for this service once the stock has landed in your Cru account. Making this selection will not delay the transfer further.
This item is
currently out of stock, please Place a Bid
and our buying team will try to source it for you.