Bibi Graetz Colore 2019 (3x75cl)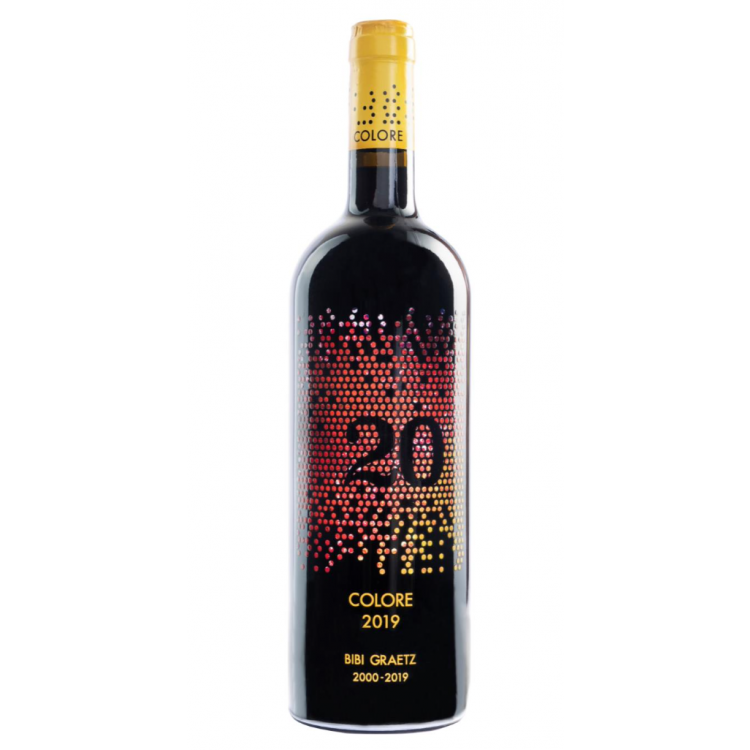 "Monumental, there is no better word to describe this vintage. Roundness in every single aspect of the wine: elegance, freshness and great acidy that gives very fine layers surprisingly detectable on the nose and at the first sip. Colore 2019 celebrates my 20th anniversary as a winemaker. It has been a great journey since 2000, full of satisfactions and now with this vintage I finally close the circle. My wines at the beginning were looking for structure and concentration, in 2009 I realized that "elegance" should have been the main drive. In 2019 I did it!" Bibi Graetz
This is so perfumed and seductive, with blackberries, cherries, dried flowers and perfume. It's full-bodied and tight with very fine tannins. Really structured and long. Superb tannin texture. So fine, yet so powerful. This is an incredible combination of fruit and structure. Old-vine magic. Drink after 2026.

Reviewer Name: James Suckling
Review Date: 4th August 2021
The 'dream' in Italian, this is from very old, high-altitude vineyards on stony soils mixed with sand and stone. This is one of the wines of the tasting, a real showstopper that captures your interest and holds it all the way. Red cherries and strawberries dominate the nose with softly-spiced liquorice touches. But it's the texture that's so captivating, gripping straight away and holding you there, but in a soft and gentle way. Bright acidity comes in keeping things fresh and welcoming while the structure and length give a lovely roundness. A real success. Grapes for Colore are sourced from three vineyards, with each harvested up to eight times. After the first selection in the vineyards, a second selection occurs at the winery before destemming where grapes are softly pressed and placed in open-top barriques, keeping each plot and parcel separate from the others. The fermentation is conducted naturally by indigenous yeasts without temperature control lasting up to two weeks, with one extra week of maceration on the skins. After the fermentation the wine is moved into new barriques, where the malolactic fermentation happens. Each parcel is aged separately for almost 20 months before the final blend is decided.
Drinking Window: 2025 - 2045
Reviewer Name: Georgina Hindle
Review Date: 20th July 2021
Colore comes from the oldest vineyards of Sangiovese that range up to 135 years, and there is a gentle, unforced complexity to this wine that is deliciously moreish. Expect raspberries, black cherries, rosemary, liquorice, the soft floral aromatics of late-afternoon roses, caressing and silky and giving so much pleasure but not expecting too much of you. You can drink this now with a carafe but it will age, because there is acidity and grip. A lovely wine to slow down to. Bib Graetz's 20th anniversary as a winemaker, proving again why he is such a compelling figure in Tuscany.
Review Date: 6th September 2021
Dressed for a party, the Bibi Graetz 2019 Colore celebrates the estate's 20th anniversary with a special commemorative (2000-2019) bottle. This vintage of Colore is 100% Sangiovese (the small part of Colorino in the blend we saw last year has been removed) because Bibi thought the Sangiovese elegant enough to stand alone. Fruit comes from three vineyard sites with 70-, 80- and 90-year-old vines, respectively. The wine offers big intensity and beautifully lifted aromas and more textural support than we saw in the slightly thinner 2018 vintage. The bouquet reveals balsam herb, cassis, pressed rose, garden mint and crushed stone. Fruit from the southern-most site, Poggio Matto in Casciano del Murlo (in the province of Siena), was blended in at a greater percentage to help build the structure and momentum of this cellar-worthy wine.
Drinking Window: 2022 - 2045
Reviewer Name: Monica Larner
Review Date: 24th August 2021
Details

Year

2019

Colour

Red

Country

Italy

Region

Tuscany

Sub Region

Toscana

Designation

Classification

Pack Size

3x75cl

ABV

14°

Drinking Window

2025 - 2045

Drinking Recommendation

Not Ready

LWIN

122690820190300750

Reviews (4)

This is so perfumed and seductive, with blackberries, cherries, dried flowers and perfume. It's full-bodied and tight with very fine tannins. Really structured and long. Superb tannin texture. So fine, yet so powerful. This is an incredible combination of fruit and structure. Old-vine magic. Drink after 2026.


Reviewer Name: James Suckling

Review Date: 4th August 2021

The 'dream' in Italian, this is from very old, high-altitude vineyards on stony soils mixed with sand and stone. This is one of the wines of the tasting, a real showstopper that captures your interest and holds it all the way. Red cherries and strawberries dominate the nose with softly-spiced liquorice touches. But it's the texture that's so captivating, gripping straight away and holding you there, but in a soft and gentle way. Bright acidity comes in keeping things fresh and welcoming while the structure and length give a lovely roundness. A real success. Grapes for Colore are sourced from three vineyards, with each harvested up to eight times. After the first selection in the vineyards, a second selection occurs at the winery before destemming where grapes are softly pressed and placed in open-top barriques, keeping each plot and parcel separate from the others. The fermentation is conducted naturally by indigenous yeasts without temperature control lasting up to two weeks, with one extra week of maceration on the skins. After the fermentation the wine is moved into new barriques, where the malolactic fermentation happens. Each parcel is aged separately for almost 20 months before the final blend is decided.

Drinking Window: 2025 - 2045

Reviewer Name: Georgina Hindle

Review Date: 20th July 2021

Colore comes from the oldest vineyards of Sangiovese that range up to 135 years, and there is a gentle, unforced complexity to this wine that is deliciously moreish. Expect raspberries, black cherries, rosemary, liquorice, the soft floral aromatics of late-afternoon roses, caressing and silky and giving so much pleasure but not expecting too much of you. You can drink this now with a carafe but it will age, because there is acidity and grip. A lovely wine to slow down to. Bib Graetz's 20th anniversary as a winemaker, proving again why he is such a compelling figure in Tuscany.

Review Date: 6th September 2021

Dressed for a party, the Bibi Graetz 2019 Colore celebrates the estate's 20th anniversary with a special commemorative (2000-2019) bottle. This vintage of Colore is 100% Sangiovese (the small part of Colorino in the blend we saw last year has been removed) because Bibi thought the Sangiovese elegant enough to stand alone. Fruit comes from three vineyard sites with 70-, 80- and 90-year-old vines, respectively. The wine offers big intensity and beautifully lifted aromas and more textural support than we saw in the slightly thinner 2018 vintage. The bouquet reveals balsam herb, cassis, pressed rose, garden mint and crushed stone. Fruit from the southern-most site, Poggio Matto in Casciano del Murlo (in the province of Siena), was blended in at a greater percentage to help build the structure and momentum of this cellar-worthy wine.

Drinking Window: 2022 - 2045

Reviewer Name: Monica Larner

Review Date: 24th August 2021

Producer

About Bibi Graetz

Born into a family of prodigious artists in the gorgeous region of Tuscany in central Italy, Bibi Graetz experienced a phenomenon well-traversed by a number of the world's greatest vignerons – he fell in love with the terroir and vines of his homeland.

Having grown up on the hill of Fiesole, overlooking Florence, Graetz felt the irresistible pull to found his eponymous winery in 2000 in this very area. Not content with such a commitment to Tuscany, the artist even built and moved his family to the new winery, called Aurora, situated in the main square of Fiesole.

Viniculture

Graetz found himself particularly fascinated by old vines – and as such has assembled one of the largest holdings of old vineyard plots in the entire region. An impressive feat in a mere 20 years given the head start rival Super Tuscans have. The focus on ancient aspects of Italian winemaking has led the rebellious winemaker to shun both traditionalist Chianti constraints, as well as the established Super Tuscan behemoths stridently pursuing Bordeaux blends.

Bibi Graetz masterfully combines aspects of both schools of thought – proudly championing the traditional varietals of Sangiovese, Canaiolo and Colorino, whilst utilising artisanal techniques such as spontaneous fermentation, manual punching-down and open-top barriques.

A maverick figure on the Super Tuscan scene, Colore is the flagship wine of this enigmatic winery. Colore is a pure expression of Tuscany, with traditional varieties blended in glorious harmony. Sangiovese provides structure and breath-taking power, Colorino carries pure fruits and fine tannins whilst Canaiolo is the mineral backbone. Sourced from three vineyards in Lamole, Siena and Vincigliata, a handful of the finest barrels representing a fraction of the entire harvest are selected to become Colore. This is unbelievably rare, with only 225 cases produced.

Vintage Comparison

Valuation Tools

Wine Rating is intended to show the quality of the wine from an investment perspective. It takes into account the prices achieved by the producer, the quality of the vintage and the critics' scores for this wine. AAA is the best rating, and B the most speculative.

Please wait a few seconds whilst we process the market data for this wine...

Calculating...

Investment Rating

Wine Rating is intended to show the quality of the wine from an investment perspective. It takes into account the prices achieved by the producer, the quality of the vintage and the critics' scores for this wine. AAA is the best rating, and B the most speculative.

Show Investment Rating Guide

Graph