Billecart-Salmon Cuvee Elisabeth Salmon Brut Rose 2008 (6x75cl)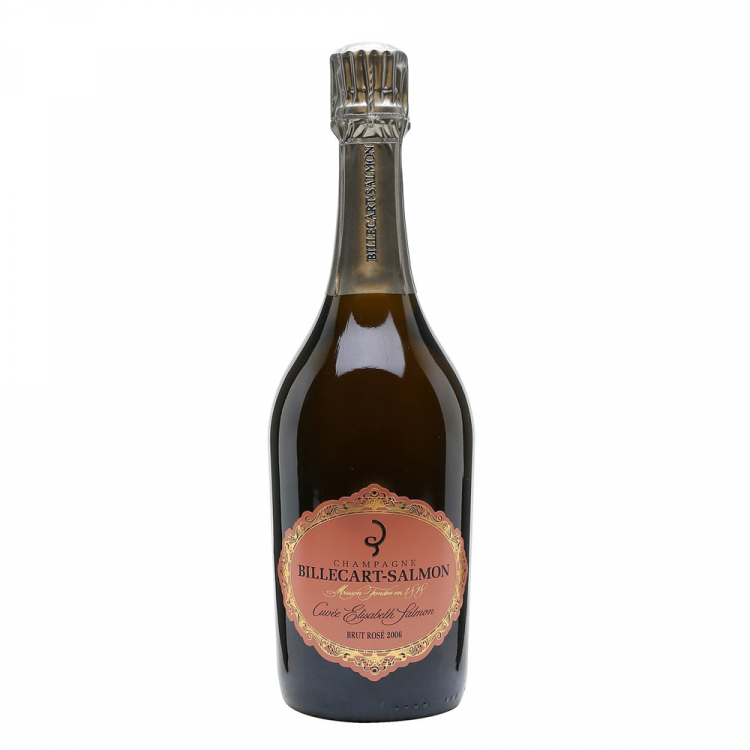 Only available VAT & Duty Paid
The Cuvée Elisabeth Salmon was created in 1988 to commemorate Billecart-Salmon's founding matriarch. The latest vintage of the Cuvée Elisabeth Salmon is a blend of 55% Pinot Noir and 45% Chardonnay, and has undergone a decade of lees-aging. The Pinot Noir grapes that were vinified as a red wine came from old vines from the "Valofroy" vineyard located on the slopes of Mareuil-sur-Aÿ, which enjoy south-facing exposure. According to Florent NYS, Billecart-Salmon's chief winemaker, it offers an "ample and full character in the mouth unveiling a chalky edge and persistent finish of citron zest as well as red and white currants".
A superb vintage of this renowned prestige cuvée, this is made from a base of 55% Pinot Noir and 45% Chardonnay, to which is added 9% of red wine. Despite ageing on its lees for 10 years, it remains almost shockingly youthful, its vividly primary flavours of red cherry, strawberry and nectarine wrapped up in a taut, tense frame. It's silky in texture and intricately complex on the long, elegantly harmonious finish, underlined by a saline chalkiness, and it demonstrates all the requisite completeness and character for long ageing, promising a slow and dignified evolution to come.
Drinking Window: 2021 - 2050
Reviewer Name: Peter Liem
Review Date: 26th May 2021
This is very vinous with aromas of iron, strawberries, old roses and geraniums. So aromatic. Full-bodied, really intense and layered with super dryness and depth. Lots of saline and spicy character at the end, such as clove and pepper, as well as hints of flowers and melted butter. Strawberry tart at the end. 17% in aged oak casks. Blend of 55% pinot noir from six villages (Mareuil sur Ay, Ay, Bouzy, Ambonnay, Verzenay and Verzy) and 45% chardonnay from three Grand Crus (Mesnil sur Oger, Cramant and Chouilly). 9% of the blend is red wine from a parcel in the village of Mareuil sur Ay. Bottled June 2009 and disgorged July 2019. Drink or hold.

Reviewer Name: James Suckling
Review Date: 2nd June 2021
The 2008 Brut Rosé Cuvée Elisabeth Salmon explodes from the glass with a mesmerizing array of aromas, flavors and textures. Blood orange, cinnamon, mint and dried flowers. The 2008 is incredibly young, but it is also incredibly tempting. Patience will be rewarded. In the meantime, readers might enjoy adding a few bottles of the stellar 2007 to their cellars, as the nervy, taut 2008 needs time. The 2008 is 55% Pinot Noir (from Aÿ, Verzy, Verzenay and Mareuil) and 45% Chardonnay (from Chouilly, Avize and Cramant), with 9% still wine from Mareuil. It is the first vintage that includes a portion of wines (17%) done in barrel and the first vintage in which the magnums were aged on the cork rather than on crown seal. Dosage is 7 grams per liter.
Drinking Window: 2028 - 2043
Reviewer Name: Antonio Galloni
Review Date: 1st March 2021
Disgorged with seven grams per liter dosage, the 2008 Brut Rosé Cuvée Elisabeth Salmon is one of the finest wines I've tasted from Billecart in recent years. Unwinding in the glass with aromas of peach, mandarin oil, warm bread, red berries and petals, it's full-bodied, deep and vinous, with lovely mid-palate amplitude, terrific concentration and bright girdling acids. In what is quite a tightly wound vintage and from a house whose style is rather understated, this is a dramatic, fleshy wine that concludes with a long, flavorful finish.
Drinking Window: 2022 - 2048
Reviewer Name: William Kelley
Review Date: 23rd September 2021
Created in 1988 as a tribute to Elisabeth Salmon, one of the House's founders, this is the latest release and it has already benefitted from a remarkable ten years on its lees, because my sample was disgorged in October 2020. Made from 76% Grands Crus and 24% Premiers Crus, 55% Pinot Noir comes from Bouzy, Ambonnay, Verzy, Verzenay, Mareuil-sur-Äy and Äy and 45% Chardonnay comes from Chouilly, Cramant and Mesnil-sur-Oger. 9% red wine was added from Valofroy, a parcel of particularly old vines (60+ years old in 2008) situated high up on the hill above the winery in Mareuil. And 17% of the wine was vinified at low temperature in oak barrels which are, on average, 15 years old. The dosage is 7g/L. For the very first time, Elisabeth is available in magnums.

I enjoyed an energetic tasting with Mathieu Roland-Billecart and he explained that this 2008 vintage seems like it has stolen the finest parts of each of the 1996 (tension), 2002 (layers of flavour) and the 2007 (refinement) and rolled them all into one wine! In a way, this is a fabulous analogy, but there is more to this vintage than meets the eye. The freshness and acidity here are both spectacular. These notes underpin the refined flavour with jolts of electricity which gather to form bolts of lightning. This is a young wine and yet the tenderness of the fruit is perfectly counterpointed by the shocking youthfulness on the finish. I cannot believe that 13 years have passed in the blink of an eye and so this means that 2008 Elisabeth might well be one of the slowest to age and longest-lived wines under this label to date. Having said this, the fruit is already magnificent. Mathieu asked me if I was familiar with the great French dessert clafoutis! At once a cherry clafoutis aroma arose from the glass, with faint notes of ginger blossom, saffron and white pepper. This is a crystalline and yet kaleidoscopic wine with fractals of flavour which splinter and shiver on the palate. It is high-tensile at the same time as being fragile and demure. It is everything Elisabeth would have wanted in her namesake wine.
Drinking Window: 2021 - 2050
Reviewer Name: Matthew Jukes
Review Date: 28th May 2021
Year

2008

Colour

Rose

Country

France

Region

Champagne

Sub Region

NA

Designation

Classification

Pack Size

6x75cl

ABV

12.5°

Drinking Window

2028 - 2050

Drinking Recommendation

Not Ready

LWIN

148124420080600750
About Billecart-Salmon

No stranger to accolades, Champagne Billecart-Salmon has existed for over 200 years since the union of Elisabeth Salmon and Nicolas François Billecart. Widely loved as one of the top champagne houses, proudly family-owned to this day, it remains dynamic despite its lengthy history and illustrious reputation. Champagne Billecart-Salmon continues to innovate in order to improve the quality of its champagnes, and its efforts have not gone unnoticed by William Kelley (Wine Advocate), who notes that "this is a house that's going from strength to strength".

"Billecart-Salmon is discreetly but significantly evolving. Since 2010, a new cellar has housed some 400 barrels for vinification and élevage, and since 2018, another cellar is home to oak foudres retaining some 80,000 liters of reserve wine. Meanwhile, Billecart's wines are spending longer and longer sur lattes, and fruit sourcing is changing—with more grand cru fruit replacing premier cru fruit—while volumes remain the same."
William Kelley (Wine Advocate)



Billecart-Salmon Cuvee Elisabeth Salmon Brut Rose - Offers on Cru
Wine Rating is intended to show the quality of the wine from an investment perspective. It takes into account the prices achieved by the producer, the quality of the vintage and the critics' scores for this wine. AAA is the best rating, and B the most speculative.

Please wait a few seconds whilst we process the market data for this wine...

Calculating...

Investment Rating

Wine Rating is intended to show the quality of the wine from an investment perspective. It takes into account the prices achieved by the producer, the quality of the vintage and the critics' scores for this wine. AAA is the best rating, and B the most speculative.

Show Investment Rating Guide
This item is
currently ONLY available on On Allocation,
please enter a quantity and your maximum price to submit your Allocation request.