Biondi Santi Brunello di Montalcino Riserva 2013 (3x75cl)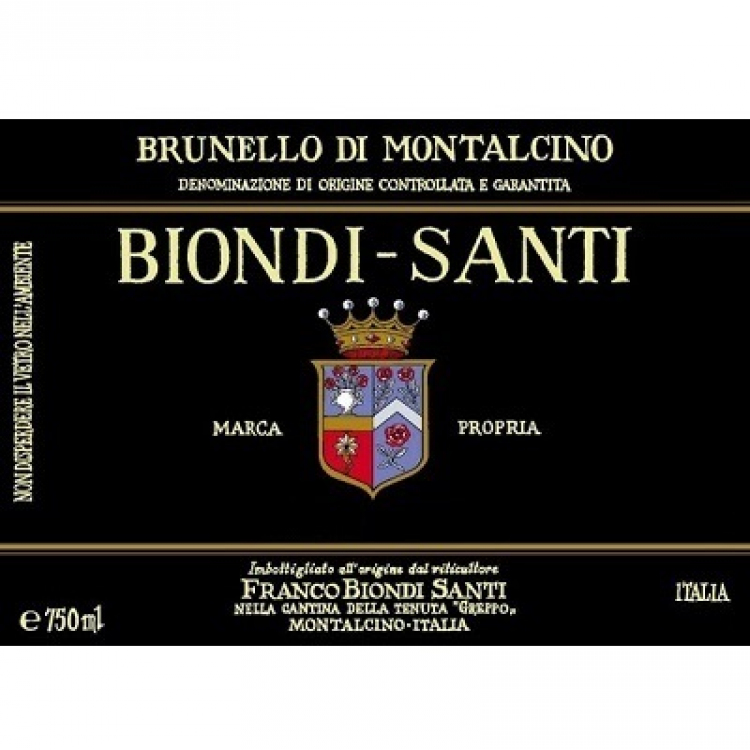 The Biondi-Santi 2013 Brunello di Montalcino Riserva is a stunning wine from all points of view. Seamless integration and elegant complexity are what stand out, and it's worth dedicating a few extra lines to the aromatic depth that is put so beautifully on display as the wine slowly unfolds. The bouquet starts off with wild cherry, earth, wet ash, crème de cassis and pruny chocolate. With extra time, there are hints of dried tobacco leaf, sandalwood and mossy forest floor. These lead to a fine tail of dried herb, bay leaf and a touch of rusty nail. The Riserva comes in numbered bottles, and I opened number 04277. To the palate, the wine is streamlined and silky with smooth tannins and a well-managed 13.5% alcohol content. The oak presence is reduced to a minimum, offering mild hints of spice and the delicate sandalwood or dried fig aroma I described above. Fresh acidity is the glue that gives the wine buoyancy and staying power. At this young stage, this 2013 vintage could be considered a bit shy or slow to start, but this will play out to great advantage in the long term as the wine continues its bottle evolution.


Drinking Window: 2025 - 2050
Reviewer Name: Monica Larner
Review Date: 15th July 2021
Aromas of forest berries, rose and camphor with whiffs of underbrush and new leather slowly take shape on this radiant red. Elegant to the point of being almost ethereal, it's still youthfully austere, featuring tangy cranberry, sour cherry, orange zest and star anise before a black tea finish. Tightly wound, refined tannins and bright acidity provide the framework. This needs several years or more to fully come together and develop to its full potential. Drink 2028–2048.
Drinking Window: 2028 - 2048
Reviewer Name: Kerin O'Keefe
Review Date: 1st July 2021
A description of the 2013 vintage provided by the estate: 'After a mild autumn, the winter was quite cold with generous rainfall that continued until early summer, causing a delay in the start of the vegetative cycle. From the second half of July until the end of September the weather was warm and stable with considerable day/night temperature swings which contributed to developing the intense aromatic profile of the grapes. The harvest started in late September, slightly delayed compared to average vintages at Tenuta Greppo.' Aged for 36 months in Large Slavonian oak casks. Waxed cork under foil. 'Shipped on: 03/202. Bottiglia N. 02640.'

Day one: Just mid ruby with orange tinges. Cool yet intense and complex on the nose. Contained yet deep. Minerally notes of cherry and blood orange. Compact transparent and with embryonic austerity. Reluctant to show it all, but the balance is sheer perfection. Finely powdered tannins and an elegant, medium palate weight. Furls up quickly on the finish into a dormant state. Needs at least half a decade more in bottle.

Day two: Just mid ruby with orange tinges. More brooding and introvert on the nose than yesterday, but no signs at all of oxidation. Great purity of fruit. Minerally peppery hints. Quite closed but exceedingly fine on the palate with finely chiselled tannins and succulent cherry and raspberry fruit. It's all a tad better integrated showing this wine needs a lot of bottle age. Transparent and long, but closes up on the finish.

Day three: Just mid ruby with broad orange rim. The nose is even more closed than the day before, but absolutely no signs of oxidation. Cool sour-cherry nose with a peppery tingle. Great depth, but brooding rather than expressive. Notes of iron. Racy, but stubborn palate firmly closed on the fruit and fine long powdery tannins. After having been open for over 72 hours it is still too young to approach.
Drinking Window: 2028 - 2050
Reviewer Name: Walter Speller
Review Date: 13th April 2021
Details

Year

2013

Colour

Red

Country

Italy

Region

Tuscany

Sub Region

Brunello di Montalcino

Designation

Pack Size

3x75cl

ABV

13.50°

Drinking Window

2028 - 2050

Drinking Recommendation

Not Ready

LWIN

117468720130300750

Reviews (3)

The Biondi-Santi 2013 Brunello di Montalcino Riserva is a stunning wine from all points of view. Seamless integration and elegant complexity are what stand out, and it's worth dedicating a few extra lines to the aromatic depth that is put so beautifully on display as the wine slowly unfolds. The bouquet starts off with wild cherry, earth, wet ash, crème de cassis and pruny chocolate. With extra time, there are hints of dried tobacco leaf, sandalwood and mossy forest floor. These lead to a fine tail of dried herb, bay leaf and a touch of rusty nail. The Riserva comes in numbered bottles, and I opened number 04277. To the palate, the wine is streamlined and silky with smooth tannins and a well-managed 13.5% alcohol content. The oak presence is reduced to a minimum, offering mild hints of spice and the delicate sandalwood or dried fig aroma I described above. Fresh acidity is the glue that gives the wine buoyancy and staying power. At this young stage, this 2013 vintage could be considered a bit shy or slow to start, but this will play out to great advantage in the long term as the wine continues its bottle evolution.



Drinking Window: 2025 - 2050

Reviewer Name: Monica Larner

Review Date: 15th July 2021

Aromas of forest berries, rose and camphor with whiffs of underbrush and new leather slowly take shape on this radiant red. Elegant to the point of being almost ethereal, it's still youthfully austere, featuring tangy cranberry, sour cherry, orange zest and star anise before a black tea finish. Tightly wound, refined tannins and bright acidity provide the framework. This needs several years or more to fully come together and develop to its full potential. Drink 2028–2048.

Drinking Window: 2028 - 2048

Reviewer Name: Kerin O'Keefe

Review Date: 1st July 2021

A description of the 2013 vintage provided by the estate: 'After a mild autumn, the winter was quite cold with generous rainfall that continued until early summer, causing a delay in the start of the vegetative cycle. From the second half of July until the end of September the weather was warm and stable with considerable day/night temperature swings which contributed to developing the intense aromatic profile of the grapes. The harvest started in late September, slightly delayed compared to average vintages at Tenuta Greppo.' Aged for 36 months in Large Slavonian oak casks. Waxed cork under foil. 'Shipped on: 03/202. Bottiglia N. 02640.'

Day one: Just mid ruby with orange tinges. Cool yet intense and complex on the nose. Contained yet deep. Minerally notes of cherry and blood orange. Compact transparent and with embryonic austerity. Reluctant to show it all, but the balance is sheer perfection. Finely powdered tannins and an elegant, medium palate weight. Furls up quickly on the finish into a dormant state. Needs at least half a decade more in bottle.

Day two: Just mid ruby with orange tinges. More brooding and introvert on the nose than yesterday, but no signs at all of oxidation. Great purity of fruit. Minerally peppery hints. Quite closed but exceedingly fine on the palate with finely chiselled tannins and succulent cherry and raspberry fruit. It's all a tad better integrated showing this wine needs a lot of bottle age. Transparent and long, but closes up on the finish.

Day three: Just mid ruby with broad orange rim. The nose is even more closed than the day before, but absolutely no signs of oxidation. Cool sour-cherry nose with a peppery tingle. Great depth, but brooding rather than expressive. Notes of iron. Racy, but stubborn palate firmly closed on the fruit and fine long powdery tannins. After having been open for over 72 hours it is still too young to approach.

Drinking Window: 2028 - 2050

Reviewer Name: Walter Speller

Review Date: 13th April 2021

Producer

About Biondi Santi

Widely acknowledged as the most noble name in Tuscany, Biondi Santi is historically linked to the inception, development and flourishing of the Brunello di Montalcino DOCG. The first estate to be recorded as crafting what oenophiles around the globe know and love as Brunello (there is some academic disagreement), there is no doubt whatsoever with regards to its trailblazing status in the region.

Dubbed in 1932 "the inventor of Brunello", Ferruccio Biondi Santi was in fact the third generation of his family to craft age-worthy wines in the area. His great uncle Giorgio Santi was said to have been the first to vinify a pure Sangiovese wine in the late 1800s, and the legacy of this extraordinary family has led experts such as Antonio Galloni (Vinous) to declare this "the estate that put Brunello di Montalcino on the map".

Historical significance aside, it is the uniquely perfect situation of the Biondi Santi vineyards which see it placed firmly at the pinnacle of Brunello producers. Perched at an elevated position amongst the rolling hills of Montalcino, its vines enjoy a unique micro-climate alongside a remarkably broad diurnal range. These temperature differences decelerate ripening during the harvest period, in turn allow the grapes to develop complex, nuanced aromas which reflect the very greatest characteristics of Brunello di Montalcino.

Vintage Comparison

Valuation Tools

Wine Rating is intended to show the quality of the wine from an investment perspective. It takes into account the prices achieved by the producer, the quality of the vintage and the critics' scores for this wine. AAA is the best rating, and B the most speculative.

Please wait a few seconds whilst we process the market data for this wine...

Calculating...

Investment Rating

Wine Rating is intended to show the quality of the wine from an investment perspective. It takes into account the prices achieved by the producer, the quality of the vintage and the critics' scores for this wine. AAA is the best rating, and B the most speculative.

Show Investment Rating Guide

Graph