Casa Lapostolle Clos Apalta 2017 (6x75cl)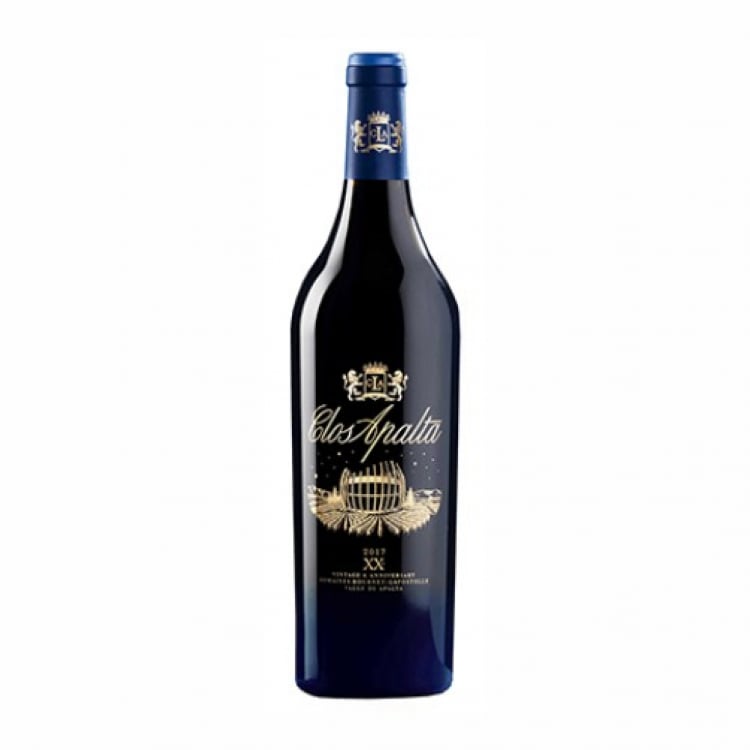 The Clos Apalta has Carménère as the dominant component of the blend, with Cabernet Sauvignon, Merlot and sometimes Petit Verdot making up the rest. Aided by famed consultant Michel Rolland, Clos Apalta quickly gained recognition, with Robert Parker calling the first vintage an "extraordinary wine" and that "serious wine tasters should give it a try". Built on 20 years of experience, the 2017 vintage marks a momentous milestone for the estate, with the added joy of a 100 point score from James Suckling.

"The most classically structured wine ever from here." – James Suckling
What a stunning nose of crushed berries, fresh flowers, sandalwood and light vineyard dust. Black olives, too. Very complex. Full-bodied with a beautiful, dense palate of blackberries, chocolate, walnuts and cigar box. Fantastic length and composure. The tannin just rolls over the palate. Very structured. The most classically structured wine ever from here. Goes on for minutes. Outrageous and so polished. A blend of 48% carmenere, 26% cabernet sauvignon, 25% merlot and 1% petit verdot. Try after 2025.
Review Date: 27th April 2020
The 2017 Clos Apalta is the 20th vintage of this wine that was produced with a blend of 48% Carmenere, 26% Cabernet Sauvignon, 25% Merlot and 1% Petit Verdot from organic and biodynamic certified vineyards on granite soils. It fermented with indigenous yeasts for four to five weeks, with manual punch-down of the cap, mostly in 7,500-liter French oak vats and 18% in new French barrique. Malolactic was in new French oak barrels, and the élevage lasted for 27 months in 85% new barrels and 15% second use. This is always a powerful, big and ripe wine that is regularly 15% alcohol, reflecting a warm and ripe place. The 2017 is no exception, perhaps a riper and more powerful wine than the 2016. It's still very young and marked by the élevage, with abundant balsamic aromas and notes from the wood—spice and smoke with an ashy touch. It seems quite marked by the character of the Carmenere. The tannins are quite round and polished, and the flavors are pungent and powerful. It's a full-bodied wine to age in in bottle and enjoy in its 10th birthday with powerful food. 90,000 bottles produced. It was bottled in September 2019.
Drinking Window: 2022 - 2030
Reviewer Name: Luis Gutiérrez
Review Date: 31st August 2020
Powerful in its concentration and focus, a deep plum colour with the same distinctive sumac and cardamon spice notes as Le Petit Clos, but here with a more serious grip, excellent balance in terms of its liquorice-laced blueberry fruits and a mouthwatering lift through the finish. 85% new oak that fits extremely well in the frame of the wine. 20th anniversary vintage. Now its own specific appellation within the Colchagua Valley. 1% Petit Verdot completes the blend. Certified biodynamic, with a number of ungrafted vines.
Drinking Window: 2023 - 2038
Reviewer Name: Jane Anson
Review Date: 1st October 2020
The 2017 Red Blend Clos Apalta is a blend of grapes from Apalta: 48% Carménère, 26% Cabernet Sauvignon, 25% Merlot and 1% Petit Verdot, aged in new and used French barrels in an 85/15 split. The ripe profile makes it a garnet red in the glass with an open, nuanced aromatic profile of spices, black currant, plum and red currant somewhere between ripe and candied, along with hints of smoke, cigar box and tobacco over a layer of ash. Intense in the mouth, it has fine, juicy tannins with an alcoholic kick that energizes the flow, packaged in a good body with an elegant structure. A wine that grows with each layer and sets a benchmark for the style.
Drinking Window: 2021 - 2032
Reviewer Name: Joaquín Hidalgo
Review Date: 1st May 2021
48% Carmenere, 26% Cabernet Sauvignon, 25% Merlot and 1% Petit Verdot. Special bottle this year – blue-black glass engraved with gold writing – to mark 20 years of Clos Apalta. A dry winter and cold spring led to a very hot summer, with days reaching 28 °C. There were 26 days reaching, or exceeding, 33 °C in January alone – making it Chile's hottest month on record. Thankfully, these temperatures dropped in March, though there were still spikes in the 30s.
Deep ruby. Intense ripe tomato on the nose, layered with sweet black fruit. The palate follows, with a superb texture of plentiful but fine tannins. There is a hint of graphite and vine tomato, but the core of plummy, cherry fruit is more dominant than on the nose. The acidity is brisk, cutting through all else on a long, spicy finish. (TP)
Drinking Window: 2024 - 2038
Reviewer Name: Tom Parker MW
Review Date: 11th September 2020
Details

Year

2017

Colour

Red

Country

Chile

Region

Central Valley

Sub Region

Colchagua Valley

Designation

Classification

Pack Size

6x75cl

ABV

15°

Drinking Window

2024 - 2038

Drinking Recommendation

Not Ready

LWIN

108316120170600750

Reviews (5)

What a stunning nose of crushed berries, fresh flowers, sandalwood and light vineyard dust. Black olives, too. Very complex. Full-bodied with a beautiful, dense palate of blackberries, chocolate, walnuts and cigar box. Fantastic length and composure. The tannin just rolls over the palate. Very structured. The most classically structured wine ever from here. Goes on for minutes. Outrageous and so polished. A blend of 48% carmenere, 26% cabernet sauvignon, 25% merlot and 1% petit verdot. Try after 2025.

Review Date: 27th April 2020

The 2017 Clos Apalta is the 20th vintage of this wine that was produced with a blend of 48% Carmenere, 26% Cabernet Sauvignon, 25% Merlot and 1% Petit Verdot from organic and biodynamic certified vineyards on granite soils. It fermented with indigenous yeasts for four to five weeks, with manual punch-down of the cap, mostly in 7,500-liter French oak vats and 18% in new French barrique. Malolactic was in new French oak barrels, and the élevage lasted for 27 months in 85% new barrels and 15% second use. This is always a powerful, big and ripe wine that is regularly 15% alcohol, reflecting a warm and ripe place. The 2017 is no exception, perhaps a riper and more powerful wine than the 2016. It's still very young and marked by the élevage, with abundant balsamic aromas and notes from the wood—spice and smoke with an ashy touch. It seems quite marked by the character of the Carmenere. The tannins are quite round and polished, and the flavors are pungent and powerful. It's a full-bodied wine to age in in bottle and enjoy in its 10th birthday with powerful food. 90,000 bottles produced. It was bottled in September 2019.

Drinking Window: 2022 - 2030

Reviewer Name: Luis Gutiérrez

Review Date: 31st August 2020

Powerful in its concentration and focus, a deep plum colour with the same distinctive sumac and cardamon spice notes as Le Petit Clos, but here with a more serious grip, excellent balance in terms of its liquorice-laced blueberry fruits and a mouthwatering lift through the finish. 85% new oak that fits extremely well in the frame of the wine. 20th anniversary vintage. Now its own specific appellation within the Colchagua Valley. 1% Petit Verdot completes the blend. Certified biodynamic, with a number of ungrafted vines.

Drinking Window: 2023 - 2038

Reviewer Name: Jane Anson

Review Date: 1st October 2020

The 2017 Red Blend Clos Apalta is a blend of grapes from Apalta: 48% Carménère, 26% Cabernet Sauvignon, 25% Merlot and 1% Petit Verdot, aged in new and used French barrels in an 85/15 split. The ripe profile makes it a garnet red in the glass with an open, nuanced aromatic profile of spices, black currant, plum and red currant somewhere between ripe and candied, along with hints of smoke, cigar box and tobacco over a layer of ash. Intense in the mouth, it has fine, juicy tannins with an alcoholic kick that energizes the flow, packaged in a good body with an elegant structure. A wine that grows with each layer and sets a benchmark for the style.

Drinking Window: 2021 - 2032

Reviewer Name: Joaquín Hidalgo

Review Date: 1st May 2021

48% Carmenere, 26% Cabernet Sauvignon, 25% Merlot and 1% Petit Verdot. Special bottle this year – blue-black glass engraved with gold writing – to mark 20 years of Clos Apalta. A dry winter and cold spring led to a very hot summer, with days reaching 28 °C. There were 26 days reaching, or exceeding, 33 °C in January alone – making it Chile's hottest month on record. Thankfully, these temperatures dropped in March, though there were still spikes in the 30s.
Deep ruby. Intense ripe tomato on the nose, layered with sweet black fruit. The palate follows, with a superb texture of plentiful but fine tannins. There is a hint of graphite and vine tomato, but the core of plummy, cherry fruit is more dominant than on the nose. The acidity is brisk, cutting through all else on a long, spicy finish. (TP)

Drinking Window: 2024 - 2038

Reviewer Name: Tom Parker MW

Review Date: 11th September 2020

Producer

About Casa Lapostolle

Casa Lapostolle is the Chilean project of the Marnier Lapostolle family; makers of the famous Grand Marnier liqueur. They have brought their Old World sensibility to Chile's top wine regions and the result has been a sterling success. With their flagship Clos Apalta, they have created one of only two southern hemisphere wines to be awarded the top spot on Decanter's Top 100 list. The other - Penfolds Grange 1995, so it sits in good company.

The estate was founded in 1994 by Alexandra Marnier-Lapostolle, the great-granddaughter of the creator of the Grand Marnier. Seeking to explore new frontiers, Alexandra found herself captivated by the magic of the Apalta Valley located in Colchagua, where century-old ungrafted vines basked undisturbed in the quiet golden light. The 60-hectare plot enjoys a microclimate that differs significantly from the rest of Chile, allowing grapes to reach optimal maturity.

The estate produces 2 wines – the Clos Apalta and a second wine, Le Petit Clos. The Clos Apalta has Carménère as the dominant component of the blend, with Cabernet Sauvignon, Merlot and sometimes Petit Verdot making up the rest. Aided by famed consultant Michel Rolland, Clos Apalta quickly gained recognition, with Robert Parker calling the first vintage an "extraordinary wine" and that "serious wine tasters should give it a try".

Vintage Comparison

Valuation Tools

Wine Rating is intended to show the quality of the wine from an investment perspective. It takes into account the prices achieved by the producer, the quality of the vintage and the critics' scores for this wine. AAA is the best rating, and B the most speculative.

Please wait a few seconds whilst we process the market data for this wine...

Calculating...

Investment Rating

Wine Rating is intended to show the quality of the wine from an investment perspective. It takes into account the prices achieved by the producer, the quality of the vintage and the critics' scores for this wine. AAA is the best rating, and B the most speculative.

Show Investment Rating Guide

Graph