Catena Zapata Adrianna Mundus Bacillus Terrae Malbec 2018 (3x75cl)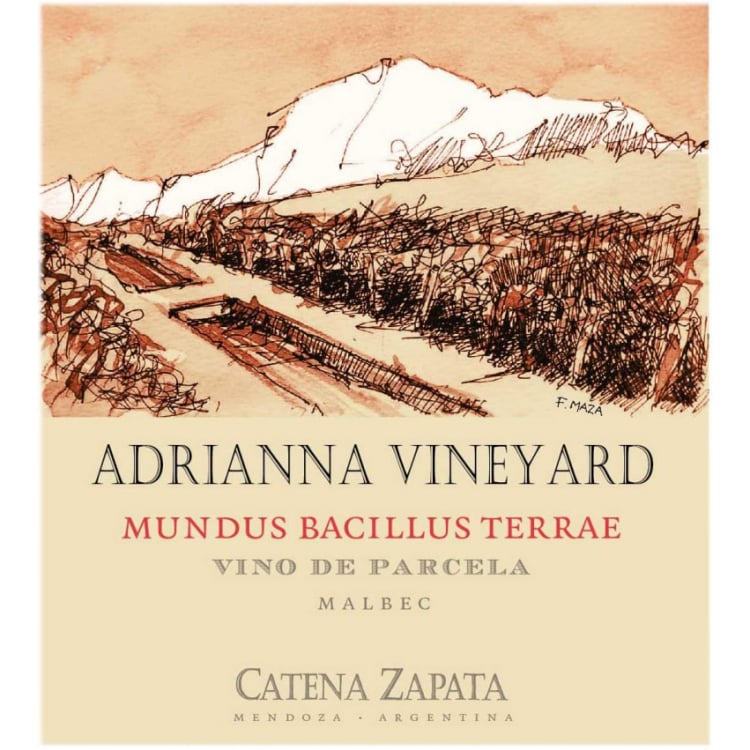 The crowning achievement of the estate in this year's release, it received a magnificent 98 points from Wine Advocate. Lovingly called by Luis Gutiérrez as "among the finest vintages for the Mundus Bacillus Terrae", the 2018 shows more defined characters than 2017. This wine is sourced from a 1.4ha limestone plot located at 1,450m. Rich in microorganisms, the allows grapes to ripen slowly, hence facilitates more flavour complexity.
Let the aromatics slowly unfurl out of the glass, really give it time. Crushed raspberries and tobacco, fresh flowers, salty crackers, oyster shell. The weight, the texture, the acidity are all in balance, playing off each other, and this is just a wonderful wine that stops you in your tracks. Located at 1,450m, from a 1.4ha limestone plot, particularly rich in microorganisms (as we learnt through their brilliant recent terroir studies). It's a place where phenolic ripeness happens slowly, and the complexity builds as a result. A spring frost reduced yields by about 20%, fermented with 50% whole cluster between concrete vats and oak casks. 4800 bottles produced.
Review Date: 6th September 2021
This is a really deep, decadent red, showing incredibly rich black soil, black olives and violets. Full body and rich tannins that exude power and intensity. Lots of white pepper and black fruit in the aftertaste. Extremely persistent. This is a bottle for the cellar. Try after 2024.
Review Date: 13th February 2020
The 2018 Adrianna Vineyard Mundus Bacillus Terrae started with a marked creamy and lactic note, reflecting a very young and tender wine that started with a lot of malic acid. It has lower alcohol and higher acidity than the other two Adrianna bottlings; it's vibrant and lively, nicely textured and surprisingly fresh. The creamy and lactic note disappeared after some time in the glass, giving way to fresher notes, almost citrus. They have also done a selection of individual plants, discarding some plants in lower parts, and the wine has gained in precision and freshness. They used a high percentage of full clusters and fermented it in concrete with indigenous yeasts and matured it in used oak barrels for 18 months. In 2018, the three Adrianna bottlings have more defined character; the differences are more marked than in a year like 2017. This has to be among the finest vintages for the Mundus Bacillus Terrae. 4,800 bottles were filled in November 2019.
Drinking Window: 2021 - 2028
Reviewer Name: Luis Gutiérrez
Review Date: 21st March 2021
Mundus Bacillus Terrae is a parcel of Malbec whose name pays homage to the rhizobacteria that live in symbiosis with the vines at 1,450 meters in the Adrianna vineyard. Three-quarters of the wine is fermented in concrete and the rest in foudres, followed by 18 months in French oak. The nose features violets and lavender with subdued notes of red fruit, but the wine only properly comes out in the mouth. It is pure texture with nervous tension and ripe but gentle, very Malbec-ish tannins that don't impede the flow. The magic of this wine lies in its uniqueness, both in terms of style and as an approach to the variety. It is the questions it raises that make it truly compelling.
Drinking Window: 2020 - 2032
Reviewer Name: Joaquín Hidalgo
Review Date: 1st October 2020
Details

Year

2018

Colour

Red

Country

Argentina

Region

Mendoza

Sub Region

Uco Valley

Pack Size

3x75cl

ABV

13.5°

Drinking Window

2021 - 2032

Drinking Recommendation

Drinking Now, will improve

LWIN

140170720180300750

Reviews (4)

Let the aromatics slowly unfurl out of the glass, really give it time. Crushed raspberries and tobacco, fresh flowers, salty crackers, oyster shell. The weight, the texture, the acidity are all in balance, playing off each other, and this is just a wonderful wine that stops you in your tracks. Located at 1,450m, from a 1.4ha limestone plot, particularly rich in microorganisms (as we learnt through their brilliant recent terroir studies). It's a place where phenolic ripeness happens slowly, and the complexity builds as a result. A spring frost reduced yields by about 20%, fermented with 50% whole cluster between concrete vats and oak casks. 4800 bottles produced.

Review Date: 6th September 2021

This is a really deep, decadent red, showing incredibly rich black soil, black olives and violets. Full body and rich tannins that exude power and intensity. Lots of white pepper and black fruit in the aftertaste. Extremely persistent. This is a bottle for the cellar. Try after 2024.

Review Date: 13th February 2020

The 2018 Adrianna Vineyard Mundus Bacillus Terrae started with a marked creamy and lactic note, reflecting a very young and tender wine that started with a lot of malic acid. It has lower alcohol and higher acidity than the other two Adrianna bottlings; it's vibrant and lively, nicely textured and surprisingly fresh. The creamy and lactic note disappeared after some time in the glass, giving way to fresher notes, almost citrus. They have also done a selection of individual plants, discarding some plants in lower parts, and the wine has gained in precision and freshness. They used a high percentage of full clusters and fermented it in concrete with indigenous yeasts and matured it in used oak barrels for 18 months. In 2018, the three Adrianna bottlings have more defined character; the differences are more marked than in a year like 2017. This has to be among the finest vintages for the Mundus Bacillus Terrae. 4,800 bottles were filled in November 2019.

Drinking Window: 2021 - 2028

Reviewer Name: Luis Gutiérrez

Review Date: 21st March 2021

Mundus Bacillus Terrae is a parcel of Malbec whose name pays homage to the rhizobacteria that live in symbiosis with the vines at 1,450 meters in the Adrianna vineyard. Three-quarters of the wine is fermented in concrete and the rest in foudres, followed by 18 months in French oak. The nose features violets and lavender with subdued notes of red fruit, but the wine only properly comes out in the mouth. It is pure texture with nervous tension and ripe but gentle, very Malbec-ish tannins that don't impede the flow. The magic of this wine lies in its uniqueness, both in terms of style and as an approach to the variety. It is the questions it raises that make it truly compelling.

Drinking Window: 2020 - 2032

Reviewer Name: Joaquín Hidalgo

Review Date: 1st October 2020

Producer

About Catena Zapata

Nicolas Catena is the man known for revolutionizing Argentine wine in the 1980s, introducing the world to Malbec. A pioneer of high-altitude Malbec in Argentina, Catena Zapata was the first to venture into the wild and unknown vineyard area called Gualtallary in Mendoza. After more than 100 years of winemaking history, the family estate is now in the hands of Laura Catena.

Catena Zapatas' Wines

While some prefer the European style of Malbec from the Adrianna vineyard; others prefer the more powerful style from Nicasia. Then there are those who sit on the fence (or perhaps, prefer the balance) and enjoy the blend of both Adrianna and Nicasia vineyards, in the Argentino.

The Nicolas Catena cuvée is named after the man himself who is probably more responsible than anyone else for the superb reputation the wines of Argentina enjoy in the fine wine world today. With its inaugural 1997 vintage, Nicolas Catena became the first luxury cuvée from Argentina to be exported around the world. The wine recreates the "Original Bordeaux Blend" of the 18th and 19th Centuries, when Malbec dominated over Merlot and was in equal standing to Cabernet Sauvignon in the Médoc.

Vintage Comparison

Valuation Tools

Wine Rating is intended to show the quality of the wine from an investment perspective. It takes into account the prices achieved by the producer, the quality of the vintage and the critics' scores for this wine. AAA is the best rating, and B the most speculative.

Please wait a few seconds whilst we process the market data for this wine...

Calculating...

Investment Rating

Wine Rating is intended to show the quality of the wine from an investment perspective. It takes into account the prices achieved by the producer, the quality of the vintage and the critics' scores for this wine. AAA is the best rating, and B the most speculative.

Show Investment Rating Guide

Graph