Catena Zapata Nicolas Catena 2018 (6x75cl)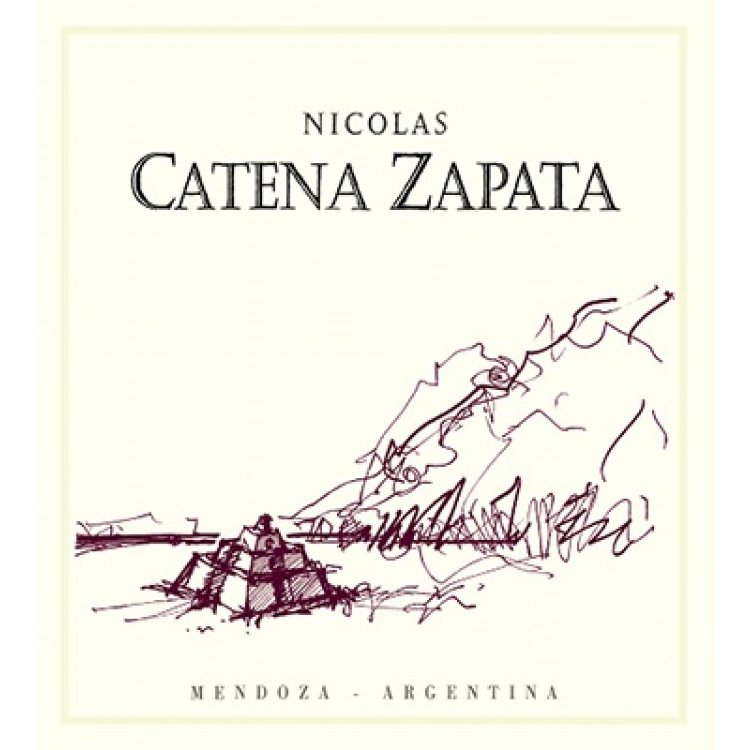 Dubbed Argentina's first "Grand Vin", and also being the first premium wine to be exported around the world, cuvée Nicolás Catena is the estate's flagship wine made from a very old-school Bordeaux blend of Cabernet Sauvignon and Malbec. Envisioned to reinvent the authentic and original Bordeaux expressions, the fruits are sourced from un-grafted, pre-phylloxera vines planted on the family's highly elevated vineyards.

Awarded 96 points from both Wine Advocate and Vinous, Luis Gutiérrez called Nicolàs Catena 2018 a "breathtaking" wine of "intense, precise notes", "polished, grippy tannins" and "well-judged freshness" (VN). A sentiment agreed by Jane Anson, she calls the 2018 a "sensational wine", "expertly delivered" by winemaker Fernando Buscema (97 points, Jane Anson).
Powerfully aromatic on the nose and palate with blackcurrants, liquorice, aniseed and herbal elements. Dark fruits fill the mouth with chewy, juicy tannins. This has such a lovely eucalyptus freshness that just drives the wine from start to finish allowing the intense fruit to shine but also giving a feeling of coolness on the tongue. Really delicious with excellent structure and precision. The wine first joined the Place de Bordeaux in 2018. First produced in 1997 and now made by the father-daughter team Nicolás Catena Zapata and Dr. Laura Catena. Fermentation takes place in 500l oak barrels, concrete and stainless-steel tanks, at temperatures of 26-28ºC for about 10-15 days. The post-fermentation maceration lasts between 5 and 10 days. The wine carries out its malolactic fermentation and is then aged in French oak barrels for 18 months. A blend of 65% Cabernet Sauvignon and 35% Malbec.
Drinking Window: 2023 - 2035
Reviewer Name: Georgina Hindle
Review Date: 20th July 2021
A sit up and take notice wine. Inky colour, smooth tannins, still young and crouched but already combining subtlety and confidence. On the palate, you get a wall of liquorice, crushed cardamom, rosemary, cassis, liqueur, all expertly delivered by winemaker Fernando Buscema. Sensational wine. Tasted twice, same impression each time, of a wine full of life and interest. Bottled unfiltered and unfined.
Review Date: 6th September 2021
Aromas of blackberries, grilled meat, blackcurrants and wet earth. Full-bodied, tight and compact with dense dark berries and currants. Linear and long with a tight, focused palate. A blend of cabernet sauvignon and malbec. Drink after 2022.
Review Date: 13th February 2020
A blend of Cabernet Sauvignon and Malbec (35%) made from 210 micro-productions whose end result is approved by Nicolás Catena. A kind of summation of a long history, the grapes come from specific parcels of vineyards that Catena planted in the Uco Valley and Luján. The results are breathtaking. Purple in the glass with garnet flecks, this wine delivers layers of aroma, beginning with black currant and moving on to intense, precise notes of lavender and mint along with hints of black tea, sage and cigar box. In the mouth, austerity vies for supremacy with sheer power, a balance overseen by polished, grippy tannins placed into relief by a well-judged freshness that keeps the whole package light on its feet. This is a wine of tension foregrounded by the blend: the Malbec smooths out the Cabernet Sauvignon, which in turn brings energy to a red with an extremely long finish.
Drinking Window: 2020 - 2032
Reviewer Name: Joaquín Hidalgo
Review Date: 31st October 2020
The 2018 Nicolás Catena Zapata was produced with 65% Cabernet Sauvignon from Gualtallary (Adrianna vineyard, with the Cabernet Sauvignon interplanted with some Cabernet Franc) and 35% Malbec from Altamira (Nicasia vineyard). They no longer use grapes from Agrelo, and this is also a lot higher in Malbec than in other recent vintages. So, it has a very different profile, a change that started in 2017, with more contained ripeness and more freshness, and the wine is intense, keeping some of the Cabernet character (tobacco, blackberries) and the floral notes from Malbec. It comes through as balanced and harmonious, with very fine tannins and a long finish and perfect ripeness. This aims to revive the style of Bordeaux before phylloxera, from massal selection of ungrafted vines... 62,400 bottles produced. It was bottled in December 2019.
Drinking Window: 2021 - 2028
Reviewer Name: Luis Gutiérrez
Review Date: 31st March 2021
Details

Year

2018

Colour

Red

Country

Argentina

Region

Mendoza

Sub Region

NA

Designation

Classification

Pack Size

6x75cl

ABV

14°

Drinking Window

2023 - 2035

Drinking Recommendation

Not Ready

LWIN

123210720180600750

Reviews (5)

Powerfully aromatic on the nose and palate with blackcurrants, liquorice, aniseed and herbal elements. Dark fruits fill the mouth with chewy, juicy tannins. This has such a lovely eucalyptus freshness that just drives the wine from start to finish allowing the intense fruit to shine but also giving a feeling of coolness on the tongue. Really delicious with excellent structure and precision. The wine first joined the Place de Bordeaux in 2018. First produced in 1997 and now made by the father-daughter team Nicolás Catena Zapata and Dr. Laura Catena. Fermentation takes place in 500l oak barrels, concrete and stainless-steel tanks, at temperatures of 26-28ºC for about 10-15 days. The post-fermentation maceration lasts between 5 and 10 days. The wine carries out its malolactic fermentation and is then aged in French oak barrels for 18 months. A blend of 65% Cabernet Sauvignon and 35% Malbec.

Drinking Window: 2023 - 2035

Reviewer Name: Georgina Hindle

Review Date: 20th July 2021

A sit up and take notice wine. Inky colour, smooth tannins, still young and crouched but already combining subtlety and confidence. On the palate, you get a wall of liquorice, crushed cardamom, rosemary, cassis, liqueur, all expertly delivered by winemaker Fernando Buscema. Sensational wine. Tasted twice, same impression each time, of a wine full of life and interest. Bottled unfiltered and unfined.

Review Date: 6th September 2021

Aromas of blackberries, grilled meat, blackcurrants and wet earth. Full-bodied, tight and compact with dense dark berries and currants. Linear and long with a tight, focused palate. A blend of cabernet sauvignon and malbec. Drink after 2022.

Review Date: 13th February 2020

A blend of Cabernet Sauvignon and Malbec (35%) made from 210 micro-productions whose end result is approved by Nicolás Catena. A kind of summation of a long history, the grapes come from specific parcels of vineyards that Catena planted in the Uco Valley and Luján. The results are breathtaking. Purple in the glass with garnet flecks, this wine delivers layers of aroma, beginning with black currant and moving on to intense, precise notes of lavender and mint along with hints of black tea, sage and cigar box. In the mouth, austerity vies for supremacy with sheer power, a balance overseen by polished, grippy tannins placed into relief by a well-judged freshness that keeps the whole package light on its feet. This is a wine of tension foregrounded by the blend: the Malbec smooths out the Cabernet Sauvignon, which in turn brings energy to a red with an extremely long finish.

Drinking Window: 2020 - 2032

Reviewer Name: Joaquín Hidalgo

Review Date: 31st October 2020

The 2018 Nicolás Catena Zapata was produced with 65% Cabernet Sauvignon from Gualtallary (Adrianna vineyard, with the Cabernet Sauvignon interplanted with some Cabernet Franc) and 35% Malbec from Altamira (Nicasia vineyard). They no longer use grapes from Agrelo, and this is also a lot higher in Malbec than in other recent vintages. So, it has a very different profile, a change that started in 2017, with more contained ripeness and more freshness, and the wine is intense, keeping some of the Cabernet character (tobacco, blackberries) and the floral notes from Malbec. It comes through as balanced and harmonious, with very fine tannins and a long finish and perfect ripeness. This aims to revive the style of Bordeaux before phylloxera, from massal selection of ungrafted vines... 62,400 bottles produced. It was bottled in December 2019.

Drinking Window: 2021 - 2028

Reviewer Name: Luis Gutiérrez

Review Date: 31st March 2021

Producer

About Catena Zapata

Nicolas Catena is the man known for revolutionizing Argentine wine in the 1980s, introducing the world to Malbec. A pioneer of high-altitude Malbec in Argentina, Catena Zapata was the first to venture into the wild and unknown vineyard area called Gualtallary in Mendoza. After more than 100 years of winemaking history, the family estate is now in the hands of Laura Catena.

Catena Zapatas' Wines

While some prefer the European style of Malbec from the Adrianna vineyard; others prefer the more powerful style from Nicasia. Then there are those who sit on the fence (or perhaps, prefer the balance) and enjoy the blend of both Adrianna and Nicasia vineyards, in the Argentino.

The Nicolas Catena cuvée is named after the man himself who is probably more responsible than anyone else for the superb reputation the wines of Argentina enjoy in the fine wine world today. With its inaugural 1997 vintage, Nicolas Catena became the first luxury cuvée from Argentina to be exported around the world. The wine recreates the "Original Bordeaux Blend" of the 18th and 19th Centuries, when Malbec dominated over Merlot and was in equal standing to Cabernet Sauvignon in the Médoc.

Vintage Comparison

Valuation Tools

Wine Rating is intended to show the quality of the wine from an investment perspective. It takes into account the prices achieved by the producer, the quality of the vintage and the critics' scores for this wine. AAA is the best rating, and B the most speculative.

Please wait a few seconds whilst we process the market data for this wine...

Calculating...

Investment Rating

Wine Rating is intended to show the quality of the wine from an investment perspective. It takes into account the prices achieved by the producer, the quality of the vintage and the critics' scores for this wine. AAA is the best rating, and B the most speculative.

Show Investment Rating Guide

Graph