Climens 2001 (6x75cl)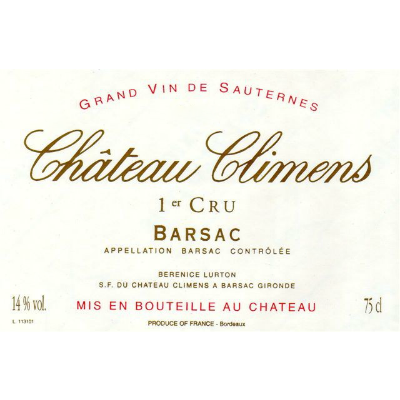 Chateau Climens is one of the top Sauternes. It has pleasing honeyed tropical notes, with some aromas of spice and vanilla. Although a sweet wine it has a mouth-watering lift. The 2001 is magnificently rich and has an impressively lasting finish.
Incredibly racy. Intense! Superaromatic. Honey, dried pineapple, minerals and superlush spice. Medium sweet. Electric to taste. Lasts for minutes. Score range: 95-100
Drinking Window: 2015 - 2021
Très grand vin associant une ampleur hors norme à la finesse et à l'équilibre typiques du cru. Très gras et liquoreux, le vin offre un splendide potentiel avec des notes de mandarine confite et une ample longueur, encore sur la réserve. Grande finale sur la nougatine.
Drinking Window: 2015 - 2021
Review Date: 1st January 2004
The Climens 2001 has always possessed a deliriously complex and intense bouquet that is beautifully defined: dried quince and marmalade, honeycomb and antique furniture. There is an inchoate, resinous element that will surely surface over the next decade or so. This is a bouquet that demands attention and in this blind tasting, sticks out from the crowd, a sui generis. Since I last tasted it, the palate has opened up and is beginning to pump on all cylinders. It is wonderfully balanced with fabulous intensity and a long, citrus-tinged finish that is utterly beguiling. As Kate Bush once sang: Wow.
Drinking Window: 2014 - 2040
Reviewer Name: Neal Martin
Review Date: 31st October 2014
94-97
Stephen Tanzer - Vinous
Pale yellow-gold. Musky aromas of nearly roasted yellow fruits and marzipan, with an intoxicating botrytis tang. Firm on entry, then powerful and gripping in the middle, with multidimensional flavors of peach, passion fruit, spicy oak, acacia flower and vanilla. A wine of great power and intensity, yet there's nothing overbearing or heavy about it. To the best of my knowledge, this is the only one of these 2001s made entirely from semillon.
Drinking Window: 2015 - 2021
Review Date: 1st July 2003
Details

Year

2001

Colour

White

Country

France

Region

Bordeaux

Sub Region

Barsac

Designation

Classification

Pack Size

6x75cl

Drinking Window

2015 - 2040

Drinking Recommendation

Drinking Now, will improve

LWIN

101669120010600750

Reviews (4)

Incredibly racy. Intense! Superaromatic. Honey, dried pineapple, minerals and superlush spice. Medium sweet. Electric to taste. Lasts for minutes. Score range: 95-100

Drinking Window: 2015 - 2021

Très grand vin associant une ampleur hors norme à la finesse et à l'équilibre typiques du cru. Très gras et liquoreux, le vin offre un splendide potentiel avec des notes de mandarine confite et une ample longueur, encore sur la réserve. Grande finale sur la nougatine.

Drinking Window: 2015 - 2021

Review Date: 1st January 2004

The Climens 2001 has always possessed a deliriously complex and intense bouquet that is beautifully defined: dried quince and marmalade, honeycomb and antique furniture. There is an inchoate, resinous element that will surely surface over the next decade or so. This is a bouquet that demands attention and in this blind tasting, sticks out from the crowd, a sui generis. Since I last tasted it, the palate has opened up and is beginning to pump on all cylinders. It is wonderfully balanced with fabulous intensity and a long, citrus-tinged finish that is utterly beguiling. As Kate Bush once sang: Wow.

Drinking Window: 2014 - 2040

Reviewer Name: Neal Martin

Review Date: 31st October 2014

94-97

Stephen Tanzer - Vinous

Pale yellow-gold. Musky aromas of nearly roasted yellow fruits and marzipan, with an intoxicating botrytis tang. Firm on entry, then powerful and gripping in the middle, with multidimensional flavors of peach, passion fruit, spicy oak, acacia flower and vanilla. A wine of great power and intensity, yet there's nothing overbearing or heavy about it. To the best of my knowledge, this is the only one of these 2001s made entirely from semillon.

Drinking Window: 2015 - 2021

Review Date: 1st July 2003

Producer

Chateau Climens dates back to 1547 and has been one of Barsac's most popular producers for years. Ironically, the name means unfertile land in a local dialect, yet it is blessed with excellent terroir for Sauternes. On very high ground the vineyard has excellent drainage helping create rich, elegant and refined wine.

Value Comparison