The King of Wines: A Classic Barolo Collection
Barolo, the regal red wine hailing from the Piedmont region of Italy, is renowned for its complex flavors and aromas. Crafted with the Nebbiolo grape, this wine boasts an unmistakably bold and tannic character, with notes of cherries, tobacco, and truffles. As the "King of Wines," Barolo is celebrated for its esteemed reputation and remarkable aging potential.


Behold our Barolo collection, featuring the prominent names of Cavalotto, Vietti, Alto Conterno, Bartolo, and more. Each bottle meticulously selected for its exceptional quality and character, this collection embodies the epitome of Barolo winemaking. From the luscious and refined flavors of Cavalotto to the intricate and firm structure of Vietti, this collection pays homage to the artistry of Barolo winemakers. Whether you're a seasoned connoisseur or an inquisitive wine lover, our Barolo collection is sure to captivate and enthrall.
Default Category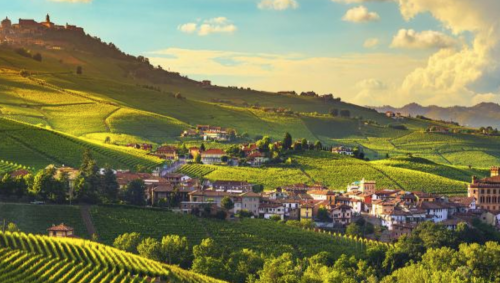 Name
Price Low
Price High
Year (Old)
Year (New)
Product Name
Region
Qty
Score
Price

Piedmont
24
92 (VN)

Inc. VAT

£407.09

Vinous (92)

The 2016 Barolo Capalot Vecchie Viti is dark, beguiling and very pretty. Rose petal, orange peel, cinnamon, kirsch, sweet red cherry and sweet pipe tobacco give the Capalot striking aromatic nuance and a real sense of exoticism that is quite inviting. Medium in body and constantly changing in the glass, the Capalot captures all of the complexities that make Nebbiolo and Barolo so fascinating. The tannins need time to soften, but there is plenty to look forward to once that happens.

More Info

Piedmont
3
93 (JS)

Inc. VAT

£387.46

James Suckling (93)

On the nose this may not be a dramatic wine, but it's fresh and floral. It has a quiet confidence that is missing in many of the 2014 Barolos. On the palate, the turbocharger kicks in. The wine's impressive tannic power leaves most of the competition behind it, but there's real finesse at the long finish. Drink after 2020.

More Info

Piedmont
5
96 (JS)

Inc. VAT

£667.24

James Suckling (96)

Perfumed and very bright with dried flowers, dark berries and a sandalwood undertone. Full body, integrated tannins and a soft and polished finish. Very pretty and structured. Harmonious. Measured. Drink in 2023 or later.

More Info

Piedmont
5
92 (VN)

Inc. VAT

£775.24

Vinous (92)

The 2014 Barolo Colonnello is dark and inward. Succulent black cherry, smoke, leather, licorice, menthol and dark spice all run through this unctuous, super-concentrated Barolo. In most vintages, the Colonnello is a bit more aromatic and light on its feet, while the 2014 is a decidedly rich, heady wine, and yet all the elements are in the right place.

More Info

Piedmont
4
-

Inc. VAT

£253.24

Piedmont
2
94 (JS)

Inc. VAT

£301.24

James Suckling (94)

Walnuts, berries, tar and hints of smoke on the nose. It's full-bodied with chewy tannins and a dusty finish. Chewy at the end. Drink after 2023.

More Info

Piedmont
2
94+ (VN)

Inc. VAT

£601.24

Vinous (94+)

(with the 2010 release, this wine will say Brea Ca' Mia on the label): Bright red. Captivatingly fresh, primary aromas of raspberry, minerals and flowers are accented by a sappy note of blood orange; reminded me a bit of a topnotch Burgundy from Vosne or Chambolle. Sweet and thick but with lovely acidity giving the wine a strong impression of inner-mouth tension. A step up in density and fullness from the foregoing wines, with its Serralunga limestone pungency coming through loud and clear. Finishes very long and horizontal, with serious but well-buffered tannins and excellent menthol lift. Wonderfully elegant and perfumed Barolo from a south/southeast-facing vineyard that is spared the hottest afternoon sun.

More Info

Piedmont
2
93+ (WA)

Inc. VAT

£355.24

Wine Advocate (93+)

Here's an interesting expression from Alex Sanchez and Elena and Cristina Brovia in Castiglione Falletto. The 2014 Barolo Unìo opens to a dark color tonality and an immediately velvety texture. The bouquet is brimming with dark fruit aromas spanning from Morello cherry to bitter currant. Spice, tar, cola and balsam herb fill in the background evenly and with harmony. This is a well-balanced wine from the 2014 vintage that shows impressive integrity across all the senses. Some 24,000 bottles were produced.

More Info

Piedmont
1
-

Inc. VAT

£1,306.01

Piedmont
9
-

Inc. VAT

£139.69

Piedmont
5
-

Inc. VAT

£275.09

Piedmont
5
-

Inc. VAT

£493.24

Piedmont
4
-

Inc. VAT

£168.41

Piedmont
2
-

Inc. VAT

£338.03

Piedmont
1
-

Inc. VAT

£562.57

Piedmont
2
-

Inc. VAT

£506.44

Piedmont
2
98 (WA)

Inc. VAT

£667.24

Wine Advocate (98)

All of these wines from Cavallotto deliver a very floral and perfumed subtext that gives lift and delicate buoyancy to the overall bouquet. This is the Castiglione Falletto magic that shows so well in this classic vintage. The 2016 Barolo Bricco Boschis offers dried cherry, sandalwood, bramble and forest floor. The wine reveals a slightly wild and untamed character that adds to its interest and personality. Overall, this is an elegant wine with a streamlined and elegant finish. The aromas are focused and bright. I can't wait to taste the Riserva expression from this site when it is released in three years' time.

More Info

Piedmont
3
96 (JD)

Inc. VAT

£319.24

Jeb Dunnuck (96)

The 2017 Barolo Bricco Boschis is highly aromatic with anise, dried leather, and burnt orange. Ripe and structured, it offers ripe cherry, turned forest floor, and a long finish. The warmth of the vintage is felt while remaining fresh. Drink 2024-2042.

More Info

Piedmont
5
96 (WE)

Inc. VAT

£775.24

Wine Enthusiast (96)

Enticingly fragrant, this gorgeous wine opens with classic Nebbiolo aromas of woodland berry, wild rose, forest floor, pipe tobacco, dark spice and a balsamic whiff of menthol. Reflecting the nose, the delicious, structured palate delivers dried cherry, raspberry compote, truffle, star anise and a note of crushed mint. Firm but noble tannins provide the framework and bestow impressive aging potential.

More Info

Piedmont
1
96 (VN)

Inc. VAT

£853.24

Vinous (96)

The 2013 Barolo Riserva Bricco Boschis Vigna San Giuseppe is fabulous. The aromatics alone are thrilling. This is what Barolo is all about. Rose petal, holiday spice cake, leather, blood orange and macerated cherry abound. Silky and powerful, the 2013 shows tons of density on the palate and yet remains light on its feet for such a big wine. The wine's sensuality offers a mirage of accessibility, but the 2013 is best cellared for at least a handful of years. There is nothing like Barolo, and this is a terrific example. The 2013 saw 36-38 days on the skins followed by five years in cask, with a preference for larger and more neutral oak that allows for a more gradual pace of aging in the cellar than smaller casks.

More Info

Piedmont
2
98 (WE)

Inc. VAT

£727.24

Wine Enthusiast (98)

Aromas of underbrush, camphor, new leather and woodland berries mingle with a whiff of pressed rose petal on this compelling red. Still youthfully austere but already incredibly delicious, it delivers raspberry compote, truffle, tobacco and licorice framed in tightly knit, noble tannins. Fresh acidity keeps it balanced. Another fantastic showing from this wonderful estate.

More Info

Piedmont
5
94 (VN)

Inc. VAT

£917.09

Vinous (94)

A dark, powerful wine, the 2011 Barolo Riserva Vignolo has nevertheless preserved good freshness for the year. The breadth and amplitude of the vintage comes through, and yet all the elements are impeccably balanced. Readers can look forward to another 20 years of fine drinking. This is very nicely done.

More Info

Piedmont
4
94 (WA)

Inc. VAT

£583.24

Wine Advocate (94)

This wine will be released next September. The 2012 Barolo Riserva Vignolo shows a darkened and enriched side of the graceful Nebbiolo grape. This effort delivers a bit more weight and power with firm structure and balanced but also slightly dry tannins. The wine's acidity plays an important role in giving this expression such a sharp and focused personality. This wine ages in large oak casks for five years, thus prompting deep complexity and aromatic layering. The Vignolo vines are a bit lower in altitude (from 250 to 310 meters above sea level) compared to San Giuseppe (at 310 to 340 meters above sea level). That lower positioning favors the immediate richness and succulence you taste here.

More Info

Piedmont
1
95 (WA)

Inc. VAT

£919.24

Wine Advocate (95)

The 2013 Barolo Riserva Vignolo surprises for the sheer darkness and saturation of its color. Upfront and without too much bother, the wine offers immediate richness and concentration with dark berry fruit, plum and dried cherry. There is a lot of intensity here, but the wine is more horizontal and broad in character than it is vertical per se. In other words, it shows a heavy center of gravity, and its very character is focused on richness and power. This wine ages in 20- and 100-hectoliter Slavonian oak botti for up to five years before its commercial release. Production is exactly 6,666 bottles.

More Info

Piedmont
1
93+ (VN)

Inc. VAT

£336.41

Vinous (93+)

Medium red. Complex, ripe aromas of cherry, plum, marzipan, dried rose, earth and peppery spices. Big, lush and expansive but adamantly dry. A very full, layered Barolo with lovely vinosity and balance. Finishes with lush, very fine but strong tannins and insinuating, impressively persistent flavor. Possesses more than enough material to handle the 100% new barriques A superb bottle. According to Alessandro, this cuvee is Ceretto's most complete Barolo, typically combining the character of the Brunate and Prapo.

More Info

Piedmont
10
-

Inc. VAT

£305.09

Piedmont
1
96 (WA)

Inc. VAT

£487.24

Wine Advocate (96)

The Enzo Boglietti 2016 Barolo Arione draws its fruit from Serralunga d'Alba, from a vineyard site that has gained much attention in recent years. Arione has thick silty soils and these contribute to the gentle finesse and floral perfumes of the wine. Don't forget power. There is plenty of muscle flexing in this brawny, determined Nebbiolo with firm tannins and deep structure. A mere 2,000 bottles were produced. Count on this wine to complete a long and rewarding drinking arc.

More Info

Piedmont
4
95 (WA)

Inc. VAT

£397.24

Wine Advocate (95)

The Brunate cru has a mix of soils with some heavier limestone clay that adds extra power and structure to the wines that come from this site. The Enzo Boglietti 2016 Barolo Brunate opens to a garnet appearance with beautifully presented aromas of wild berry, forest floor, licorice and spent ember. The wine achieves a beautiful sense of unity with so many detailed aromas balanced over the slender texture and firm tannins. A mere 2,300 bottles were released, and this wine won't be fully accessible until 10 years after the harvest.

More Info

Piedmont
5
96 (JS)

Inc. VAT

£373.24

James Suckling (96)

Wonderful clarity to this wine with floral, cedar, pure-strawberry and citrus aromas that follow through to a full bodied, tight and focused palate with tannins that flow through to the finish. Such purity and beauty to this. Try after 2023.

More Info

Piedmont
5
93 (WA)

Inc. VAT

£247.24

Wine Advocate (93)

I just love the 2013 Barolo by Fratelli Alessandria. The wine is tame and subtle yet powerful at the same time. It starts off with classic aromas of wild berry, smoke, tar and licorice. Those tones build in momentum to show more intensity and volume as the minutes pass. This Barolo wraps thickly over the palate, imparting structure, firmness and density.

More Info
Product Name
Region
Qty
Score
Price

Piedmont
24
92 (VN)

In Bond

£320.00

Vinous (92)

The 2016 Barolo Capalot Vecchie Viti is dark, beguiling and very pretty. Rose petal, orange peel, cinnamon, kirsch, sweet red cherry and sweet pipe tobacco give the Capalot striking aromatic nuance and a real sense of exoticism that is quite inviting. Medium in body and constantly changing in the glass, the Capalot captures all of the complexities that make Nebbiolo and Barolo so fascinating. The tannins need time to soften, but there is plenty to look forward to once that happens.

More Info

Piedmont
3
93 (JS)

In Bond

£303.00

James Suckling (93)

On the nose this may not be a dramatic wine, but it's fresh and floral. It has a quiet confidence that is missing in many of the 2014 Barolos. On the palate, the turbocharger kicks in. The wine's impressive tannic power leaves most of the competition behind it, but there's real finesse at the long finish. Drink after 2020.

More Info

Piedmont
5
96 (JS)

In Bond

£540.00

James Suckling (96)

Perfumed and very bright with dried flowers, dark berries and a sandalwood undertone. Full body, integrated tannins and a soft and polished finish. Very pretty and structured. Harmonious. Measured. Drink in 2023 or later.

More Info

Piedmont
5
92 (VN)

In Bond

£630.00

Vinous (92)

The 2014 Barolo Colonnello is dark and inward. Succulent black cherry, smoke, leather, licorice, menthol and dark spice all run through this unctuous, super-concentrated Barolo. In most vintages, the Colonnello is a bit more aromatic and light on its feet, while the 2014 is a decidedly rich, heady wine, and yet all the elements are in the right place.

More Info

Piedmont
4
-

In Bond

£195.00

Piedmont
2
94 (JS)

In Bond

£235.00

James Suckling (94)

Walnuts, berries, tar and hints of smoke on the nose. It's full-bodied with chewy tannins and a dusty finish. Chewy at the end. Drink after 2023.

More Info

Piedmont
2
94+ (VN)

In Bond

£485.00

Vinous (94+)

(with the 2010 release, this wine will say Brea Ca' Mia on the label): Bright red. Captivatingly fresh, primary aromas of raspberry, minerals and flowers are accented by a sappy note of blood orange; reminded me a bit of a topnotch Burgundy from Vosne or Chambolle. Sweet and thick but with lovely acidity giving the wine a strong impression of inner-mouth tension. A step up in density and fullness from the foregoing wines, with its Serralunga limestone pungency coming through loud and clear. Finishes very long and horizontal, with serious but well-buffered tannins and excellent menthol lift. Wonderfully elegant and perfumed Barolo from a south/southeast-facing vineyard that is spared the hottest afternoon sun.

More Info

Piedmont
2
93+ (WA)

In Bond

£280.00

Wine Advocate (93+)

Here's an interesting expression from Alex Sanchez and Elena and Cristina Brovia in Castiglione Falletto. The 2014 Barolo Unìo opens to a dark color tonality and an immediately velvety texture. The bouquet is brimming with dark fruit aromas spanning from Morello cherry to bitter currant. Spice, tar, cola and balsam herb fill in the background evenly and with harmony. This is a well-balanced wine from the 2014 vintage that shows impressive integrity across all the senses. Some 24,000 bottles were produced.

More Info

Piedmont
1
-

In Bond

£1,083.00

Piedmont
9
-

In Bond

£110.00

Piedmont
5
-

In Bond

£210.00

Piedmont
5
-

In Bond

£395.00

Piedmont
4
-

In Bond

£135.00

Piedmont
2
-

In Bond

£271.00

Piedmont
1
-

In Bond

£451.00

Piedmont
2
-

In Bond

£406.00

Piedmont
2
98 (WA)

In Bond

£540.00

Wine Advocate (98)

All of these wines from Cavallotto deliver a very floral and perfumed subtext that gives lift and delicate buoyancy to the overall bouquet. This is the Castiglione Falletto magic that shows so well in this classic vintage. The 2016 Barolo Bricco Boschis offers dried cherry, sandalwood, bramble and forest floor. The wine reveals a slightly wild and untamed character that adds to its interest and personality. Overall, this is an elegant wine with a streamlined and elegant finish. The aromas are focused and bright. I can't wait to taste the Riserva expression from this site when it is released in three years' time.

More Info

Piedmont
3
96 (JD)

In Bond

£250.00

Jeb Dunnuck (96)

The 2017 Barolo Bricco Boschis is highly aromatic with anise, dried leather, and burnt orange. Ripe and structured, it offers ripe cherry, turned forest floor, and a long finish. The warmth of the vintage is felt while remaining fresh. Drink 2024-2042.

More Info

Piedmont
5
96 (WE)

In Bond

£630.00

Wine Enthusiast (96)

Enticingly fragrant, this gorgeous wine opens with classic Nebbiolo aromas of woodland berry, wild rose, forest floor, pipe tobacco, dark spice and a balsamic whiff of menthol. Reflecting the nose, the delicious, structured palate delivers dried cherry, raspberry compote, truffle, star anise and a note of crushed mint. Firm but noble tannins provide the framework and bestow impressive aging potential.

More Info

Piedmont
1
96 (VN)

In Bond

£695.00

Vinous (96)

The 2013 Barolo Riserva Bricco Boschis Vigna San Giuseppe is fabulous. The aromatics alone are thrilling. This is what Barolo is all about. Rose petal, holiday spice cake, leather, blood orange and macerated cherry abound. Silky and powerful, the 2013 shows tons of density on the palate and yet remains light on its feet for such a big wine. The wine's sensuality offers a mirage of accessibility, but the 2013 is best cellared for at least a handful of years. There is nothing like Barolo, and this is a terrific example. The 2013 saw 36-38 days on the skins followed by five years in cask, with a preference for larger and more neutral oak that allows for a more gradual pace of aging in the cellar than smaller casks.

More Info

Piedmont
2
98 (WE)

In Bond

£590.00

Wine Enthusiast (98)

Aromas of underbrush, camphor, new leather and woodland berries mingle with a whiff of pressed rose petal on this compelling red. Still youthfully austere but already incredibly delicious, it delivers raspberry compote, truffle, tobacco and licorice framed in tightly knit, noble tannins. Fresh acidity keeps it balanced. Another fantastic showing from this wonderful estate.

More Info

Piedmont
5
94 (VN)

In Bond

£745.00

Vinous (94)

A dark, powerful wine, the 2011 Barolo Riserva Vignolo has nevertheless preserved good freshness for the year. The breadth and amplitude of the vintage comes through, and yet all the elements are impeccably balanced. Readers can look forward to another 20 years of fine drinking. This is very nicely done.

More Info

Piedmont
4
94 (WA)

In Bond

£470.00

Wine Advocate (94)

This wine will be released next September. The 2012 Barolo Riserva Vignolo shows a darkened and enriched side of the graceful Nebbiolo grape. This effort delivers a bit more weight and power with firm structure and balanced but also slightly dry tannins. The wine's acidity plays an important role in giving this expression such a sharp and focused personality. This wine ages in large oak casks for five years, thus prompting deep complexity and aromatic layering. The Vignolo vines are a bit lower in altitude (from 250 to 310 meters above sea level) compared to San Giuseppe (at 310 to 340 meters above sea level). That lower positioning favors the immediate richness and succulence you taste here.

More Info

Piedmont
1
95 (WA)

In Bond

£750.00

Wine Advocate (95)

The 2013 Barolo Riserva Vignolo surprises for the sheer darkness and saturation of its color. Upfront and without too much bother, the wine offers immediate richness and concentration with dark berry fruit, plum and dried cherry. There is a lot of intensity here, but the wine is more horizontal and broad in character than it is vertical per se. In other words, it shows a heavy center of gravity, and its very character is focused on richness and power. This wine ages in 20- and 100-hectoliter Slavonian oak botti for up to five years before its commercial release. Production is exactly 6,666 bottles.

More Info

Piedmont
1
93+ (VN)

In Bond

£275.00

Vinous (93+)

Medium red. Complex, ripe aromas of cherry, plum, marzipan, dried rose, earth and peppery spices. Big, lush and expansive but adamantly dry. A very full, layered Barolo with lovely vinosity and balance. Finishes with lush, very fine but strong tannins and insinuating, impressively persistent flavor. Possesses more than enough material to handle the 100% new barriques A superb bottle. According to Alessandro, this cuvee is Ceretto's most complete Barolo, typically combining the character of the Brunate and Prapo.

More Info

Piedmont
10
-

In Bond

£235.00

Piedmont
1
96 (WA)

In Bond

£390.00

Wine Advocate (96)

The Enzo Boglietti 2016 Barolo Arione draws its fruit from Serralunga d'Alba, from a vineyard site that has gained much attention in recent years. Arione has thick silty soils and these contribute to the gentle finesse and floral perfumes of the wine. Don't forget power. There is plenty of muscle flexing in this brawny, determined Nebbiolo with firm tannins and deep structure. A mere 2,000 bottles were produced. Count on this wine to complete a long and rewarding drinking arc.

More Info

Piedmont
4
95 (WA)

In Bond

£315.00

Wine Advocate (95)

The Brunate cru has a mix of soils with some heavier limestone clay that adds extra power and structure to the wines that come from this site. The Enzo Boglietti 2016 Barolo Brunate opens to a garnet appearance with beautifully presented aromas of wild berry, forest floor, licorice and spent ember. The wine achieves a beautiful sense of unity with so many detailed aromas balanced over the slender texture and firm tannins. A mere 2,300 bottles were released, and this wine won't be fully accessible until 10 years after the harvest.

More Info

Piedmont
5
96 (JS)

In Bond

£295.00

James Suckling (96)

Wonderful clarity to this wine with floral, cedar, pure-strawberry and citrus aromas that follow through to a full bodied, tight and focused palate with tannins that flow through to the finish. Such purity and beauty to this. Try after 2023.

More Info

Piedmont
5
93 (WA)

In Bond

£190.00

Wine Advocate (93)

I just love the 2013 Barolo by Fratelli Alessandria. The wine is tame and subtle yet powerful at the same time. It starts off with classic aromas of wild berry, smoke, tar and licorice. Those tones build in momentum to show more intensity and volume as the minutes pass. This Barolo wraps thickly over the palate, imparting structure, firmness and density.

More Info