Chateau Ausone 2017 has the best 'price per point' profile of any modern Ausone. It looks significantly undervalued at current prices.

Ausone 2017 scores 98 pts from Wine Advocate, yet vintages around it are much more expensive.

Ausone is many connoisseurs' top pick in the whole of Saint-Émilion, yet its performance has lagged behind the other big names in recent years. It is due a period of 'catch up'.

Ausone 2017 will be preferred for drinking ahead of other recent vintages, giving it a strong market bid over the next 12-18 months.

Ausone is by far the scarcest top wine in Saint-Émilion

By leaving the Saint-Émilion classification, Ausone can re-position itself as a cut above officially classified wines (joining Pétrus, Le Pin etc. in a league of its own).
---
Château Ausone 2017 – Best 'Price per Point' Ratio
Ausone 2017 has the best 'price per point' ratio of recent 'investment grade' vintages of Ausone. It looks significantly undervalued at current levels:
| | | | |
| --- | --- | --- | --- |
| Vintage | WA Score | Price (6x75cl) | Price/Point |
| 2021 | 97-100 | £3,045 - £3,225 | - |
| 2020 | - | £3,000 | - |
| 2019 | 98+ | £3,300 | £34 |
| 2018 | 100 | £3,600 | £36 |
| 2017 | 98 | £2,595 | £26 |
| 2016 | 99 | £3,550 | £36 |
| 2015 | 99 | £3,570 | £36 |
| 2014 | 95 | £3,900 | £41 |
| 2010 | 96 | £4,800 | £50 |
| 2009 | 98+ | £4,500 | £46 |
Ausone 2017 is scored (Wine Advocate) only 2 points off perfection at 98 points, but prices of other physical vintages around it are +27% to +84% more expensive! Experience teaches us that this type of anomaly doesn't last, and the undervalued wine gets bid up over time.
The Ausone 2021 (scored 97-100 points) seems certain to be released well above the current price of the Ausone 2017, and allocations will be eagerly fought over. So why is 2017 available at a discount to that price? (With a 98 points score already assured and with almost 5 years of ageing already).
---
Ausone is Due for a 'Catch Up'
We have been watching the lacklustre price action of Ausone over recent years. Ask most connoisseurs of Saint-Émilion and they will tell you that Ausone has the best terroir in the appellation and makes the most luxuriant wine.
But in price terms, Ausone has lagged amongst the top Saint-Émilion châteaux since 2008. Obviously, a higher release price by Ausone perhaps leaves less room for appreciation, but our view is that this underperformance is overdone and Ausone is likely to see a period of relative outperformance over the coming years.

Over the last five years, the price of Château Figeac 2005 has shot up an eye-watering +400%. Château Ausone 2005, by contrast, is up by 'only' about +40%. This price action has closed the gap between 'the rest' and Ausone significantly, and (we believe) has left Ausone looking relatively attractive.
---
Drinking Window Opens Soon for Ausone 2017
The perception is that 2017 will be an early drinking vintage right across Bordeaux. As we saw a decade earlier with 2007, this can be very beneficial for price action because drinking clients gravitate towards purchasing these vintages as they enter their drinking windows.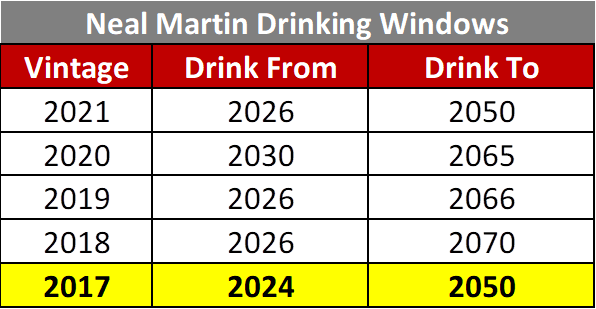 Of the last six vintages (including 2021), Ausone 2017 is the most accessible; and it will start hitting its optimal drinking stride as soon as 2024 (according to Neal Martin). This will start to put a firm bid into the market for this vintage over the next 12-18 months and drinking clients, the 'on trade' etc. start to position themselves.
---
Ausone is the 'Scarcest' of the Big Names in Saint-Émilion
Château Ausone is a tiny estate of just 7 hectares, on a steep slope with a 15%-20% gradient. The terroir is a unique combination of clay and Asteria limestone, which gives the wine its fabulous mineral structure.
What is striking is how much less Ausone is made than at the other 'big six' Saint-Émilion estates:

Ausone is far scarcer than its top neighbours, producing just a third of the wine of even Cheval Blanc!
We really notice this scarcity during En Primeur, when we always have to allocate Ausone rigorously and many clients are disappointed. This again underlines how important it is to snap up secondary market offers on the rare occasions when they become available.
---
Ausone will Shine outside the Official Classification
In August 2021, the classification at the top of Saint-Émilion was thrown into turmoil by the news that Château Cheval Blanc and Château Ausone would be leaving. Chateau Angélus subsequently announced its departure.
So, from this year (2022), the new classification of top Saint-Émilion will / might look like this:

Our view is that the move to 'unclassified' status will only help Ausone (and Cheval Blanc and Angélus). Ausone's global 'brand' is so strong that it needs no official recognition. Ausone will join Pomerol neighbours Pétrus and Le Pin in having no official classification, and this will give it freedom to position itself well above officially classified estates.
Whether it is in Super Tuscany, Pomerol or even in regions like Napa Valley, we believe that official classification can have as much an effect of 'levelling down' as levelling up, and hence the move by Ausone and Cheval Blanc / Angélus to leave official classification will only increase their relative prestige as the undisputed 'top dogs' of Saint-Émilion.
In conclusion, we believe that the future for Château Ausone as an independent estate is very bright indeed, and we are looking forward to a period of renewed price growth. The Ausone 2017 looks like a fantastic way to express this view.
---
IMPORTANT NOTICE
This report has been issued or approved for issue by an entity forming part of Cru (as defined below) and has been forwarded to you solely for your information and should not be considered as an offer or solicitation of an offer to sell, buy, or subscribe to any securities or any derivative instrument or any other rights pertaining thereto ("financial instruments"). This report is intended for use by professional or business investors only. This report may not be reproduced without the consent of Cru.
The information and opinions expressed in this report have been compiled from sources believed to be reliable, but, neither Cru, nor any of its directors, officers, or employees accepts liability from any loss arising from the use hereof or makes any representations as to its accuracy and completeness. Any opinions, forecasts or estimates herein constitute a judgement as at the date of this report. There can be no assurance that future results or events will be consistent with any such opinions, forecasts, or estimates. Past performance should not be taken as an indication or guarantee of future performance, and no representation or warranty, express or implied is made regarding future performance. This information is subject to change without notice, its accuracy is not guaranteed, it may be incomplete or condensed and it may not contain all material information concerning the product or products mentioned. Cru is not agreeing to, nor is it required to update the opinions, forecasts or estimates contained herein.
The value of any products mentioned in this report can fall as well as rise. Foreign currency denominated products are subject to fluctuations in exchange rates that may have a positive or adverse effect on the value, price or income of such products.
This report does not have regard to the specific instrument objectives, financial situation and the particular needs of any specific person who may receive this report. Investors should seek financial advice regarding the appropriateness of investing in any products or investment strategies discussed in this report.
Cru (or its directors, officers or employees) may, to the extent permitted by law, own or have a position in the products of any company or related company or products referred to herein and may add to or dispose of any such position or may make a market or act as a principal in any transaction in such products. Directors of Cru may also be directors of any of the companies mentioned in this report. Cru (or its directors, officers or employees) may, to the extent permitted by law, act upon or use the information or opinions presented herein, or research or analysis on which they are based prior to the material being published. Cru may have issued other reports that are inconsistent with, and reach different conclusions from, the information presented in this report. Those reports reflect the different assumptions, views and analytical methods of the analysts who prepared them.
For the purposes of this disclaimer, "Cru" shall mean: (i) Cru London Limited; (ii) Cru Asia Limited and (iii) from time to time, in relation to Cru London Limited and/or Cru Asia Limited, the ultimate holding company of that entity, a subsidiary (or a subsidiary of a subsidiary) of that entity, a holding company of that entity or any other subsidiary of that holding company, and any affiliated entity of any such entities.
This publication is confidential for the information of the addressee only and may not be reproduced in whole or in part, copies circulated, or disclosed to another party, without the prior written consent of an entity within Cru. Products referred to in this research report may not be eligible for sale in those jurisdictions where an entity within Cru is not authorised or permitted by local law to do so. In particular, Cru does not allow the redistribution of this report to non-professional investors or persons outside the jurisdictions referred to above and Cru cannot be held responsible in any way for third parties who effect such redistribution or recipients thereof. © 2022.