Beats All First Growths in 2017

- Cos d'Estournel 2017 is the 2nd highest scoring wine of the 2017 Bordeaux vintage from the Wine Advocate, surpassing all First Growths.
Joint 4th Best Scoring Cos d'Estournel of All Time - 98+ points is bettered only by the 2009, 2010 and 2016 vintages.
Critic Praise - Wine Advocate critic Lisa Perrotti-Brown said of the 2017: "I expect this wine to be a blockbuster of a head turner".
Top 'super second' -

Cos d'Estournel stands at the apex of the '

Super Second'

(Second Growth) pyramid, challenging and regularly surpassing the First Growths of the Médoc (as in 2017).

Protected from Frosts - Cos's favourable terroir in the north of the region, and its proximity to the Gironde River, meant its crop was unaffected by the 2017 frosts.
Undervalued - The 2017 is offered at a substantial discount to comparatively scored vintages. Cos 2017 outscores near neighbour Lafite Rothschild.
Potential for Re-Pricing - Further Retrospective tastings like Lisa Perrotti-Brown's are likely to serve as a future price catalyst.
---
Cos d'Estournel 2017 – Best Value Vintage (By a Mile)
Cos d'Estournel 2017 leaps off the chart as the standout value pick amongst the modern vintages from this top 'Super Second' estate.
Priced at only GBP 575 (6x75cl), this vintage is a true outlier on our 'fair value' curve (which plots price against critic score). The implied fair value of a 98+ score for Cos d'Estournel is nearer GBP 953 per (6x75cl), which is +66% higher than its current price.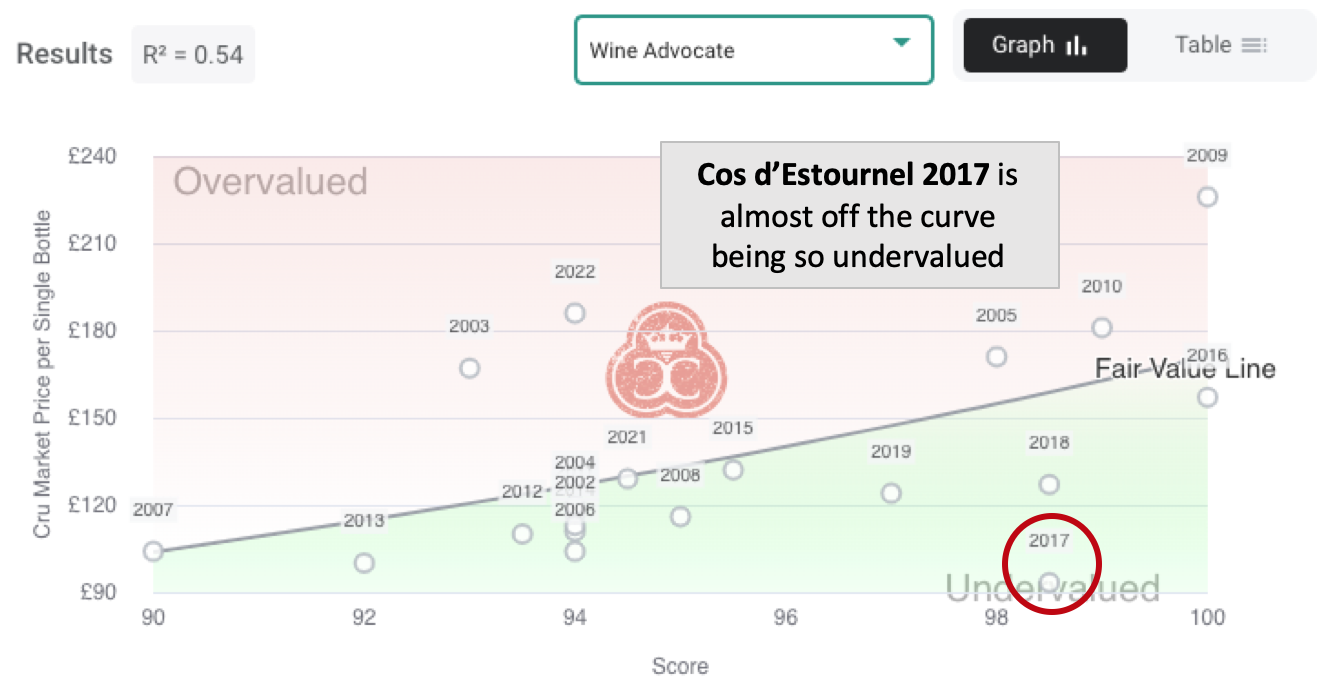 ---
2017 Vintage is Re-appraised by Experts
Lisa Perrotti-Brown of The Wine Independent (formerly of Wine Advocate) released her retrospective Bordeaux 2017 report at the end of 2022.
Out of the many retrospective tastings she conducted in 2022, 2017 was the biggest surprise
"2017 is a vintage where extraordinary wines possessing great depth and super ripe, super-fine tannins can be found … This is a face of Bordeaux that we have not seen in many years."
Further such re-appraisals would continue to turn the previous vintage opinion of Bordeaux 2017 and should act as a price catalyst for its top performers like Cos d'Estournel 2017 and Lafleur 2017.
Cos d'Estournel 2017 is a top wine available at a considerable discount to comparative vintages. For instance, the 2018 vintage currently trades at GBP 690, a premium of 20%, for an identical Wine Advocate score. Is such a discount really warranted? We don't think so.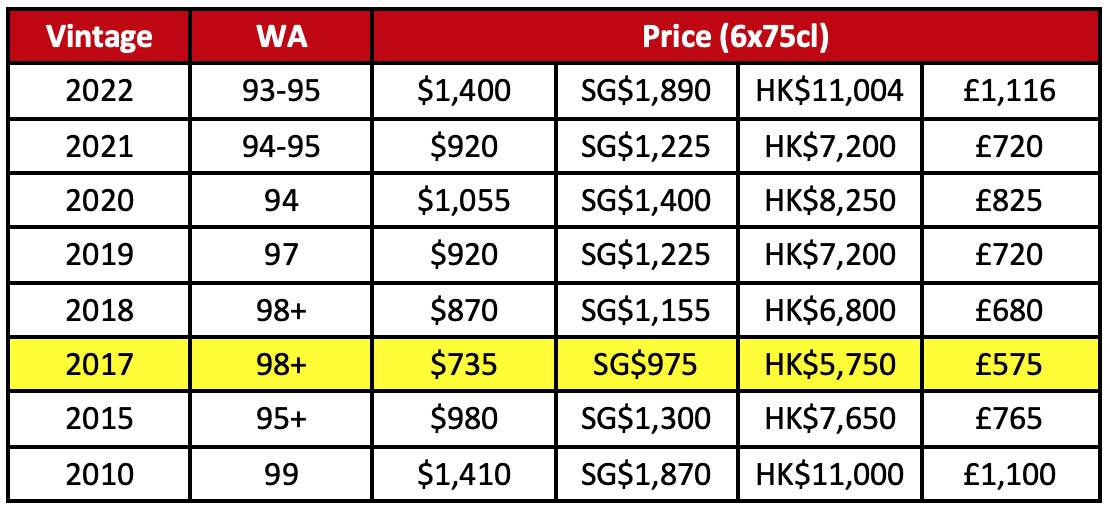 ---
New 2022 Release Price Leaves 2017 Price Looking Non-Sensical
The 93-95 pts WA Cos d'Estournel 2022 was released last month at £1,116 (6x75cl). This was a +30% increase on the 2021 price. The 2022 price was generally accepted (with maybe a bit of grumbling) by the market. But if the 93-95 pts WA 2022 is priced at £1,116, how on earth can the 98+ WA 2017 be still offered at £575?
Surely this price anomaly is one of the most egregious in the market today?
In fact, Cos d'Estournel have been increasing their release price for their flagship wine over the past decade, increasing it by 125% in that time. As an estate that frequently challenges First Growths for quality, it will not be surprising to see this pricing trend continue over the next decade: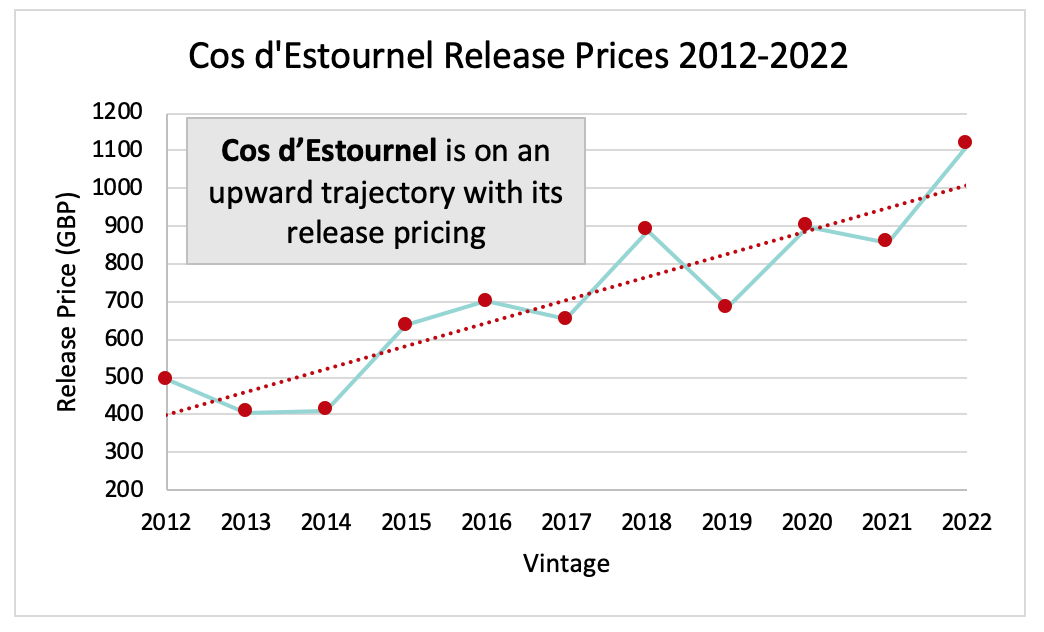 Given the clearly mis-priced level of the occasional back vintage like 2017, it would not surprise us to see the château buying back cases in the secondary market.
Such activity, which is growing in importance on La Place, acts like a corporate share buy-back. In July 2021 Château Lafite Rothschild conducted just such an operation, driving a 20% jump in the price of Lafite Rothschild 2017 within weeks:
---
Cos d'Estournel: A Genuine First Growth Alternative
Cos d'Estournel is now regarded at the forefront of the 'Super Second' tier of wines. As such, it is frequently mentioned as a First Growth alternative.
The comparison with Lafite Rothschild is very favourable. In the 2017 vintage, Cos not only outscores its close neighbour (see below), but it also shows the largest price spread between the two châteaux:

---
Proximity to Château Lafite Rothschild Boosts Appeal
Cos d'Estournel is comparable to a First Growth not only in quality, but also geography. Its proximity to First Growth royalty, Château Lafite Rothschild, often surprises people. Although the two estates are in different appellations (Cos d'Estournel in Saint-Estèphe and Lafite Rothschild in Pauillac), in reality they are only 1KM apart.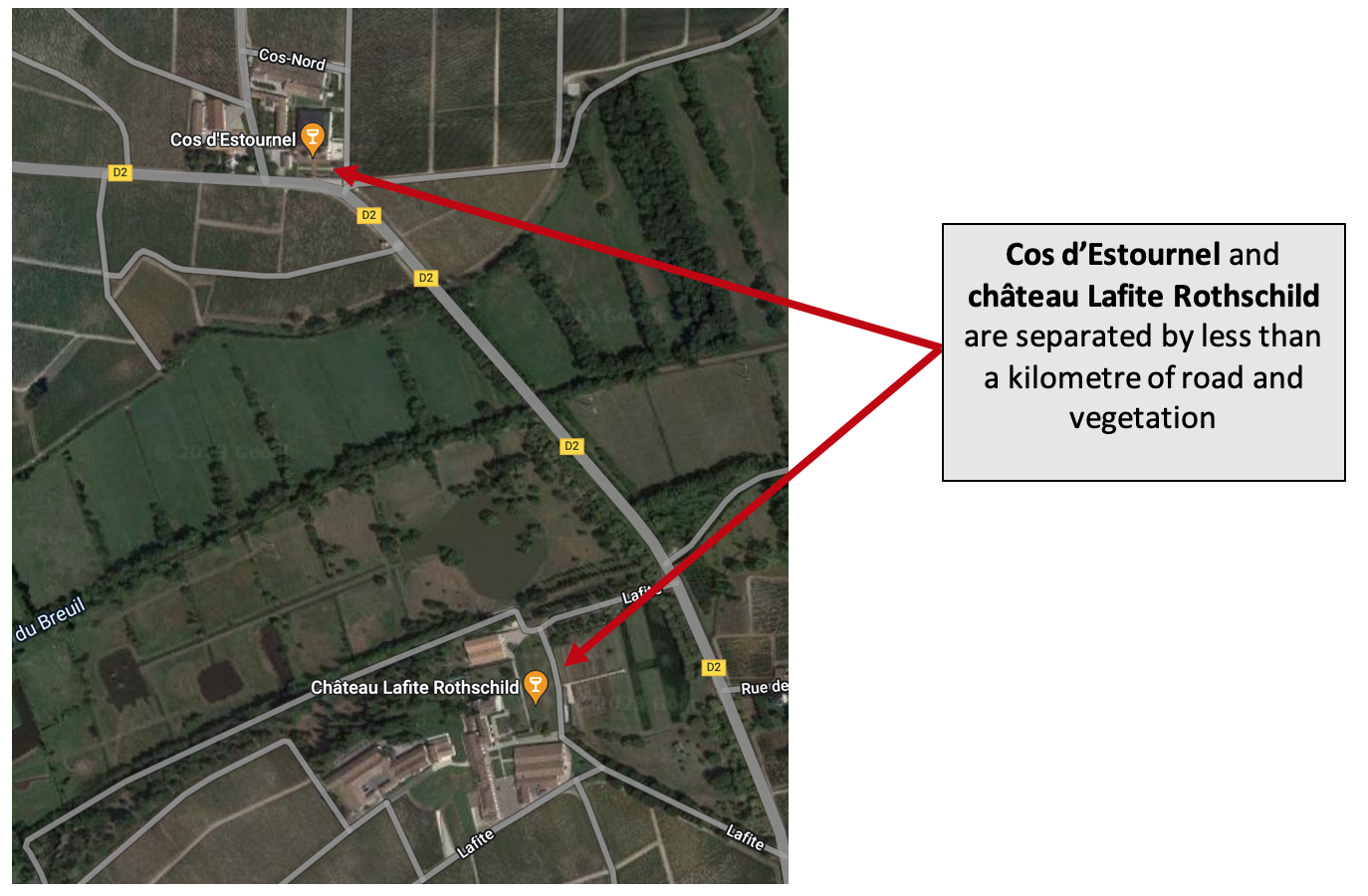 ---