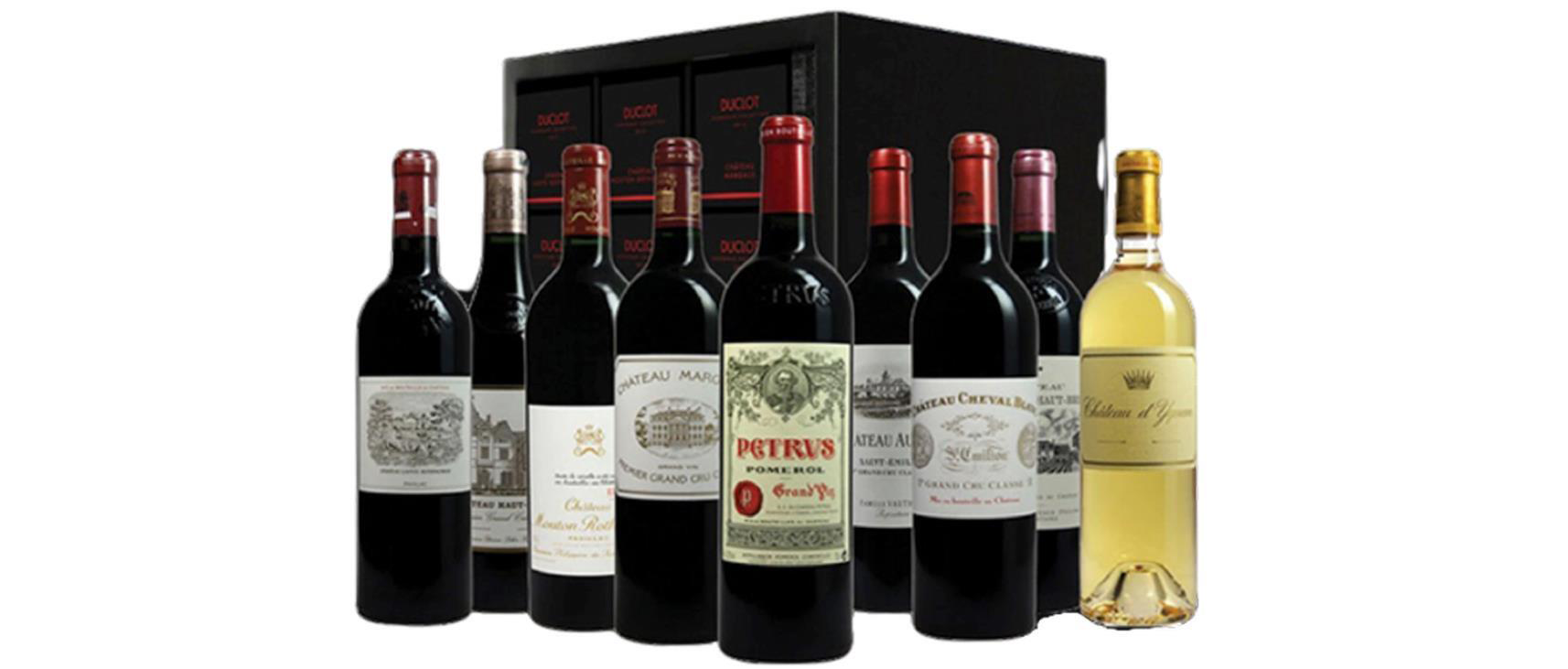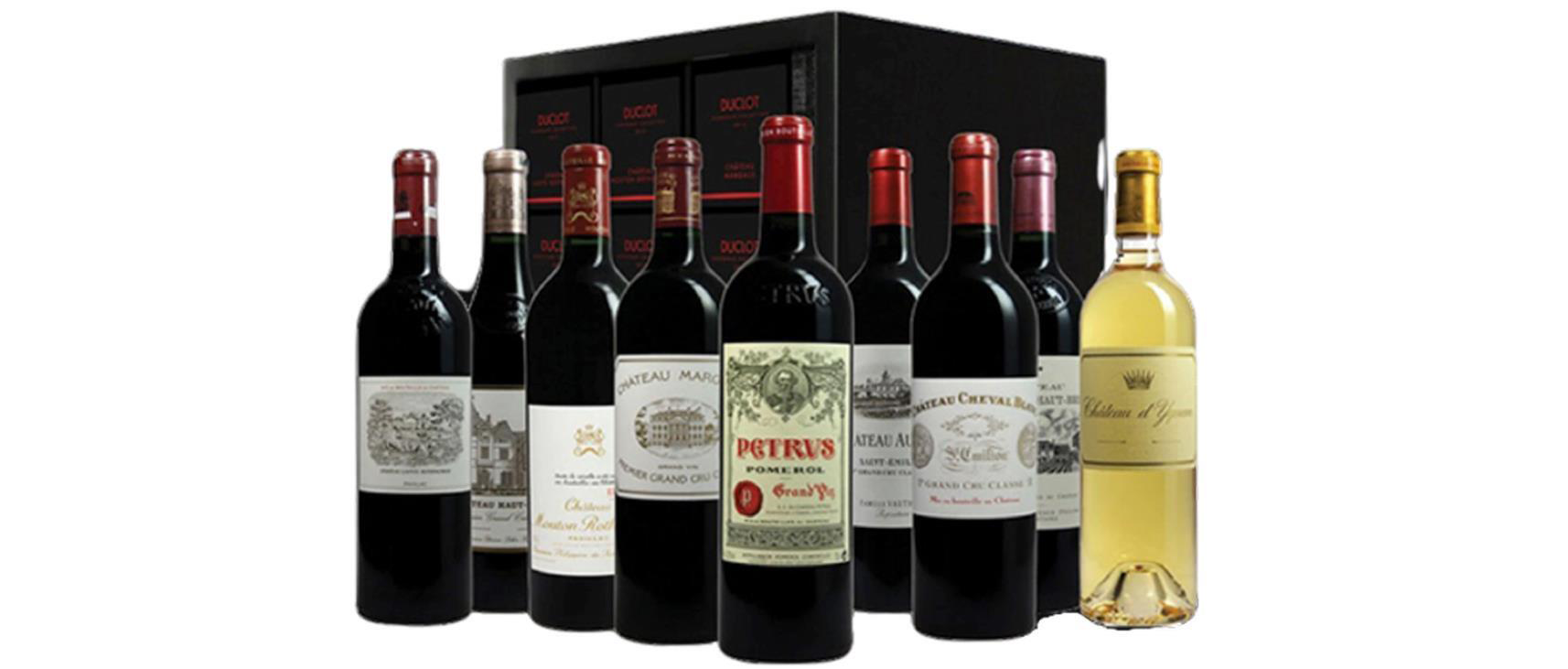 Duclot Collection Case 2018 - 9 Single Bottles in a Presentation Case
Duclot Collection cases are increasingly hard to buy, especially for great vintages like 2018.
As a blue chip négociant, Duclot is a trusted provider of the best of Bordeaux in single bottles.
The Duclot Collection Case 2018 contains five 100 points Wine Advocate wines! (Pétrus, Ausone, Margaux, Haut-Brion and Lafite Rothschild).
This is our first recommendation of a mixed collection case, based on our experience of how popular these are in Asia (especially).
Duclot Collection Case 2018 is offered at a big discount to its 'sum of parts' valuation, and hence represents an excellent investment opportunity.
All the 2018 100 point wines are in this case (except the unreleased Château Latour).
Duclot: A Historic Bordeaux Négociant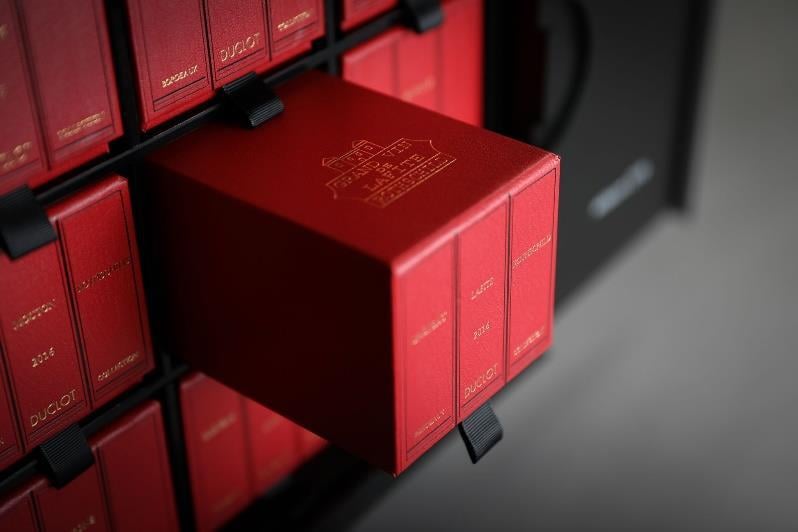 Duclot Collection cases are probably the best way to access single bottles of the very top Bordeaux wines.
Duclot's prestige as a historic Bordeaux négociant guarantees condition and provenance.
Founded in 1886, Duclot has access to most of the best properties and, more importantly, to their cellars!
This means they are able to compose their now-famous Collection Cases to include the most exclusive and in-demand First Growths and other prestige wines from the region.
Bordeaux 2018: An "Extraordinary" Left Bank Vintage
According to Wine Advocate, Bordeaux 2018 is "Extraordinary" (Left Bank) and "Outstanding" (Right Bank).
2018 was the first of a 'Trilogy of Excellence' which includes the vintages 2018, 2019 & 2020. 2018 is a widely collected vintage whose quality was catalysed by three glorious months of record-breaking sunshine from early July to September.
2018 Bordeaux is characterised by "powerful, rich and opulent wines" (Gavin Quinney) and is "right up there alongside 2005, 2009, 2010 and 2016 for quality" (Quinney).
Eric Boissenot, consultant oenologist to many of the leading châteaux in the Médoc, said that 2018 is like a blend of 2009 and 2016. Gavin Quinney summarises 2018 as an "exceptional vintage for Bordeaux", and that is reflected in the number of 100 point scores awarded by Wine Advocate (all except the unreleased Château Latour are in the Duclot Collection Case!).
From an investment perspective, we also like the "8" in the year of the vintage, which can only increase its long-term desirability in Asian markets.
Duclot Collection Case 2018 - Huge Discount to Intrinsic Value
The Duclot Collection Case 2018 contains one bottle of nine of the very top wines of 2018 from across both banks of Bordeaux, giving a marvellous cross section of what Bordeaux has to offer in this fabulous vintage.
These Duclot cases have become collectors' items that are especially popular as gifts, legacies for children etc. The year 2018 will always be special to someone, for some reason, and to mark it with nine of the best wines from a vintage like 2018 will always be desirable.
And of course, the wines in this case will drink for another 40-50 years.
The Duclot Collection Case 2018 contains the following: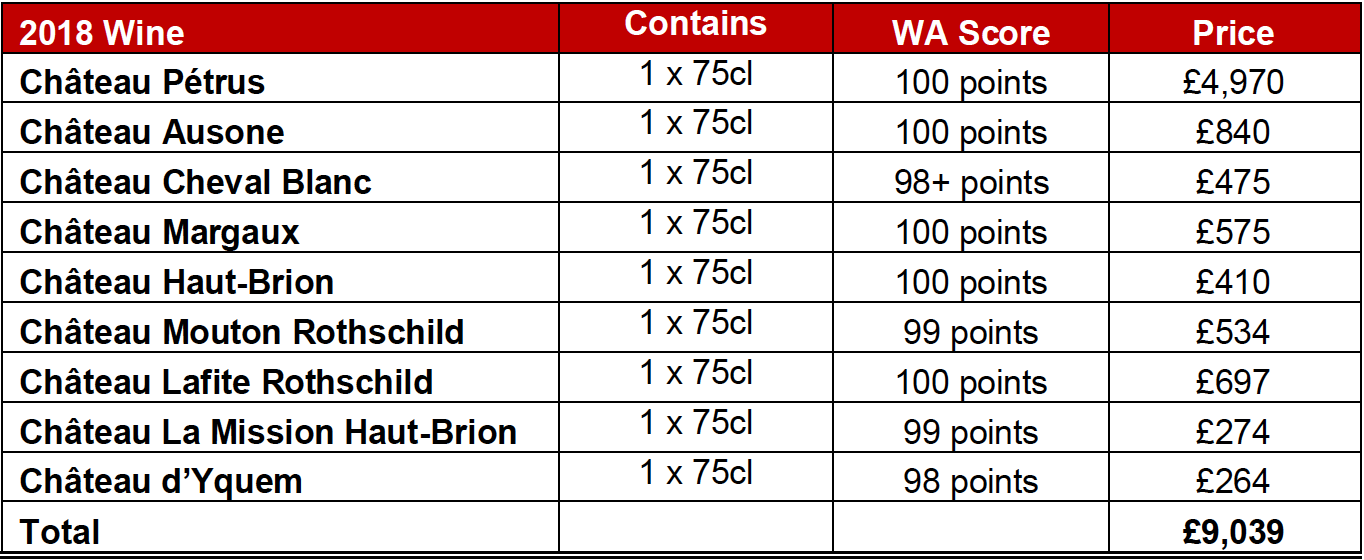 At only £8,250, the Duclot Collection Case 2018 is offered at a significant discount to the cost of purchasing the wines individually in single bottle format (over £9,000).
The full case breakdown with scores and reviews is shown below:
Château Pétrus 2018 (1x75cl)
100 points – Wine Advocate
The 2018 Petrus has retained its opaque purple-black color after bottling, foreshadowing the seemingly frozen-in-time glacial pace at which this wine is proceeding. It opens very reluctantly, requiring considerable air with vigorous swirling and doggedly demands a few hours before it offers glimpses at this slumbering giant of a wine. As it eventually unfurls, it slowly morphs into a powerful, fantastically pure nose of preserved plums, blackberry preserves and blueberry compote, followed by nuances of molten licorice, dark chocolate, black truffles, iron ore and, still later, floral notions of lilacs and rose oil come through. The full-bodied palate is taut, muscular and oh-so-tightly wound at this stage, revealing peeks at many, many layers of perfectly ripe black and blue fruits, exotic spices and earthy notions for which words simply fail. The texture is at once rock solid and fantastically plush, with impeccably knit freshness, finishing so long you really can't taste or think of anything else for the rest of the day. Here is a heart-stopping titan that puts paid to all those naysayers who contest that perfection in wine cannot exist. It will require a good 8-10 years to hit its stride, then it is very likely to outlive us all, but you will want to make certain you drink this one before you go.
Château Ausone 2018 (1x75cl)
100 points – Wine Advocate
The 2018 Ausone is a blend of 60% Cabernet Franc and 40% Merlot. Deep garnet-purple in color, rather predictably, the nose is almost completely shut-down on first sniff, taking considerable aeration to begin to reveal its jaw-dropping perfume of ripe black cherries, wild blueberries and plum preserves, leading to suggestions of candied violets, molten chocolate, licorice and crushed rocks with subtle cedar and pencil lead hints. The medium to full-bodied palate (14.5% alcohol) is so tightly wound and nuanced at this stage, it requires a lot of focus unravel all that is going on here. In short: a lot. The ripe, rich, black and blue fruit layers eventually give way to the beautifully cerebral earthy/minerally subtext, carried by fantastically well-knit tension, delivering an incredibly long, foundation-shaking finish. If the earth doesn't move when you drink this, you're probably not doing it right.
Château Cheval Blanc 2018 (1x75cl)
98+ points – Wine Advocate
The 2018 Cheval Blanc is a blend of 54% Merlot, 40% Cabernet Franc and 6% Cabernet Sauvignon, with a 3.75 pH and 14.5% alcohol. Deep garnet-purple colored, it needs considerable swirling and air to releases fragrant notes of stewed plums, juicy black cherries and ripe blackberries with underlying suggestions of damp soil, black truffles, rose oil and cardamom with wafts of underbrush and iron ore. The medium to full-bodied palate is densely packed with rich black fruits and loads of earthy accents, framed by super firm, grainy tannins and seamless freshness to balance, finishing with amazing length and a beautiful array of floral and mineral sparks. Thirty-three plots contributed to this wine, out of the forty-three in production. Of the rest, five went into Petit Cheval and five into bulk. It will need a good 6-7 years at least to really start to strut its stuff and should cellar for a further 30 years or more.
Château Margaux 2018 (1x75cl)
100 points – Wine Advocate
The 2018 Château Margaux is composed of 90% Cabernet Sauvignon, 4% Merlot, 4% Cabernet Franc and 2% Petit Verdot, representing 36% of the crop this year. The wine has a pH of 3.8 and 14% alcohol. Deep purple-black in color, it slowly unfurls to reveal tantalizing scents of crème de cassis, wild blueberries and Black Forest cake with hints of redcurrant jelly, rose oil, dark chocolate and cedar chest plus a touch of star anise. The medium to full-bodied palate bursts with opulent black fruit, fragrant earth and floral layers, supported by a rock-solid structure of exquisitely ripe, finely grained tannins and seamless backbone of freshness, finishing with fantastic length. This is classic Margaux at its most seductive, although it is, rather amazingly, approachable and absolutely delicious right now. But, to enjoy its full glory, you will want to cellar it for at least 6-8 years and then watch it metamorphize over the next 40+ years.
Château Haut-Brion 2018 (1x75cl)


100 points – Wine Advocate
The 2018 Haut-Brion is composed of 49.4% Merlot, 38.7% Cabernet Sauvignon and 11.9% Cabernet Franc. Deep garnet-purple in color, the wine needs a lot of swirling before it begins to release a whole complex melody of notes, one at a time to begin: tilled earth, followed by pronounced licorice, then crushed rocks, then the preserved plums. Eventually, it all comes together into a fascinating crescendo of intense crème de cassis, rose oil, wild blueberries, and kirsch notes, giving way to quiet, persistent leitmotif scents of cinnamon stick, truffles and redcurrant jelly. The medium to full-bodied palate delivers all this and more, revealing tightly wound black fruit, red berry and exotic spice layers within a solid, wonderfully plush frame and seamless freshness, finishing with epic length and loads of earth and mineral sparks. This is a profound, highly intellectual, multilayered baby, which will require a good 7-8 years to begin to sing its incredible song, then should cellar a further 40 years at least. By way of reference, think 1989 with more restraint and even greater purity.
Château Mouton Rothschild 2018 (1x75cl)