Do you know which Pauillac 2022 has the same score as four First Growths (Lafite Rothschild, Mouton Rothschild, Margaux, Haut-Brion), but is only 11% of their price (i.e. almost 90% cheaper)?
Did you guess Château Grand-Puy-Lacoste?
With its 96-98 points rating from Bordeaux's most influential critic Neal Martin, Grand-Puy-Lacoste 2022 matches four First Growths in quality, but at a price which looks almost like a typo:

Lafite Rothshild 2022, Margaux 2022 and Mouton Rothschild 2022 are all SOLD OUT at release price. But Grand-Puy-Lacoste 2022 is still, remarkably, available at first tranche release price. Collectors should act now before it is too late.
One of Most Undervalued Bordeaux 2022s (based on Neal Martin Scores)
Our latest feature (available free on Cru at Invest | Relative Value Analyser (cruworldwine.com)) allows us to plot the price of all the 2022 Bordeaux releases against their Neal Martin score.
The result shows Grand-Puy-Lacoste 2022 with its 96-98pts score and price of only £ 358 / SG$ 612 / HK$ 3,582 p/cs stands out as one of the most undervalued 2022 releases: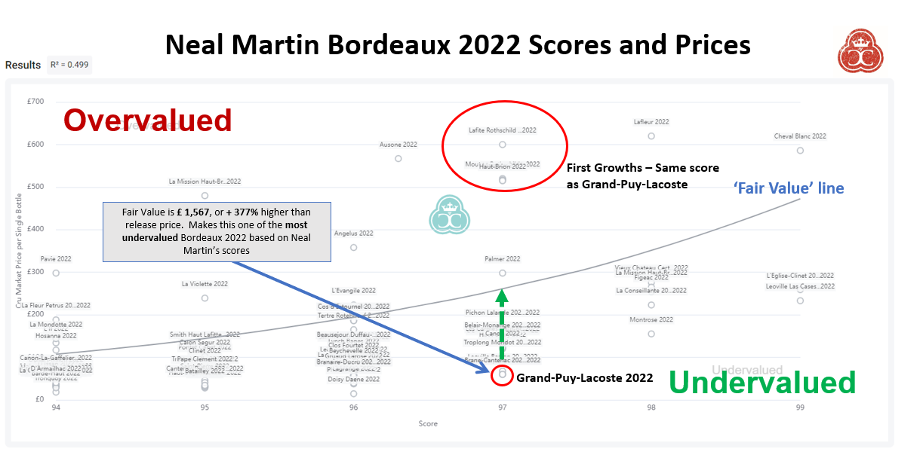 Neal Martin is Bordeaux's most influential critic, so when he says that Grand-Puy-Lacoste 2022 is "endowed with huge potential", that is … well … huge. Martin also praises this wine's "sensuality" and its "peacock's tail" finish, before giving it a drinking window to 2065. This is 5 years longer than the window he assigns to Château Margaux 2022. If that fact doesn't underline its monumental quality, nothing will.
Is Grand-Puy-Lacoste 2022 as good as Lafite, Margaux, Haut-Brion, or Mouton Rothschild? Time will tell, but we feel pretty confident that it isn't 90% worse (!) which is where the market is pricing it today.
Therefore Grand-Puy-Lacoste 2022, at release price (or even close to it) is one of our TOP Bordeaux 2022s recommendations today, and a case or two belongs in every private collection.
---