Outstanding Vintage - Lafite Rothschild 2019 is one of the estate's finest modern vintages, boasting 100 points from Wine Advocate and 98 points from Neal Martin.

Significantly Undervalued - The 2019 vintage is the most undervalued top vintage today, trading at a -14.5% discount to its 'fair value'.

Top Investment Grade - Awarded a AAA Investment Rating by Cru's algorithm, Lafite Rothschild 2019 is one of the highest quality assets in our database.

Top Performing First Growth - Lafite 2019 is one of the best performing Lafite vintages over the past three years, up almost +41% from release price.

Opportune Moment for Acquisition - Lafite 2019 has experienced a mini pull-back in price from its October 2022 high (-12.6%), creating an excellent entry point for any collector who missed it on initial release
---
Lafite Rothschild 2019 is the Most Attractive Modern Vintage
Lafite Rothschild 2019 has the best combination of scores and price of any Lafite today. Priced at £3,570 per (6x75cl), it is a standout vintage on our 'fair value' analyser (using Wine Advocate scores):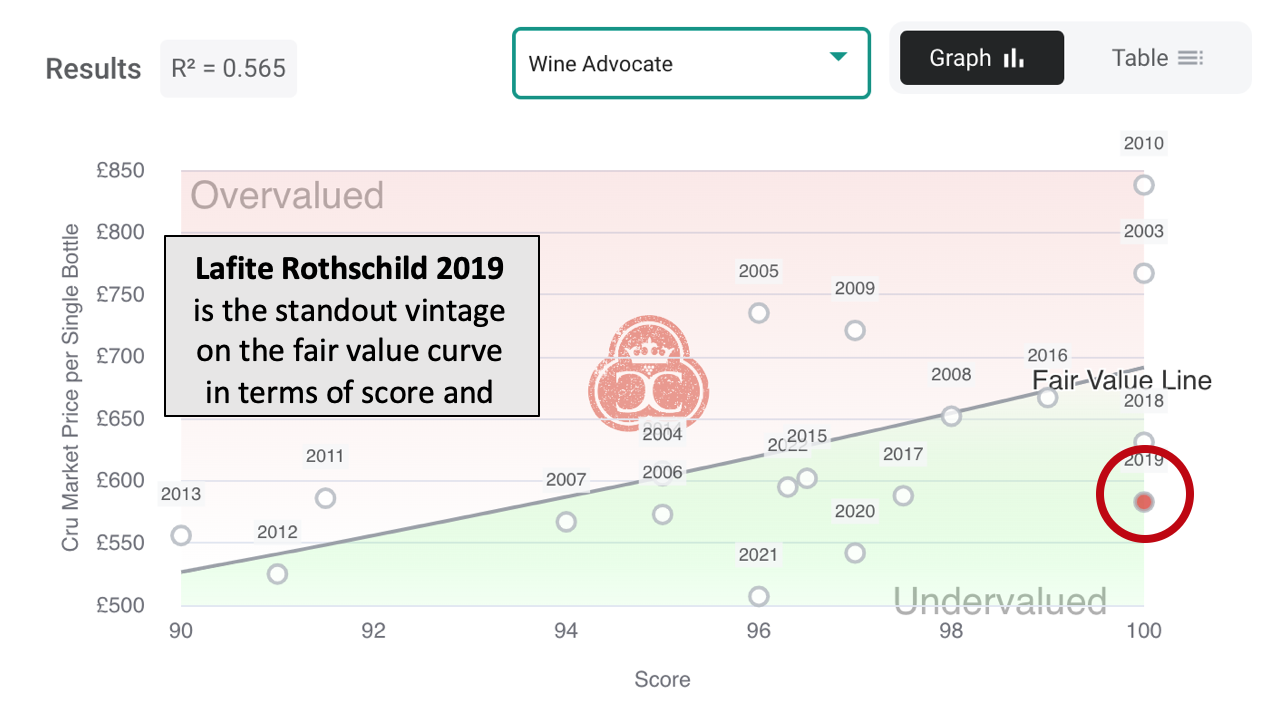 Lafite Rothschild 2019 is trading well below its fair value of £4,095 per case. The current price of £3,500 represents a -14.5% discount to fair value.
The undervaluation shows up clearly when the 2019 is placed in a table with the other best quality modern vintages of Lafite Rothschild:

Lafite Rothschild 2019 has risen +40.8% since release in June 2020, significantly outperforming the wider Bordeaux market.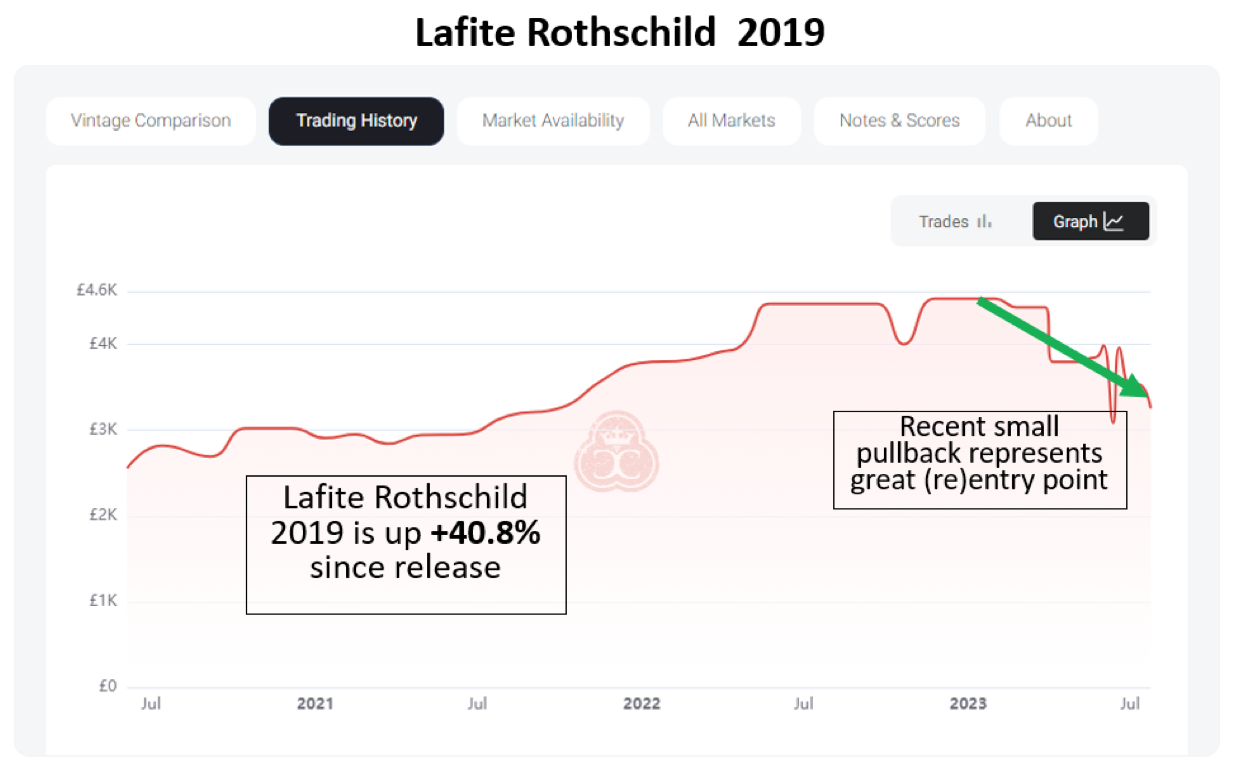 ---
Recent Pullback Offers Great (Re)Entry Point
Lafite Rothschild 2019 traded at an all-time high price of £4,003 in October 2022 on Cru Markets. That represented a gain of +56.6% in a little over two years.
Since that date, perhaps not surprisingly, the wine has seen a limited amount of profit-taking and has retrenched by -12.6% to its current level of £3,500. This pullback looks like an excellent entry (or re-entry for those who sold at the top) point.
There are two reasons why we think the current -12.6% retracement is as far as Lafite Rothschild 2019 will fall:
1. Château Buybacks: Bordeaux estates are becoming more and more active in the secondary market (as we saw recently with the 2017 vintage). Given its quality, the château won't want to see this wine decline much further. And given the very low level of inventory in Bordeaux, we would not be at all surprised to see the estate picking off low-ball offers going forward.
2. 2022 Release Price: Lafite Rothschild 2022 was readily accepted by the market at £3,570, even trading higher in the secondary market. Having established this price point, the market won't, we believe, act irrationally enough to allow the (much better scored) 2019 vintage to trade at a meaningful discount to this price.
---