Deep Discount to Rival Estates – Opus One is available at a significant discount to other top Napa Valley estates.

Potentially the Greatest Opus One Ever - WA score of 97-99pts places it at the pinnacle of the Opus One hierarchy, "a truly magnificent Opus One in the making!"

'AAA' Investment Rating – Genuine 'investment grade' quality.

Excellent liquidity – Over US$ 750,000 annual trading volume, providing good liquidity for trading.

Global Demand – Rothschild ownership and 'La Place' distribution (Bordeaux marketplace) ensures strong global brand presence.

Rate of Consumption – Drinking window opens next year (Anson), increasing demand profile from 2024.

2020 Vintage – The smoke ravaged Opus One 2020 will not be commercially released, ensuring extra pressure on 2019 to satisfy demand for two vintages.
---
New World Icon With Old World Heritage
Arguably the region's most international famous fine wines, Opus One was the brainchild of two of the most influential winemakers of the modern era, Baron Philippe de Rothschild of Mouton Rothschild and Robert Mondavi.
Born in 1979 from the marriage of Old World tradition and New World innovation, Opus reflects the meticulous craftsmanship and visionary approach that have since become the hallmark of Napa Valley's greatest wines.
Over the last decade, top Napa Valley brands have exploded in global popularity, driving a surge in secondary market pricing:
With many of Napa Valley's biggest names now reaching astronomical prices, Opus One's pricing remains relatively affordable:

---
'La Place' Distribution Boosts Global Appeal
One of the most compelling aspects of the Opus One 'buy case' is its exceptional global demand. Roughly half the production sells outside the US domestic market.
This is demand is largely attributable to the distribution network known as 'La Place de Bordeaux'. This Bordeaux-based marketplace has driven the profiles of wines like Lafite Rothschild, Latour and Pétrus over many decades, and it is now working its magic with Opus One.
Opus One is currently the 10th most searched wine/spirit on Wine-Searcher (beating the likes of Domaine de la Romanée Conti and Cheval Blanc). The next Napa Valley wine to feature was Caymus, all the way down in 47th position.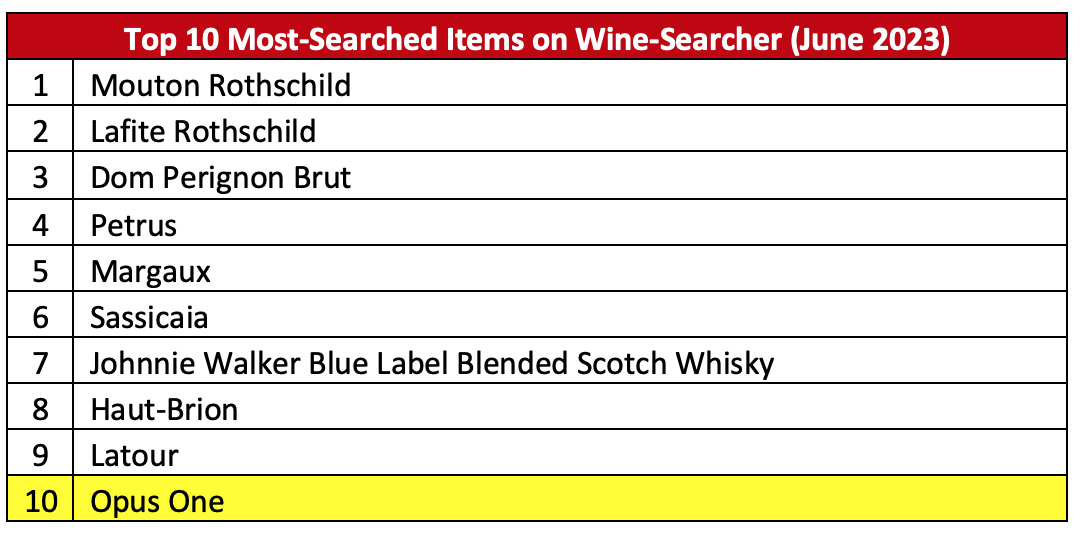 La Place has been particularly successful at introducing Opus One wines to the fast-growing Asian markets. The growth of high and ultra-high net worth individuals in these markets should continue to ensure strong demand growth.
Opus One being on La Place de Bordeaux is a sign of the estate's ambition to become one of the world's powerhouse fine wine brands.
This is further demonstrated by the aggressive trend to increase release prices: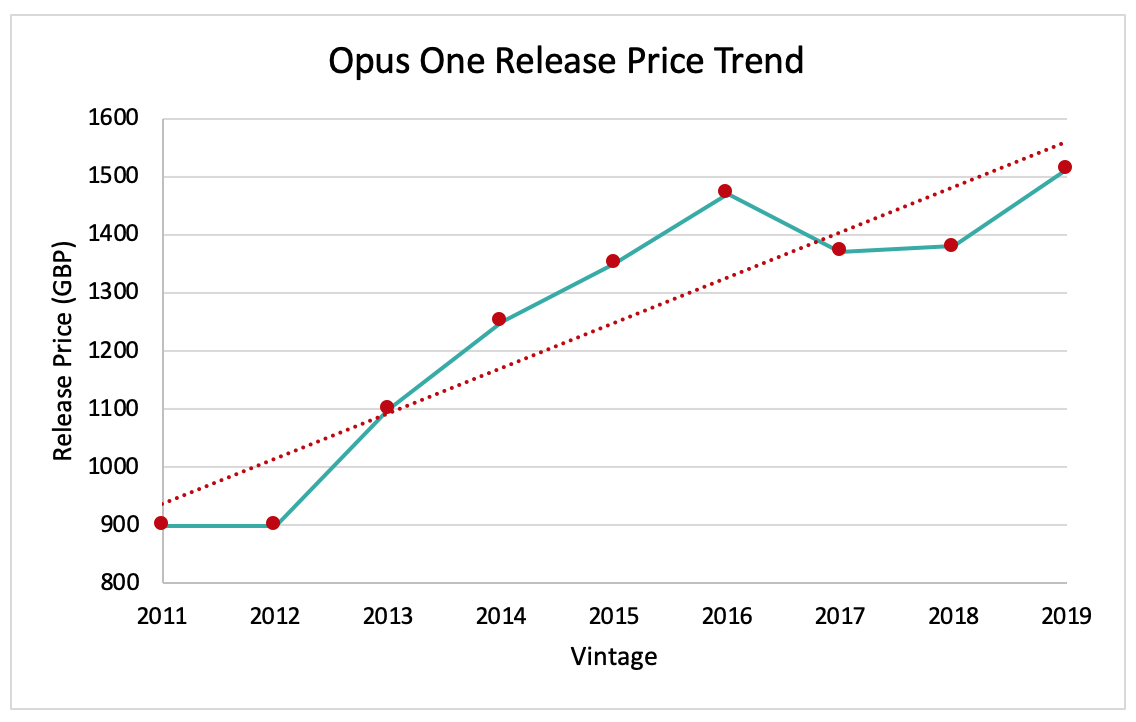 This rise in release prices has not been merely 'aspirational' however, it has been supported by a relentless, and fairly consistent, increase in critic scores also: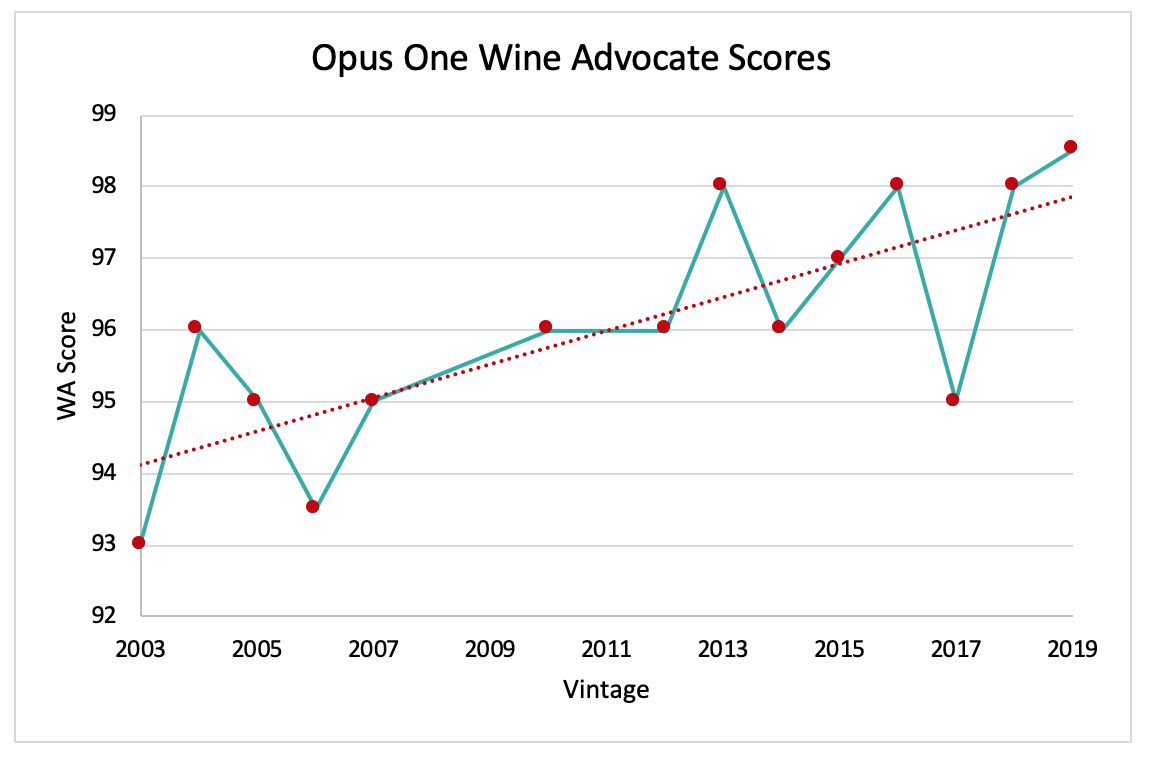 ---
No 2020 Vintage Will Tighten the Secondary Market
Wildfires ravaged the Californian landscape throughout 2020. Many producers were severely affected by smoke taint as well as crop destruction. Opus One was one of the producers affected and consequently made only a tiny amount of their 2020 vintage which they have decided to keep back.
Opus One 2020 would have been released in early September 2023. As that date approaches (and it isn't far off), dealers who would have been supplied with a new vintage are going to be empty-handed, we see no scenario in which this doesn't put significant pressure on existing back vintages, with the 2019 the obvious candidate for increased demand.
There is also the possibility that Opus One will re-release some of their 2018 and 2019 vintages back on to the market at inflated prices when the 2020 should have released in order to make up for this shortfall.
Another side effect of withholding the 2020 vintage is that when the 2021 vintage comes around, we will likely see a big price hike to make up for the lost revenue from the previous year. Again, this will only serve to benefit back vintages and make them look more appealing.
---
2019 Is Potentially 'Best Ever' Opus One
Opus One 2019 is currently rated 97-99 points by Wine Advocate. We expect this range score to be condensed into one number by the end of 2023. If it were to come in at the top end of the range, that would make it the best ever scoring Opus One, eclipsing the 98 points scoring 2013, 2016 and 2018.
---
Napa Valley Is Often Drunk Young – Older Vintages Very Hard to Find
Napa Valley is located in the State of California, which if recognised as a sovereign nation would be the 5th largest global economy.
This abundance of local wealth is a considerable driving factor behind the success of Napa wines. The increasingly large amount of disposable income for local residents naturally leads to an increase in demand for luxury goods.
Additionally, the initial tannin profile on Napa wines is considerably generally softer than their Bordeaux counterparts. As a result, these wines are often much more approachable when young, resulting in a far greater rate of early consumption. -
This is proved by the fact that back vintages of top Napa Valley wines are notoriously hard to find. For example there are zero full cases of Opus One 2005 listed in the UK, compared to multiple offers for Lafite Rothschild 2005.
---