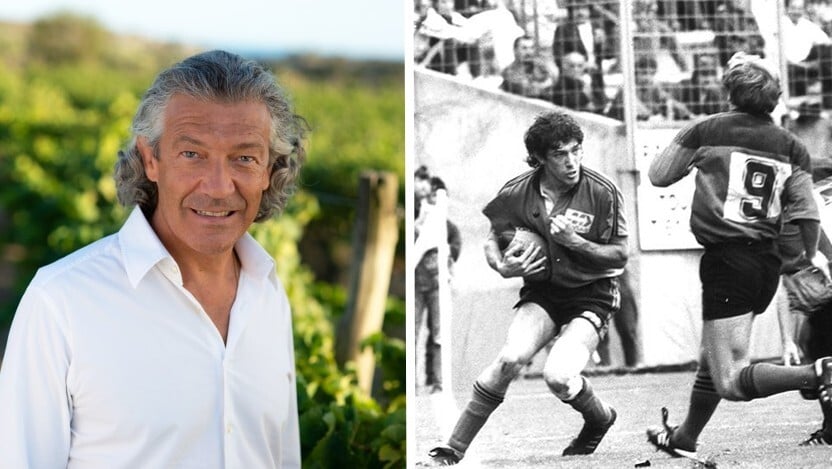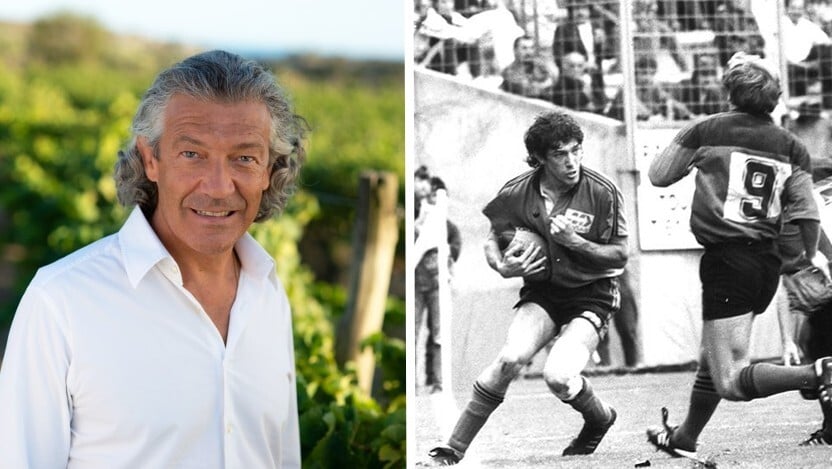 Widely crowned as the "King of the Languedoc", former International Rugby star Gérard Bertrand has cemented himself as both a winemaking and environmental pioneering owning the largest number of Biodynamically certified hectares under vine in the world! Hailing from a region known best for mass-produced wines of great value but ordinary quality, his team's crusade is a simple one - to reinvent the Languedoc as a region for true fine wine and terroir expression. The jewel in the crown of his considerable stable is of course the iconic Clos du Temple Rosé, but collectors are increasingly aware of his other projects as the hive of activity across all 240 of his hectares shows no signs of slowing down.
Which wine do you recall being the first truly great bottle you tasted?
I remember pretty well two of them: a Château de Villemajou 1973 drunk with my father Georges Bertrand the day of my 20 years. And a Romanée Conti 1942, that I had the chance to drink with Aubert de Villaine in Burgundy. A very particular and emotional vintage, made by the women in 1942. That's when I understood that, sometimes, the wine can carry a message.



Which wine region from around the world are you most excited about (apart from your own)?
I am a real wine enthusiast and feel exited by every wine region in the world. But I may confess that I have specific feelings for Greece: soils, climate, grapes varietals, tradition, history… everything about Greek vineyards is fascinating.



Viticulture and winemaking are inherently challenging endeavours, but what, be it climate change or otherwise, would you foresee as the biggest challenge to yourself or your region as a whole?
I've been challenging myself and my team for the last 20 years for a big change of our practices. Convinced that biodynamic viticulture is the best option for sustainability and biodiversity as well as the best way to produce fine wines that represent all the subtility of each terroir, I have converted all our practices in our 17 estates. Now the next challenge is a collective one: organic and sustainable practices must become the new normal. We take our part by setting up long term partnerships with wine growers in our region, supporting them economically when they decide to change and sharing with them our experience and expertise.



For you, is winemaking more an art or a science?
I think winemaking is an alchemy, so all together an art, a science, a philosophy and… a discipline, and probably what I love the most in my job.



What is the most recent change you have made in the vineyard or winery that has significantly affected your style of wine?
At le Clos du Temple, I considered that all the elements were united to produce an iconic rosé wine made for aging. That conviction opened a new window on our rosé winemaking approach. The extraordinary terroir of Cabrières, the specificity of the soils, the biodynamic practice, and the unique blend of 4 old red grape varieties (Grenache, Cinsault, Syrah, Mourvèdre) and a white grape variety (viognier) are not the only reasons why this rosé is so unique. We apply a specific winemaking practice that also makes this wine so exceptional that includes cold pressing, before fermentation at low temperature and aging in new French oak barrels for 6 to 8 months on fine lees with stirring.



What do you think about the role that critics' scores play in the fine wine market?
The wine offer being extraordinarily diversified, the experts' opinions, as well as the friends' advice, the ratings, the rankings, the sommeliers', and the wine merchants' recommendations act as reference points for the consumers and the amateurs and create opportunities of discoveries and revelations.



What is the best/most unusual food pairing that you have had with your wine?
We recently paired Villa Soleilla, our biodynamic orange wine, with Osciètre caviar and it was quite an uncommon experience.



If you could only have one vintage of one cuvée from your own estate in your cellar, which would it be?
La Forge, 2011. This wine is my tribute to my father, from a specific centenary old Carignan and Syrah at Château de Villemajou. And 2011 was an exceptional and remarkable vintage, I still precisely remember the harvest and how inspirational the blending was.