Temporary Dip in Liquidity Creates Opportunity
As global interest rates have risen in 2023, the upwards trending fine wine market of 2021 / 22 has given way to sideways trading, with lower liquidity and a much wider dispersion of prices. We believe this situation will be short-lived, but in collectables markets like fine wine, lower liquidity often spells 'opportunity'.
Let's look at how you can use the current market to build new positions at excellent prices. Three graphs tell the story of where we are: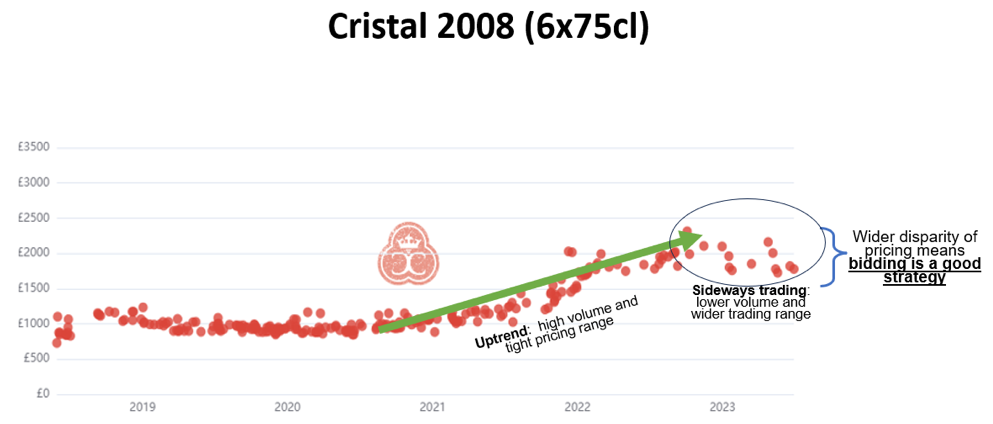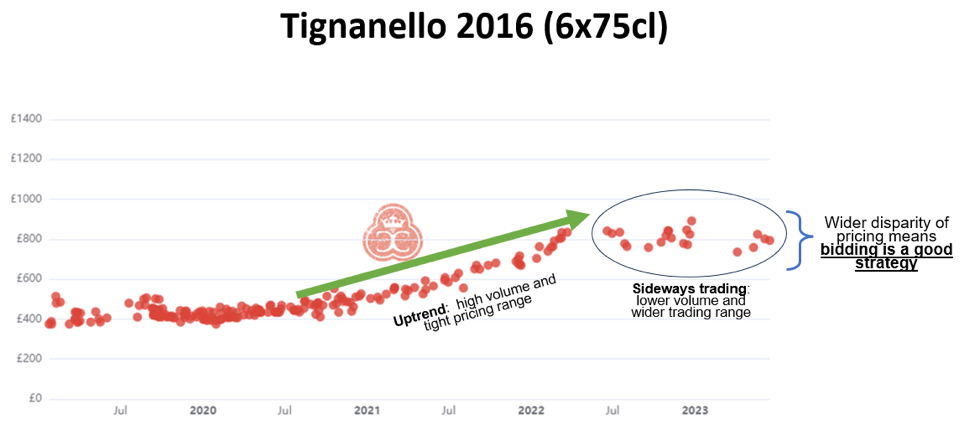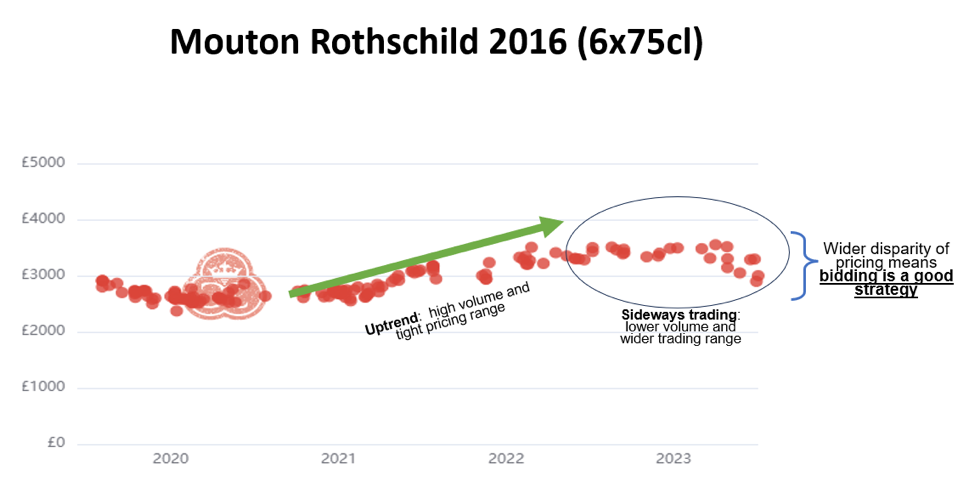 Cristal 2008, Tignanello 2016 and Mouton Rothschild 2016 have little in common, in wine terms, but their recent trading graphs are all identical!
In each case the upwards trend which started in Q3 2022 - accompanied by high volume and a tight pricing range - has given way this year to sideways trading, with fewer trades and a much greater variation in trading prices.
---
How to Profit from Lower Liquidity Markets: Bids, Bids and more Bids!
With fewer trading data points, the true 'market price' becomes harder to ascertain. This is what creates the opportunity.
The key is to make sure you are positioned to pick off stray low offers at the bottom of the new wider trading ranges.
You need to pay attention to how far below its recent high print each wine is now trading. Some wines are now trading at discounts to recent prices which seem wholly unmerited. This is especially the case in some top Champagnes. We will be circulating a 'buy list' of wines we think have fallen too far in the next few days.
But most importantly of all, you need to have a higher number of bids than usual out in the market. Of they need to be realistic; you can't bid 50% down on a wine like Mouton Rothschild 2016 and expect to get filled, but you should have a great number of 'speculative' bids out than normal.
---
Fortune Favours the Bidder
This month we have seen a record percentage of our trading volume coming from client bids. This proves two things: i) that our savvy clients are already wising up to the situation, using the current thinner market to pick up bargains, and ii) that these bargains really are out there!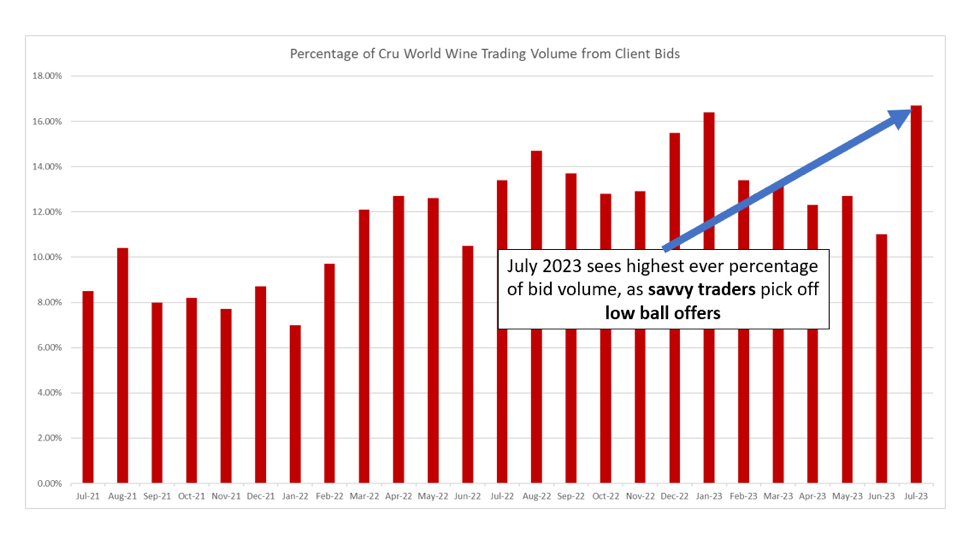 The rise in global interest rates has led to lower liquidity and wider price variations in the fine wine market, creating an opportunity for savvy investors to strategically place realistic bids and build great positions. Historical patterns and macroeconomic factors suggest that the current lower volume trading is likely to be temporary, making the current bids potentially valuable investments in the future.
---
Where Do We Go from Here?
No one has a crystal ball, but we have observed many of these liquidity 'dead zones' before. The reader will have their own view on the macroeconomic backdrop, but we note:
Short-term interest rates are close to peaking in most countries.
Inflation is on a downward trajectory in most economies.
China is already starting to inject more liquidity into its economy.
Highly speculative assets like Bitcoin are up significantly in 2023.
These factors all suggest that the current draining of liquidity from the world system is nearly its conclusion.
If this is the case, then the current listless and lower volume trading in fine wine is unlikely to last too much longer. We firmly believe that some of the lower bids that are getting hit right now will end up looking like inspired purchases in 12 or 24 months' time.
If you are unsure about how to use the Cru World Wine platform for bidding, see our simple guide: Bid for wine - United Kingdom (cruworldwine.com)