D'Issan 2019 (6x75cl)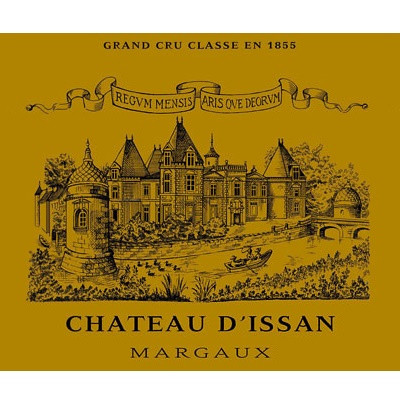 This is a very pure expression of cabernet sauvignon with blackcurrants, blackberries and tar. Wet earth, too. It's full-bodied, yet very tight and reserved. Extremely racy, intense finish. This is super precise. Classical.
Reviewer Name: James Suckling
Review Date: 13th May 2020
A concentrated but graceful feel to this Issan, showcasing why it is one of the powerhouses of Margaux without necessarily flexing its muscles the most obviously. Takes a few moments to unroll on the palate but as it does it expands both forward and outwards, beautifully filling the mid palate with creamy brambly fruits and firm but flexible tannins. This inches open, suggesting it has an extremely long life ahead of it, and is close to the 2016 in expression, although not quite with the depth of expression of that exemplary vintage. 50% new oak, 3.7pH. 45% of overall production went into the 1st wine. Harvest from 25th September to 11th October.
Drinking Window: 2029 - 2045
Reviewer Name: Jane Anson
Review Date: 20th May 2020
Deep garnet-purple in color, the 2019 D'Issan soars out of the glass with expressive scents of baked red currants, warm cassis and black cherry compote with hints of powdered cinnamon, potpourri, Provence herbs and aniseed plus a waft of fallen leaves. The medium-bodied palate is elegantly played with bags of fresh, vibrant black and red berry flavors and a firm line of ripe, grainy tannins, finishing with an invigorating lift.
Reviewer Name: Lisa Perrotti-Brown
Review Date: 18th June 2020
The flagship 2019 Château D'Issan offers more elegance and purity, with terrific cassis, black cherry and blueberry fruits supported by lots of violet, chocolate, and gravelly minerality. Balanced and medium to full-bodied, it has a solid spice of acidity as well as the lush, sexy, seamless style of the vintage. It's straight-up classy juice that's going to have a broad drink window.
Reviewer Name: Jeb Dunnuck
Review Date: 11th June 2020
The 2019 d'Issan has an intense bouquet with blackberry, raspberry, pencil lead and wilted iris scents that unfold gradually from the glass. The oak seems nicely integrated here. The palate is medium-bodied with juicy ripe tannins that provide quite a firm backbone. Mainly black fruit with hints of white pepper, sage and graphite, this is a tightly-wound d'Issan with impressive persistence on the classic pencil lead finish. Maybe a bit old school? There's nothing wrong with that if it is well crafted, like this. Tasted twice, one bottle showing a little more cohesion than the first.
Drinking Window: 2025 - 2055
Reviewer Name: Neal Martin
Review Date: 16th June 2020
Details

Year

2019

Colour

Red

Country

France

Region

Bordeaux

Sub Region

Margaux

Designation

Pack Size

6x75cl

ABV

12.50°

Drinking Window

2029 - 2055

Drinking Recommendation

Not Ready

LWIN

101165420190600750

Reviews (5)

This is a very pure expression of cabernet sauvignon with blackcurrants, blackberries and tar. Wet earth, too. It's full-bodied, yet very tight and reserved. Extremely racy, intense finish. This is super precise. Classical.

Reviewer Name: James Suckling

Review Date: 13th May 2020

A concentrated but graceful feel to this Issan, showcasing why it is one of the powerhouses of Margaux without necessarily flexing its muscles the most obviously. Takes a few moments to unroll on the palate but as it does it expands both forward and outwards, beautifully filling the mid palate with creamy brambly fruits and firm but flexible tannins. This inches open, suggesting it has an extremely long life ahead of it, and is close to the 2016 in expression, although not quite with the depth of expression of that exemplary vintage. 50% new oak, 3.7pH. 45% of overall production went into the 1st wine. Harvest from 25th September to 11th October.

Drinking Window: 2029 - 2045

Reviewer Name: Jane Anson

Review Date: 20th May 2020

Deep garnet-purple in color, the 2019 D'Issan soars out of the glass with expressive scents of baked red currants, warm cassis and black cherry compote with hints of powdered cinnamon, potpourri, Provence herbs and aniseed plus a waft of fallen leaves. The medium-bodied palate is elegantly played with bags of fresh, vibrant black and red berry flavors and a firm line of ripe, grainy tannins, finishing with an invigorating lift.

Reviewer Name: Lisa Perrotti-Brown

Review Date: 18th June 2020

The flagship 2019 Château D'Issan offers more elegance and purity, with terrific cassis, black cherry and blueberry fruits supported by lots of violet, chocolate, and gravelly minerality. Balanced and medium to full-bodied, it has a solid spice of acidity as well as the lush, sexy, seamless style of the vintage. It's straight-up classy juice that's going to have a broad drink window.

Reviewer Name: Jeb Dunnuck

Review Date: 11th June 2020

The 2019 d'Issan has an intense bouquet with blackberry, raspberry, pencil lead and wilted iris scents that unfold gradually from the glass. The oak seems nicely integrated here. The palate is medium-bodied with juicy ripe tannins that provide quite a firm backbone. Mainly black fruit with hints of white pepper, sage and graphite, this is a tightly-wound d'Issan with impressive persistence on the classic pencil lead finish. Maybe a bit old school? There's nothing wrong with that if it is well crafted, like this. Tasted twice, one bottle showing a little more cohesion than the first.

Drinking Window: 2025 - 2055

Reviewer Name: Neal Martin

Review Date: 16th June 2020

Producer

Chateau d'Issan is one of the oldest in the Medoc with a history stretching back to the 1400s. With a moat, drawbridge and courtyard, this Margaux property is a classified historic monument. The wines quality has dramatically increased since appointing Emmanuel Cruse in 1997.

Value Comparison