Domaine Faiveley Corton Clos des Cortons Faiveley Grand Cru 2017 (6x75cl)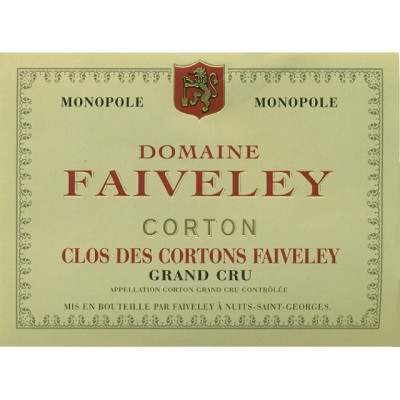 The iconic Faiveley monopole is superb in 2017. Fresh, linear with excellent precision as well as classic Corton concentration and power; it is perhaps the finest wine from Corton that we tasted during our November visit.
You're almost always assured of a great Corton from this 2.7ha monopole, which has performed especially well in the warmer conditions of 2017, retaining acidity and freshness. Fine tannins, chalky minerality and beautifully judged oak all support savoury raspberry, red cherry and pomegranate fruit flavours.

Drinking Window: 2025 - 2032
The super fresh, sour-cherry nose leads you into a very concentrated and focused red with a lot of mineral and graphite character. The tannins are a shade firmer than in the other Grand Crus from Faiveley, but it was always that way. Deep, dark and cool finish that goes on and on. Better from 2023.
An intensely earthy nose is comprised by notably ripe dark currant aromas that are cut with underbrush, spice and a whiff of wood toast and the sauvage. There is an attractive freshness and plenty of vivacity to the velvet-textured full-bodied and overtly muscular flavors that possess terrific punch on the beautifully long, youthfully austere and notably firm finish. I like the overall sense of complexity and this too should age effortlessly.
Drinking Window: 2035+
Reviewer Name: Allen Meadows
Review Date: 10th January 2019
The 2017 Corton Clos des Corton Faiveley Grand Cru comes from a monopole of around 3 hectares. It has quite a powerful bouquet of assertive red currant and cranberry fruit, fig jam and a hint of dates. The medium-bodied palate displays supple tannin and a fine bead of acidity. Quite stocky in style, with a saline, quite persistent finish that lingers in the mouth. Excellent.
Drinking Window: 2024 - 2040
Reviewer Name: Neal Martin
Review Date: 1st January 2019
The 2017 Corton Grand Cru Clos des Cortons Faiveley is showing very well, mingling aromas of blackberries, red berries and cassis with notions of cinnamon, clove and blood orange. On the palate, it's medium to full-bodied, with a fleshy core of fruit, ripe but lively acids and powdery framing tannins, concluding with a sapid, youthfully oak-inflected finish. This is a deep and comparatively structured effort in the context of this approachable vintage, and it will merit a bit of bottle age.
Drinking Window: 2023 - 2040
Reviewer Name: William Kelley
Review Date: 27th November 2019
Details

Year

2017

Colour

Red

Country

France

Region

Burgundy

Sub Region

Corton

Designation

Classification

Pack Size

6x75cl

ABV

13°

Drinking Window

2035+ - 2040

Drinking Recommendation

Not Ready

LWIN

103131920170600750

Reviews (5)

You're almost always assured of a great Corton from this 2.7ha monopole, which has performed especially well in the warmer conditions of 2017, retaining acidity and freshness. Fine tannins, chalky minerality and beautifully judged oak all support savoury raspberry, red cherry and pomegranate fruit flavours.


Drinking Window: 2025 - 2032

The super fresh, sour-cherry nose leads you into a very concentrated and focused red with a lot of mineral and graphite character. The tannins are a shade firmer than in the other Grand Crus from Faiveley, but it was always that way. Deep, dark and cool finish that goes on and on. Better from 2023.

An intensely earthy nose is comprised by notably ripe dark currant aromas that are cut with underbrush, spice and a whiff of wood toast and the sauvage. There is an attractive freshness and plenty of vivacity to the velvet-textured full-bodied and overtly muscular flavors that possess terrific punch on the beautifully long, youthfully austere and notably firm finish. I like the overall sense of complexity and this too should age effortlessly.

Drinking Window: 2035+

Reviewer Name: Allen Meadows

Review Date: 10th January 2019

The 2017 Corton Clos des Corton Faiveley Grand Cru comes from a monopole of around 3 hectares. It has quite a powerful bouquet of assertive red currant and cranberry fruit, fig jam and a hint of dates. The medium-bodied palate displays supple tannin and a fine bead of acidity. Quite stocky in style, with a saline, quite persistent finish that lingers in the mouth. Excellent.

Drinking Window: 2024 - 2040

Reviewer Name: Neal Martin

Review Date: 1st January 2019

The 2017 Corton Grand Cru Clos des Cortons Faiveley is showing very well, mingling aromas of blackberries, red berries and cassis with notions of cinnamon, clove and blood orange. On the palate, it's medium to full-bodied, with a fleshy core of fruit, ripe but lively acids and powdery framing tannins, concluding with a sapid, youthfully oak-inflected finish. This is a deep and comparatively structured effort in the context of this approachable vintage, and it will merit a bit of bottle age.

Drinking Window: 2023 - 2040

Reviewer Name: William Kelley

Review Date: 27th November 2019

Producer

Domaine Faiveley, established in 1825 in Nuits Saint Georges. Pierre Faiveley was born in the village of Nuits. A cobbler by trade, he was also passionate about wine and founded 'Masion Joseph Faiveley' in 1825. He worked simultaneously on his cobbler and wine merchant business up until the end of the 1840's when he decided to invest all of his time and energy in wine. The domaine has become one of the best producers in the Côte d'Or, but they have also emerged as the most well-known in the Côte Chalonnaise, with their Mercureys particularly exceptional.

Value Comparison