Ducru-Beaucaillou 2016 (6x75cl)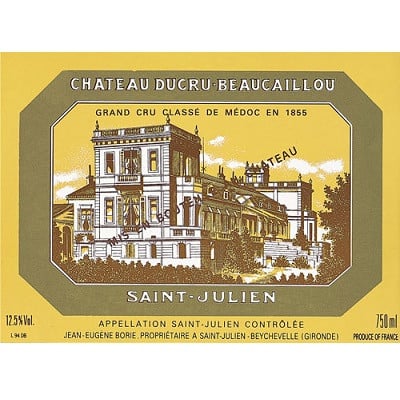 Elegant spices on the nose. A touch of crushed cumin seed and a bit of plum sauce. Dry, dark cocoa powder, purity abounds. Palate is huge and broad. Monolithic fruit and spice. Polished and lifted by very fresh bright acidity. Really something special. A bit of soy sauce salinity to the finish.
Offers a scintillating display of roasted apple wood, incense and warm ganache before the core of cassis, plum preserves and raspberry reduction starts to step forward. The finish, loaded with grip but remarkably polished, pulls everything together. A huge, undeniable wine, overt in style.
Reminding me of the 2010 with its incredible stature and class (as opposed to the more opulently styled 2009), the 2016 Château Ducru-Beaucaillou is a legendary wine from the genius of Bruno Borie, who has managed this estate brilliantly since he arrived in 2003. A blend of 85% Cabernet Sauvignon and 15% Merlot brought up all in new oak, the 2016 has a mammoth bouquet of crème de cassis, espresso, camphor, crushed violets, toasty oak, and graphite. Full-bodied, concentrated, and backward on the palate, it nevertheless has perfectly integrated acidity and building tannins, a concentrated, layered texture, off-the-charts purity of fruit, and a finish that won't quit. Give this powerful, concentrated wine a solid 7-8 years of bottle age and enjoy it over the following 50 years or more.
Very focused and reserved with a mineral, blackberry, licorice and blackcurrant character. Full and refined. Walking a tightrope between steely tannins and and dark fruit. This is highly intellectual and unique. Great finish. Remake of the extraordinary 2014? Stronger than the 2015, for sure.
Deep garnet-purple colored, the 2016 Ducru-Beaucaillou features a wonderfully savory, earthy/meaty nose, delivering well-defined notes of tapenade, truffles, charcuterie and sautéed herbs over crème de cassis, wild blueberries and kirsch with wafts of pencil lead and menthol. Medium to full-bodied, the palate is built like a brick house with the taut, muscular fruit well framed by very firm yet very ripe and finely grained tannins, offering a quiet intensity of red fruit and mineral sparks and finishing with epic length.
Drinking Window: 2022 - 2058
Reviewer Name: Lisa Perrotti-Brown
Review Date: 30th November 2018
Another exceptional success for St-Julien in 2016, following the longest growing season in the recorded history of the property. Reasonable alcohols, because of the slow maturation, emphasise the juiciness of the fruit. Hugely intense and concentrated black brambly fruits, with layer upon layer of stunning liquorice, dark chocolate, rich black cherry and graphite. This is an utterly beautiful wine and it approaches the essence of what owner Bruno Borie must want for this estate, I am sure. It is easy to imagine uncorking this with excitement in 10 or 15 years. The final blend is 85% Cabernet Sauvignon and 15% Merlot, with a high tannin index of 80IPT and a 3.71pH, aged in 100% new oak for 18 months.
The 2016 Ducru-Beaucaillou, bottled in August 2018, is very deep in color. It has a tightly wound bouquet of blackberry, boysenberry and minerals and a faint estuarine tang of oyster shells. The palate is medium-bodied with very fine tannin, layers of pure blackberry and wild strawberry, and veins of blue fruit tinged with a conspicuous graphite note that becomes more pronounced with aeration. This is almost a Pauillac-like Ducru-Beaucaillou, quite noble and blue-blooded. A wine that should give 40 to 50 years of drinking pleasure.
Drinking Window: 2026 - 2070
Review Date: 1st January 2019
Details

Year

2016

Colour

Red

Country

France

Region

Bordeaux

Sub Region

Saint-Julien

Designation

Classification

Pack Size

6x75cl

ABV

13°

Drinking Window

2031 - 2070

Drinking Recommendation

Not Ready

LWIN

100947920160600750

Reviews (6)

Offers a scintillating display of roasted apple wood, incense and warm ganache before the core of cassis, plum preserves and raspberry reduction starts to step forward. The finish, loaded with grip but remarkably polished, pulls everything together. A huge, undeniable wine, overt in style.

Reminding me of the 2010 with its incredible stature and class (as opposed to the more opulently styled 2009), the 2016 Château Ducru-Beaucaillou is a legendary wine from the genius of Bruno Borie, who has managed this estate brilliantly since he arrived in 2003. A blend of 85% Cabernet Sauvignon and 15% Merlot brought up all in new oak, the 2016 has a mammoth bouquet of crème de cassis, espresso, camphor, crushed violets, toasty oak, and graphite. Full-bodied, concentrated, and backward on the palate, it nevertheless has perfectly integrated acidity and building tannins, a concentrated, layered texture, off-the-charts purity of fruit, and a finish that won't quit. Give this powerful, concentrated wine a solid 7-8 years of bottle age and enjoy it over the following 50 years or more.

Very focused and reserved with a mineral, blackberry, licorice and blackcurrant character. Full and refined. Walking a tightrope between steely tannins and and dark fruit. This is highly intellectual and unique. Great finish. Remake of the extraordinary 2014? Stronger than the 2015, for sure.

Deep garnet-purple colored, the 2016 Ducru-Beaucaillou features a wonderfully savory, earthy/meaty nose, delivering well-defined notes of tapenade, truffles, charcuterie and sautéed herbs over crème de cassis, wild blueberries and kirsch with wafts of pencil lead and menthol. Medium to full-bodied, the palate is built like a brick house with the taut, muscular fruit well framed by very firm yet very ripe and finely grained tannins, offering a quiet intensity of red fruit and mineral sparks and finishing with epic length.

Drinking Window: 2022 - 2058

Reviewer Name: Lisa Perrotti-Brown

Review Date: 30th November 2018

Another exceptional success for St-Julien in 2016, following the longest growing season in the recorded history of the property. Reasonable alcohols, because of the slow maturation, emphasise the juiciness of the fruit. Hugely intense and concentrated black brambly fruits, with layer upon layer of stunning liquorice, dark chocolate, rich black cherry and graphite. This is an utterly beautiful wine and it approaches the essence of what owner Bruno Borie must want for this estate, I am sure. It is easy to imagine uncorking this with excitement in 10 or 15 years. The final blend is 85% Cabernet Sauvignon and 15% Merlot, with a high tannin index of 80IPT and a 3.71pH, aged in 100% new oak for 18 months.

The 2016 Ducru-Beaucaillou, bottled in August 2018, is very deep in color. It has a tightly wound bouquet of blackberry, boysenberry and minerals and a faint estuarine tang of oyster shells. The palate is medium-bodied with very fine tannin, layers of pure blackberry and wild strawberry, and veins of blue fruit tinged with a conspicuous graphite note that becomes more pronounced with aeration. This is almost a Pauillac-like Ducru-Beaucaillou, quite noble and blue-blooded. A wine that should give 40 to 50 years of drinking pleasure.

Drinking Window: 2026 - 2070

Review Date: 1st January 2019

Producer

Château Ducru-Beaucaillou is 2ème Grand Cru Classé property in Saint Julien on Bordeaux's Left Bank. The word "Beaucaillou" translates as "beautiful stones" because of the large pebbles which cover the soils of the estate. This property can trace its roots back to the C13th, making it one of Bordeaux's most historic estates. Bertrand Ducru purchased the estate in 1795. He added his name to the winery which quickly earned fame under the name of Château Ducru-Beaucaillou. Successful Bordeaux wine merchant Francis Borie acquired the estate in 1941 (there is hope for us all!). Since 2003, Bruno Borie has been the proprietor and he is firmly in charge of everything that takes place here. Bruno is largely responsible for the recent stratospheric rise of this estate. The 75 hectare Saint Julien vineyard is planted with 70% Cabernet Sauvignon and 30% Merlot. Some of the vines date back to 1918!

Value Comparison