Felettig Chambolle-Musigny 1er Cru Les Lavrottes 2017 (6x75cl)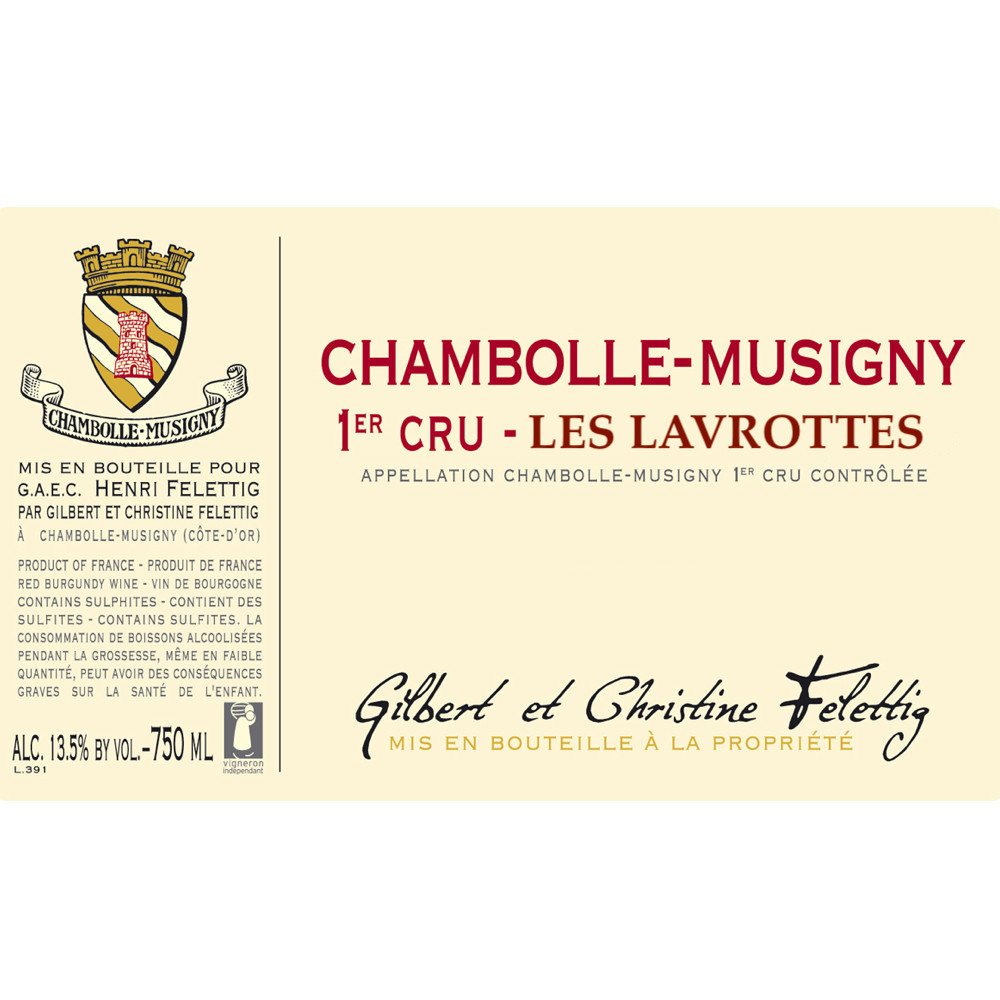 The 2017 Chambolle-Musigny Lavrottes 1er Cru, which sees 50% new oak, was showing some reduction when I visited the domaine, though there appears to be fine fruit concentration. The fresh, vibrant palate is vivid and tensile, offering crisp, slightly chalky tannin and crunchy red fruit mixed with blueberry toward the finish. There is good backbone here, and so this will deserve at least four to six years in bottle. Excellent.
Drinking Window: 2023 - 2040
Reviewer Name: Neal Martin
Review Date: 1st January 2019
Firm reduction blocks an evaluation of the nose. Otherwise there is good energy to the easy-going, round and delicious if light weight flavors that culminate in a dusty and if not exactly rustic finish, then one that isn't particularly refined. This is perfectly OK but not better than that for a Chambolle 1er.
Drinking Window: 2023+
Reviewer Name: Allen Meadows
Review Date: 10th January 2019
One of the more muscular and introverted cuvées in the range is the 2017 Chambolle-Musigny 1er Cru Lavrottes, a wine that unfurls in the glass with a rich bouquet of plummy fruits and grilled squab, framed by a touch of new oak. On the palate, it's medium to full-bodied, chewy and structured, with juicy acids and a nicely defined finish. A little shut down after its recent bottling, the Lavrottes will reward a bit of bottle age.
Drinking Window: 2021 - 2037
Reviewer Name: William Kelley
Review Date: 27th November 2019
Details

Year

2017

Colour

Red

Country

France

Region

Burgundy

Sub Region

Chambolle-Musigny

Designation

Classification

Pack Size

6x75cl

Drinking Window

2023+ - 2040

Drinking Recommendation

Not Ready

LWIN

141618520170600750

Reviews (3)

The 2017 Chambolle-Musigny Lavrottes 1er Cru, which sees 50% new oak, was showing some reduction when I visited the domaine, though there appears to be fine fruit concentration. The fresh, vibrant palate is vivid and tensile, offering crisp, slightly chalky tannin and crunchy red fruit mixed with blueberry toward the finish. There is good backbone here, and so this will deserve at least four to six years in bottle. Excellent.

Drinking Window: 2023 - 2040

Reviewer Name: Neal Martin

Review Date: 1st January 2019

Firm reduction blocks an evaluation of the nose. Otherwise there is good energy to the easy-going, round and delicious if light weight flavors that culminate in a dusty and if not exactly rustic finish, then one that isn't particularly refined. This is perfectly OK but not better than that for a Chambolle 1er.

Drinking Window: 2023+

Reviewer Name: Allen Meadows

Review Date: 10th January 2019

One of the more muscular and introverted cuvées in the range is the 2017 Chambolle-Musigny 1er Cru Lavrottes, a wine that unfurls in the glass with a rich bouquet of plummy fruits and grilled squab, framed by a touch of new oak. On the palate, it's medium to full-bodied, chewy and structured, with juicy acids and a nicely defined finish. A little shut down after its recent bottling, the Lavrottes will reward a bit of bottle age.

Drinking Window: 2021 - 2037

Reviewer Name: William Kelley

Review Date: 27th November 2019

Producer

Founded by former vineyard worker, Henri Felettig in 1974, this is a domaine that can be expected to take good care of its vines. Domaine Felettig is one of the most underrated, or perhaps unsung names in Burgundy, but the quality has been rapidly improving since 2011 under the stewardship of Gilbert Felettig.

Value Comparison