Fonseca 2016 (1x300cl)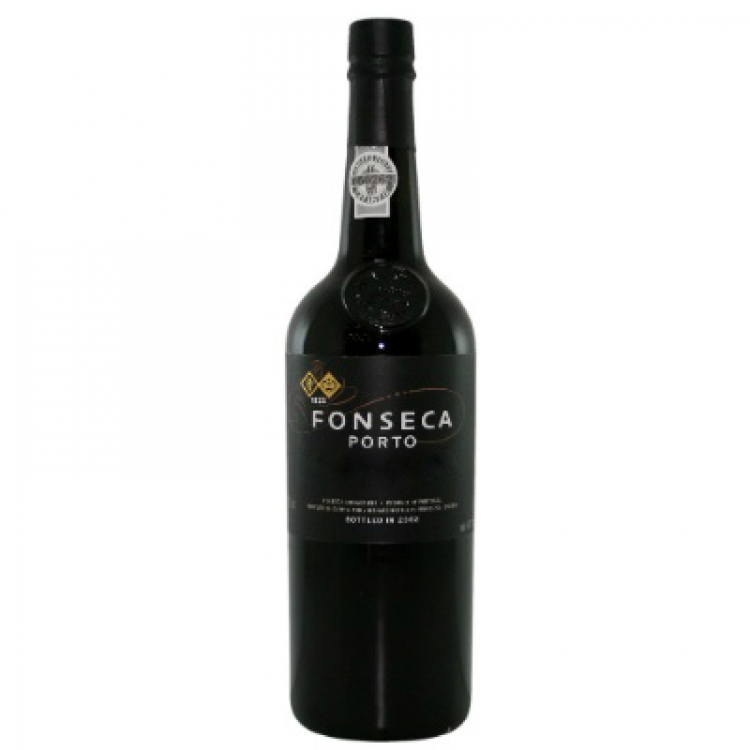 Lots of ripe fruit here with raisins and wet earth that turn to violets and hot stones. Full-bodied, tannic and powerful with fantastic grip and intensity. Grabs you. Impressive. Drink in 2025.
The 2016 Vintage Port is a field blend sourced from the typical three Quintas (Panascal in the Tavora Valley and Quinta do Cruzeiro and Quinta de St Antonio in the Pinhão Valley). This was not quite bottled when first seen (set for a week later). It is now in the USA. It was aged for 20 months in wood and comes in with 99 grams of residual sugar. This dry and focused Fonseca was, in my initial July 2018 report, the pick of the Fladgate Group's litter in 2016. What has most changed in this issue is that Taylor's is showing a lot better while this has closed down a bit more. This is not seriously diminished, though. It is pretty brilliant. If you want that old-school power, it comes with Fonseca in this vintage. Taylor's may have the sexiest fruit of the three, but this seems to have the most muscle. It is true that the balance on the two just might be affecting that perception. Taylor's has a bit more mid-palate depth to soak up the power. Still, if Taylor's is flashier and richer in 2016, this seems even more serious. In the long lifespan of Ports, to be sure, it won't be unusual for them to keep flipping back and forth. Admittedly, this is also probably the hardest to read. Still, I couldn't help but think that this might have slightly more upside potential. Check in around 2060 or so to see if I'm right. (Send me an email if you don't think so. I want to hear from you.)
Drinking Window: 2030 - 2075
Reviewer Name: Mark Squires
Review Date: 28th December 2018
The 2016 Fonseca Vintage Port began to be picked on 21 September at their Panascal vineyard, their Quinta do Cruzeira vineyard not picked until 6 October. It is deep, almost inky in colour. The bouquet is very intense with luscious black fruit laced with embers, clove and hints of bay leaf. There is wonderful purity here and a broodiness that suggests you'd better be patient. The palate is sweet and lively on the entry with some gorgeous ginger and curry leaf notes littered over the compact black fruit. There is wonderful density to this Fonseca. It is like a coiled spring with so much energy towards the finish that you just know this will be a long-term prospect. Superb. Production is 4,900 cases.


More muted and less engaging than some, this is a powerful and slightly introverted wine with seriously impressive detail and a distinguished air. The tannins are present and they warn the taster that unlike the majority of the wines at this tasting Fonseca will require more patience to allow it to slowly come to life.
Dark crimson with a slightly chestnut hue. Very much a cloud rather than a rapier on the nose – hedonistic and ripe with masses of sweetness almost masking a rigorous corset of tannins. You really taste the heat here – but in a very ripe fruit way, not in a hot spirit way.
Details

Year

2016

Colour

NA

Country

Portugal

Region

Porto

Sub Region

NA

Designation

Classification

Pack Size

1x300cl

ABV

20.50°

Drinking Window

2030 - 2075

Drinking Recommendation

Not Ready

LWIN

110768320160103000

Reviews (5)

Lots of ripe fruit here with raisins and wet earth that turn to violets and hot stones. Full-bodied, tannic and powerful with fantastic grip and intensity. Grabs you. Impressive. Drink in 2025.

The 2016 Vintage Port is a field blend sourced from the typical three Quintas (Panascal in the Tavora Valley and Quinta do Cruzeiro and Quinta de St Antonio in the Pinhão Valley). This was not quite bottled when first seen (set for a week later). It is now in the USA. It was aged for 20 months in wood and comes in with 99 grams of residual sugar. This dry and focused Fonseca was, in my initial July 2018 report, the pick of the Fladgate Group's litter in 2016. What has most changed in this issue is that Taylor's is showing a lot better while this has closed down a bit more. This is not seriously diminished, though. It is pretty brilliant. If you want that old-school power, it comes with Fonseca in this vintage. Taylor's may have the sexiest fruit of the three, but this seems to have the most muscle. It is true that the balance on the two just might be affecting that perception. Taylor's has a bit more mid-palate depth to soak up the power. Still, if Taylor's is flashier and richer in 2016, this seems even more serious. In the long lifespan of Ports, to be sure, it won't be unusual for them to keep flipping back and forth. Admittedly, this is also probably the hardest to read. Still, I couldn't help but think that this might have slightly more upside potential. Check in around 2060 or so to see if I'm right. (Send me an email if you don't think so. I want to hear from you.)

Drinking Window: 2030 - 2075

Reviewer Name: Mark Squires

Review Date: 28th December 2018

The 2016 Fonseca Vintage Port began to be picked on 21 September at their Panascal vineyard, their Quinta do Cruzeira vineyard not picked until 6 October. It is deep, almost inky in colour. The bouquet is very intense with luscious black fruit laced with embers, clove and hints of bay leaf. There is wonderful purity here and a broodiness that suggests you'd better be patient. The palate is sweet and lively on the entry with some gorgeous ginger and curry leaf notes littered over the compact black fruit. There is wonderful density to this Fonseca. It is like a coiled spring with so much energy towards the finish that you just know this will be a long-term prospect. Superb. Production is 4,900 cases.



More muted and less engaging than some, this is a powerful and slightly introverted wine with seriously impressive detail and a distinguished air. The tannins are present and they warn the taster that unlike the majority of the wines at this tasting Fonseca will require more patience to allow it to slowly come to life.

Dark crimson with a slightly chestnut hue. Very much a cloud rather than a rapier on the nose – hedonistic and ripe with masses of sweetness almost masking a rigorous corset of tannins. You really taste the heat here – but in a very ripe fruit way, not in a hot spirit way.

Producer

Founded in 1815, Fonseca port has found acclaim with its legendary 1840 vintage (the beginning of a steady stream to follow), and having been the first port produced from entirely organic grapes. Best known for its Bin No.27, these ports retain their youthfulness for decades.



Vintage Comparison

Valuation Tools

Wine Rating is intended to show the quality of the wine from an investment perspective. It takes into account the prices achieved by the producer, the quality of the vintage and the critics' scores for this wine. AAA is the best rating, and B the most speculative.

Please wait a few seconds whilst we process the market data for this wine...

Calculating...

Investment Rating

Wine Rating is intended to show the quality of the wine from an investment perspective. It takes into account the prices achieved by the producer, the quality of the vintage and the critics' scores for this wine. AAA is the best rating, and B the most speculative.

Show Investment Rating Guide

Graph