Giscours 2019 (6x75cl)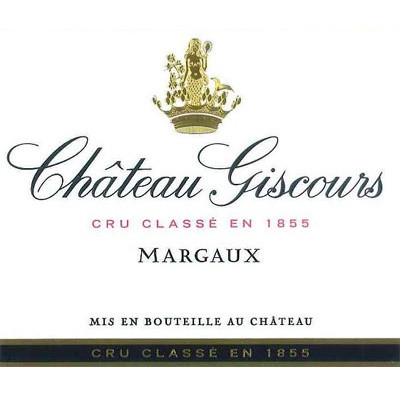 Lots of deep blue fruit with blackberries and grape skins, as well as tar and asphalt. Lead, too. It's full-bodied, yet very tight with powerful, defined tannins, surrounded by attractive ripe fruit. Serious. Reminds me of the excellent 1975. A blend of 65% cabernet sauvignon and 35% merlot.
Reviewer Name: James Suckling
Review Date: 3rd June 2020
The 2019 Giscours is ripe and extrovert on the nose with exuberant black cherries, blueberry and crushed violets bursting from the glass. This is very seductive. The palate is medium-bodied with a tang of seaweed infusing the black fruit on the entry, segueing into more tarry notes toward the well structured finish. This articulates a sense of completeness that I appreciate. The persistency is impressive. This is a superb, potentially long-term Giscours that may well end up at the top of my banded score.
Drinking Window: 2025 - 2060
Reviewer Name: Neal Martin
Review Date: 16th June 2020
This is a serious Giscours, with medium intensity violet-edged ruby colour. High aromatics on the nose with cumin and cloves, followed by black cherry and cassis fruits that do a good job of filling the palate, and a cooling menthol finish as the tannins close in. Enjoyable overall, succulent yet with precision. Harvest lasted for an entire month, from September 11 to October 12, the longest ever at the estate and a reflection of more precise plot-by-plot work, with vines separated according to age and terroir. Thomas Duclos is consultant here as of the 2019 vintage. A yield of 44hl/ha.
Drinking Window: 2028 - 2044
Reviewer Name: Jane Anson
Review Date: 20th May 2020
Based on 65% Cabernet Sauvignon and 35% Merlot, the 2019 Château Giscours is another stunning 2019. Deep purple, with a fresh yet concentrated style on the palate, it has lots of red, black, and blue fruits as well as notes of sandalwood, flowery incense, and graphite. It's not massive, by any means, yet is flawlessly balanced and has integrated acidity, followed by a great finish. It's very much in the more precise, pretty, elegant style of this vintage yet still packs plenty of mid-palate depth. Give bottles 4-5 years of bottle age and enjoy over the following 25 years or so.
Drinking Window: 2025 - 2050
Reviewer Name: Jeb Dunnuck
Review Date: 11th June 2020
Details

Year

2019

Colour

Red

Country

France

Region

Bordeaux

Sub Region

Margaux

Designation

Pack Size

6x75cl

ABV

14.00°

Drinking Window

2028 - 2060

Drinking Recommendation

Not Ready

LWIN

101056920190600750

Reviews (4)

Lots of deep blue fruit with blackberries and grape skins, as well as tar and asphalt. Lead, too. It's full-bodied, yet very tight with powerful, defined tannins, surrounded by attractive ripe fruit. Serious. Reminds me of the excellent 1975. A blend of 65% cabernet sauvignon and 35% merlot.

Reviewer Name: James Suckling

Review Date: 3rd June 2020

The 2019 Giscours is ripe and extrovert on the nose with exuberant black cherries, blueberry and crushed violets bursting from the glass. This is very seductive. The palate is medium-bodied with a tang of seaweed infusing the black fruit on the entry, segueing into more tarry notes toward the well structured finish. This articulates a sense of completeness that I appreciate. The persistency is impressive. This is a superb, potentially long-term Giscours that may well end up at the top of my banded score.

Drinking Window: 2025 - 2060

Reviewer Name: Neal Martin

Review Date: 16th June 2020

This is a serious Giscours, with medium intensity violet-edged ruby colour. High aromatics on the nose with cumin and cloves, followed by black cherry and cassis fruits that do a good job of filling the palate, and a cooling menthol finish as the tannins close in. Enjoyable overall, succulent yet with precision. Harvest lasted for an entire month, from September 11 to October 12, the longest ever at the estate and a reflection of more precise plot-by-plot work, with vines separated according to age and terroir. Thomas Duclos is consultant here as of the 2019 vintage. A yield of 44hl/ha.

Drinking Window: 2028 - 2044

Reviewer Name: Jane Anson

Review Date: 20th May 2020

Based on 65% Cabernet Sauvignon and 35% Merlot, the 2019 Château Giscours is another stunning 2019. Deep purple, with a fresh yet concentrated style on the palate, it has lots of red, black, and blue fruits as well as notes of sandalwood, flowery incense, and graphite. It's not massive, by any means, yet is flawlessly balanced and has integrated acidity, followed by a great finish. It's very much in the more precise, pretty, elegant style of this vintage yet still packs plenty of mid-palate depth. Give bottles 4-5 years of bottle age and enjoy over the following 25 years or so.

Drinking Window: 2025 - 2050

Reviewer Name: Jeb Dunnuck

Review Date: 11th June 2020

Producer

In fairytale fashion, Alexandeer van Beek arrived at this Margaux estate in 1995 to do the 2 week harvest. He stayed, became the managing director, overseeing major replanting and huge growth in quality. A Chateau with a history dating back to 1552, Giscours is flamboyant with great texture and full of personality.

Value Comparison