Gosset Celebris Extra Brut 2004 (6x75cl)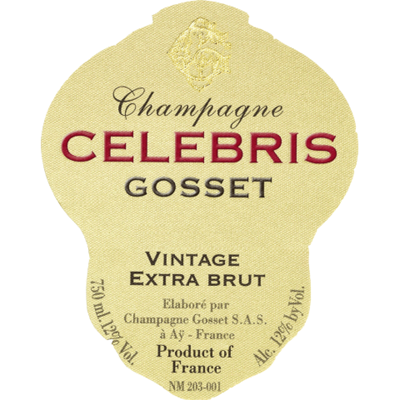 94

Antonio Galloni - Vinous

Gosset's 2004 Extra Brut Celebris is a powerful, bracing wine. Pinot Noir-infused red stone fruits, dried leaves, mint, herbs and spice notes, along with the low dosage, give the wine its distinctive combination of power, breadth and raciness. The 2004 needs a bit of time for the bouquet to open up, but when they do, the wine is quite expressive. Now 12 years after the vintage, the 2004 Celebris offers a good bit of aromatic and flavor intensity, with the slightly mature notes that are typical for a wine of this age. Chamomile, honey and lightly roasted almond are some of the nuances that linger through to the creamy, expansive finish.

This rich Champagne is soft and creamy, with orange zest, ground anise and light, tangy acidity enlivening the glazed apricot and pastry crust flavors. Offers a bright, expressive finish. Drink now through 2022.

Pale straw green colour with a flowing, persistent small bubbled mousse. The nose is tight and contained , although with air it develops more complexity, with aromas of toasted bread, spiced lemon and quince. Although still taut, there's a real core of mineral rich, deep flavours that promise well for long aging. Up there with the 2002 but more subtle and ready sooner. Dosage 4.5%, disgorged June 2016.
Details

Year

2004

Colour

White

Country

France

Region

Champagne

Sub Region

NA

Designation

AOP

Classification

NA

Pack Size

6x75cl

LWIN

125642420040600750

Reviews (3)

94

Antonio Galloni - Vinous

Gosset's 2004 Extra Brut Celebris is a powerful, bracing wine. Pinot Noir-infused red stone fruits, dried leaves, mint, herbs and spice notes, along with the low dosage, give the wine its distinctive combination of power, breadth and raciness. The 2004 needs a bit of time for the bouquet to open up, but when they do, the wine is quite expressive. Now 12 years after the vintage, the 2004 Celebris offers a good bit of aromatic and flavor intensity, with the slightly mature notes that are typical for a wine of this age. Chamomile, honey and lightly roasted almond are some of the nuances that linger through to the creamy, expansive finish.

This rich Champagne is soft and creamy, with orange zest, ground anise and light, tangy acidity enlivening the glazed apricot and pastry crust flavors. Offers a bright, expressive finish. Drink now through 2022.

Pale straw green colour with a flowing, persistent small bubbled mousse. The nose is tight and contained , although with air it develops more complexity, with aromas of toasted bread, spiced lemon and quince. Although still taut, there's a real core of mineral rich, deep flavours that promise well for long aging. Up there with the 2002 but more subtle and ready sooner. Dosage 4.5%, disgorged June 2016.

Producer

For over four centuries Gosset Champagne has been hand crafting a house style that stems from artistry, elegance and refinement. The oldest Wine House in Champagne, Gosset was founded in Aÿ in 1584 by Pierre Gosset. In the 18th century Gosset joined their neighbours and began to make the sparkling wines for the first time. It was at this time the house adopted the unique antique flask-shaped bottle that is still used today. Winemaking at Gosset is as simple as possible and avoids malolactic fermentation to help protect the characteristics of each vineyard and cru. With their individual style Gosset seek to create wines that reflect the true characteristics from the cool climate and chalk soils that make the Champagne region unique. Gosset wines are also marked by their extended ageing and the average length of time spent in the cellar across the range is 5 years.

Value Comparison