Haut-Brisson 2018 (12x75cl)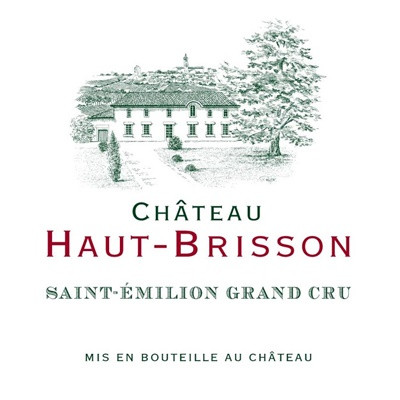 This is a very powerful and structured Haut-Brisson, showing incredible depth and richness. Full-bodied and layered with incredible depth and purity. Layers of fruit and tannin. Best ever.
Review Date: 11th April 2019
The deep, saturated purple/plum-colored 2018 Château Haut Brisson checks in as a blend of 90% Merlot and 10% Cabernet Franc from a 22-hectare vineyard of fine gravelly and quartz-rich soils sitting on top of deep clay. Still aging in 35% new French oak, this rich, medium to full-bodied Saint-Émilion offers a nicely layered and beautifully balanced style as well as complex notes of blue and black fruits, spice box, blood orange, and violets. It has an exotic edge, ample mid-palate depth, and the sexy yet pure style of the vintage. It's a smoking good Saint-Émilion to drink any time over the coming two decades. Tasted twice.
Review Date: 1st May 2019
One of the bigger St-Emilion wines this year, silky but concentrated with powerful and pure dark cassis fruit. It's juicy and intense, with good extraction giving chewy but well structured tannins. It has good ageing potential. A 41hl/ha yield in 2018 from 22ha. Ageing in 40% new oak. 3.7pH.
Drinking Window: 2027 - 2040
Reviewer Name: Jane Anson
Review Date: 11th April 2019
The 2018 Haut-Brisson comes from Vignonet and Monbousquet in Saint-Étienne-de-Lisse, from the lieu-dit Laroque. It is blended of 90% Merlot and 10% Cabernet Franc and has 14.6% alcohol. It is aging in 35% new, 35% one-year-old and 30% two-year-old barrels for an anticipated 18 months. It has a deep garnet-purple color and comes charging out of the glass with baked black cherries, warm blueberries and preserved plums with touches of pencil shavings, kirsch and chargrilled meat plus a waft of Indian spices. Full-bodied, the generously fruited palate has a lovely plush texture and just enough freshness, finishing with a menthol lift.
Reviewer Name: Lisa Perrotti-Brown
Review Date: 23rd April 2019
The 2018 Haut Brisson is an absolutely gorgeous wine. Radiant and plush, with striking fruit density, the 2018 captures all the best the vintage has to offer. Dark cherry, plum, mocha, chocolate, dried flowers and menthol build in a creamy, sensual Saint-Émilion loaded with near and medium-term appeal. Haut Brisson is especially fine in 2018. The blend is 90% Merlot and 10% Cabernet Franc, with new oak at 35%. Tasted three times.
Reviewer Name: Antonio Galloni
Review Date: 1st May 2019
Details

Year

2018

Colour

Red

Country

France

Region

Bordeaux

Sub Region

Saint-Emilion Grand Cru

Designation

Classification

Pack Size

12x75cl

ABV

14.50°

Drinking Window

2027 - 2040

Drinking Recommendation

Not Ready

LWIN

101125020181200750

Reviews (5)

This is a very powerful and structured Haut-Brisson, showing incredible depth and richness. Full-bodied and layered with incredible depth and purity. Layers of fruit and tannin. Best ever.

Review Date: 11th April 2019

The deep, saturated purple/plum-colored 2018 Château Haut Brisson checks in as a blend of 90% Merlot and 10% Cabernet Franc from a 22-hectare vineyard of fine gravelly and quartz-rich soils sitting on top of deep clay. Still aging in 35% new French oak, this rich, medium to full-bodied Saint-Émilion offers a nicely layered and beautifully balanced style as well as complex notes of blue and black fruits, spice box, blood orange, and violets. It has an exotic edge, ample mid-palate depth, and the sexy yet pure style of the vintage. It's a smoking good Saint-Émilion to drink any time over the coming two decades. Tasted twice.

Review Date: 1st May 2019

One of the bigger St-Emilion wines this year, silky but concentrated with powerful and pure dark cassis fruit. It's juicy and intense, with good extraction giving chewy but well structured tannins. It has good ageing potential. A 41hl/ha yield in 2018 from 22ha. Ageing in 40% new oak. 3.7pH.

Drinking Window: 2027 - 2040

Reviewer Name: Jane Anson

Review Date: 11th April 2019

The 2018 Haut-Brisson comes from Vignonet and Monbousquet in Saint-Étienne-de-Lisse, from the lieu-dit Laroque. It is blended of 90% Merlot and 10% Cabernet Franc and has 14.6% alcohol. It is aging in 35% new, 35% one-year-old and 30% two-year-old barrels for an anticipated 18 months. It has a deep garnet-purple color and comes charging out of the glass with baked black cherries, warm blueberries and preserved plums with touches of pencil shavings, kirsch and chargrilled meat plus a waft of Indian spices. Full-bodied, the generously fruited palate has a lovely plush texture and just enough freshness, finishing with a menthol lift.

Reviewer Name: Lisa Perrotti-Brown

Review Date: 23rd April 2019

The 2018 Haut Brisson is an absolutely gorgeous wine. Radiant and plush, with striking fruit density, the 2018 captures all the best the vintage has to offer. Dark cherry, plum, mocha, chocolate, dried flowers and menthol build in a creamy, sensual Saint-Émilion loaded with near and medium-term appeal. Haut Brisson is especially fine in 2018. The blend is 90% Merlot and 10% Cabernet Franc, with new oak at 35%. Tasted three times.

Reviewer Name: Antonio Galloni

Review Date: 1st May 2019

Producer

Value Comparison