Henschke Hill of Grace Shiraz 2016 (3x75cl)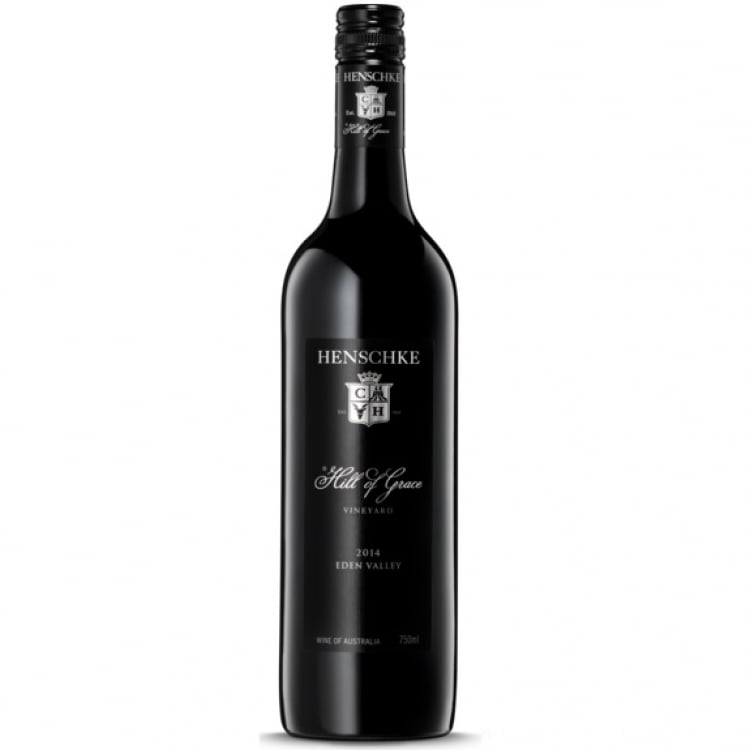 The 2016 vintage of this incredible wine continues the long tradition of transcendent Shiraz expression as one of the most important wines from the New World. With an embarrassment of riches to its name in the form of critical acclaim, this is one of the very greatest iterations of the cuvée. 99 points from both James Halliday (Halliday's Wine Companion) and Sarah Ahmed (Decanter) sets the tone for a suite of epic scores and notes, all of which are available below in full.
This has a very complex nose, offering so many facets of spices and fragrance with florals and orange peel, as well as crushed stones, ripe black cherries, blackberries and dark cherries, earth, chocolate and more. The intensity and power here is very tightly held and it has a build of such precise tannins, which carry very intense and assertively ripe blackberries, dark cherries, ripe plums and blueberries. So much on offer here. This has a very bold, intense feel. Exceptional vintage. One of their finest. Try from 2028. Screw cap.
Reviewer Name: Nick Stock
Review Date: 7th June 2021
Gorgeous floral lift and vibrant plum and fresh, pureed blackberry and mulberry aromas. The palate is full of rich, ripe, sculpted and slippery-smooth fruit, so young and lithe it runs away from you, trailing deep notes of spice, black olive, dried herbs and ironstone minerals in its wake. On day two, it is buoyant and muscular: the fruit starts to build, bearing waves of ground black pepper, anise, liquorice, baking spices, tamarind, cardamom and cigar smoke. Fine but distinct layers of lacy tannins and gently creamy oak support an ultra-long and harmonious finish. Powerful but perfectly proportioned; the consummate Shiraz. Released at £595.
Drinking Window: 2021 - 2046
Reviewer Name: Sarah Ahmed
Review Date: 26th March 2021
99
Halliday Wine Companion
From a core of vines planted around 1860 (plus some 100+ and 35+ yo vines) at 400m elevation. Matured 18 months in 85/15% French/ American oak, 29% new. Such effortless grace and caressing elegance, in the presence of commanding endurance that will sustain it for half a century. This is the paradox that defines the legendary fable that is Hill of Grace. 2016 embodies this: the profound depth of black fruits, bathed in the inimitable fragrance and exotic Chinese five-spice that characterises these old vines, set to tannins more finely textured yet more commanding than ever. Resist the seductive temptations of its youth and drink the 2015 first, because the true spectacle of 2016 is decades away.
Drinking Window: 2021 - 2066
Reviewer Name: Tyson Stelzer
Review Date: 1st April 2021
Deep ruby-red colour with a trace of purple. The bouquet is multi-faceted and beguiling in its mellow complexities, invoking earthy, humus, undergrowth, dried herbs and ironstone, blackberry and licorice aromas with a hint of mocha, the same flavours appearing on the palate, which is tremendously concentrated and powerful, without loss of its essential elegance. A miraculous wine of concentration and balance. A powerful vintage of this wine.
Drinking Window: 2021 - 2041
Reviewer Name: Huon Hooke
Review Date: 28th March 2021
Henschke's 2016 Hill of Grace Shiraz is locked up tight behind a stubborn wall of firm tannins. Scents of pencil shavings, mocha, bay leaf, mixed berries and plums appear on the nose, while the full-bodied palate starts off broad, expansive and creamy, then draws to a chewy, drying finish. There's ample concentration, length, complexity and a definitive track record of aging, so put this version away for several years while waiting for it to emerge and show its true glory. If you absolutely must drink it now, decanting for a couple of hours helps soften the tannins and brings the fruit forward.
Drinking Window: 2025 - 2045
Reviewer Name: Joe Czerwinski
Review Date: 31st March 2021
Pretty deep purplish crimson. Not much evolution at the rim (unlike the Hill of Roses). Initially pretty reticent on the nose. Then fumes started to swirl up from the glass as from a cauldron! I'm thinking witches here. Luscious ripe fruit within a stern framework – it really is impossible to spit out. Strong saline quality on the (very long) finish. Just unfurling in the glass but the intensity of the fruit almost masks the tannic charge. I know Stephen Henschke talks about the red and black fruit here but I get lots of mineral stuff. It is a really very unusual combination of lift/freshness with intensity of historic Shiraz. Such throat-soothing persistence! But what a price!! (Though more or less the same as Penfolds Grange 2016.) 24 hours later the colour seems to have mellowed. But the wine is still amazingly luscious and broad with strong mineral and saline notes. Decant this and you could enjoy it immediately.
Drinking Window: 2021 - 2040
Review Date: 29th March 2021
Details

Year

2016

Colour

Red

Country

Australia

Region

South Australia

Sub Region

Eden Valley

Designation

Classification

Pack Size

3x75cl

ABV

14.50°

Drinking Window

2025 - 2066

Drinking Recommendation

Not Ready

LWIN

100287420160300750

Reviews (6)

This has a very complex nose, offering so many facets of spices and fragrance with florals and orange peel, as well as crushed stones, ripe black cherries, blackberries and dark cherries, earth, chocolate and more. The intensity and power here is very tightly held and it has a build of such precise tannins, which carry very intense and assertively ripe blackberries, dark cherries, ripe plums and blueberries. So much on offer here. This has a very bold, intense feel. Exceptional vintage. One of their finest. Try from 2028. Screw cap.

Reviewer Name: Nick Stock

Review Date: 7th June 2021

Gorgeous floral lift and vibrant plum and fresh, pureed blackberry and mulberry aromas. The palate is full of rich, ripe, sculpted and slippery-smooth fruit, so young and lithe it runs away from you, trailing deep notes of spice, black olive, dried herbs and ironstone minerals in its wake. On day two, it is buoyant and muscular: the fruit starts to build, bearing waves of ground black pepper, anise, liquorice, baking spices, tamarind, cardamom and cigar smoke. Fine but distinct layers of lacy tannins and gently creamy oak support an ultra-long and harmonious finish. Powerful but perfectly proportioned; the consummate Shiraz. Released at £595.

Drinking Window: 2021 - 2046

Reviewer Name: Sarah Ahmed

Review Date: 26th March 2021

99

Halliday Wine Companion

From a core of vines planted around 1860 (plus some 100+ and 35+ yo vines) at 400m elevation. Matured 18 months in 85/15% French/ American oak, 29% new. Such effortless grace and caressing elegance, in the presence of commanding endurance that will sustain it for half a century. This is the paradox that defines the legendary fable that is Hill of Grace. 2016 embodies this: the profound depth of black fruits, bathed in the inimitable fragrance and exotic Chinese five-spice that characterises these old vines, set to tannins more finely textured yet more commanding than ever. Resist the seductive temptations of its youth and drink the 2015 first, because the true spectacle of 2016 is decades away.

Drinking Window: 2021 - 2066

Reviewer Name: Tyson Stelzer

Review Date: 1st April 2021

Deep ruby-red colour with a trace of purple. The bouquet is multi-faceted and beguiling in its mellow complexities, invoking earthy, humus, undergrowth, dried herbs and ironstone, blackberry and licorice aromas with a hint of mocha, the same flavours appearing on the palate, which is tremendously concentrated and powerful, without loss of its essential elegance. A miraculous wine of concentration and balance. A powerful vintage of this wine.

Drinking Window: 2021 - 2041

Reviewer Name: Huon Hooke

Review Date: 28th March 2021

Henschke's 2016 Hill of Grace Shiraz is locked up tight behind a stubborn wall of firm tannins. Scents of pencil shavings, mocha, bay leaf, mixed berries and plums appear on the nose, while the full-bodied palate starts off broad, expansive and creamy, then draws to a chewy, drying finish. There's ample concentration, length, complexity and a definitive track record of aging, so put this version away for several years while waiting for it to emerge and show its true glory. If you absolutely must drink it now, decanting for a couple of hours helps soften the tannins and brings the fruit forward.

Drinking Window: 2025 - 2045

Reviewer Name: Joe Czerwinski

Review Date: 31st March 2021

Pretty deep purplish crimson. Not much evolution at the rim (unlike the Hill of Roses). Initially pretty reticent on the nose. Then fumes started to swirl up from the glass as from a cauldron! I'm thinking witches here. Luscious ripe fruit within a stern framework – it really is impossible to spit out. Strong saline quality on the (very long) finish. Just unfurling in the glass but the intensity of the fruit almost masks the tannic charge. I know Stephen Henschke talks about the red and black fruit here but I get lots of mineral stuff. It is a really very unusual combination of lift/freshness with intensity of historic Shiraz. Such throat-soothing persistence! But what a price!! (Though more or less the same as Penfolds Grange 2016.) 24 hours later the colour seems to have mellowed. But the wine is still amazingly luscious and broad with strong mineral and saline notes. Decant this and you could enjoy it immediately.

Drinking Window: 2021 - 2040

Review Date: 29th March 2021

Producer

About Henschke

Founded over 150 years ago by Johann Christian Henschke, this legendary estate has passed down through several generations in an unbroken line of dedicated and talented Henschke vignerons. Today, Stephen Henschke is masterfully shepherding his ancestorial property to continued heights through the range of stunning cuvées from amongst the best vineyards in Australia.

One of the definitive names in the vinous world, Henschke is a legendary Australian producer who is locked in a perpetual championship bout against Penfolds for the title of "Australia's finest wine producer".

Viniculture

Whilst its formidable rival Penfolds has mastered the art of blending Australia's exquisite terroir, Henschke has followed a more Burgundian path. Now headed by Stephen and his wife Prue, the fifth generation in the family, the family estate boasts a long history of over 140 years. Prue's viticultural management has revitalised production on their old vines and they are now regarded as one of the top producers in Australia with their wines becoming highly collectable.

Maintaining a focus on the blending of varietals, this mythical estate crafts breath-taking expressions of single-vineyards conveying an unrivalled sense of time and place. Few producers across the globe could hope to match not only the excellence of Henschke's offerings, but their faultless consistency also – there is barely a bottle of Henschke ever made that one would not consider being at the very highest level.

Vintage Comparison

Valuation Tools

Wine Rating is intended to show the quality of the wine from an investment perspective. It takes into account the prices achieved by the producer, the quality of the vintage and the critics' scores for this wine. AAA is the best rating, and B the most speculative.

Please wait a few seconds whilst we process the market data for this wine...

Calculating...

Investment Rating

Wine Rating is intended to show the quality of the wine from an investment perspective. It takes into account the prices achieved by the producer, the quality of the vintage and the critics' scores for this wine. AAA is the best rating, and B the most speculative.

Show Investment Rating Guide

Graph