Henschke Mount Edelstone Shiraz 2015 (6x75cl)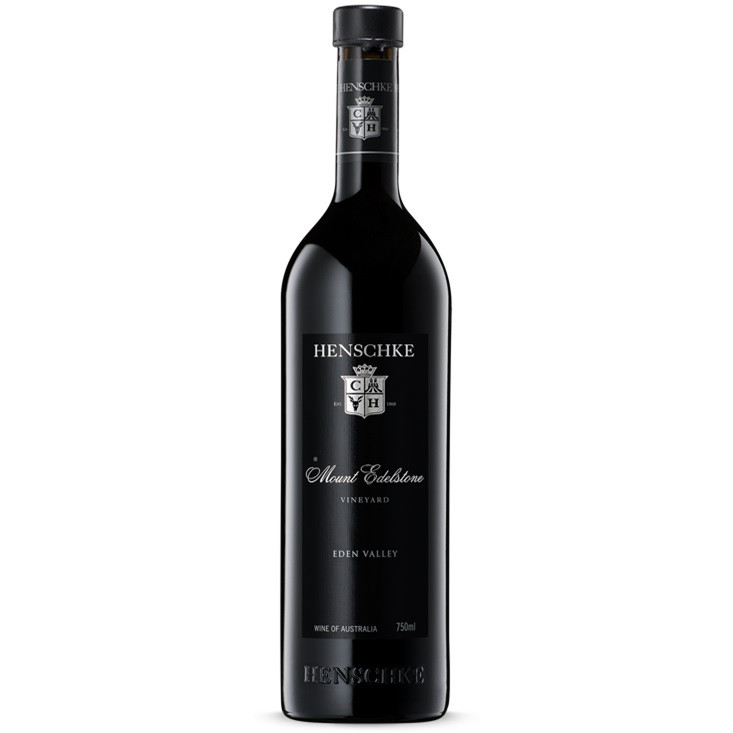 The name Mount Edelstone is a translation from the German "Edelstein" meaning gemstone. The dry-grown ungrafted centenarian vines were planted back in 1912 by Ronald Angas, a descendant of George Fife Angas, who founded the countries most renowned wine growing region, South Australia.

The Henschke estate, situated in the Eden Valley, became a single vineyard wine in 1952. It's incredible reputation is now being upheld by the fifth generation of the Henschke family.

Mount Edelstone Shiraz is considered one of Australia's greatest single-vineyard wines, capturing the Eden Valley aesthetic and showing all the hallmarks of great Barossa terroir. It has a large passionate following across the globe. Drinking now but with an incredibly long life ahead of it, this is a great option for drinkers and collectors alike.
Deepish red colour with just a trace of purple in its rim, the bouquet is pungent raspberry, squashed overripe raspberry, classic Mt Edelstone. The wine is succulently fruit-sweet: gorgeously extravagant fruit floods the palate. It's almost jammy, the fine but persistent tannins just pulling it together on the finish so the aftertaste and follow-through are clean and balanced and refreshing. Lush fruit flavour, astonishing texture, very old-viney, a very impressive Edelstone. A stand-out vintage for this wine.
Reviewer Name: Huon Hooke
Review Date: 2nd April 2019
This was the first wine sold in bottle ('52) by Henschke, although it has had to play second fiddle to Grange since '58 when the latter came on stream. New oak is only 22%, and the majority of the oak is French. The vintage was excellent, the flavours deep, with soft blackberry and plum fruits wending their way across the palate, cushioned by cedary oak and carefully polished tannins. It's utterly classic drinking, with unalloyed pleasure now but no less in another 20 years.
Drinking Window: 2019 - 2047
Reviewer Name: James Halliday
Review Date: 7th March 2019
Outstanding old-vine Shiraz doesn't need to shout to be heard. From the 103-year-old Mount Edelstone Vineyard, this opens to a mild, measured nose of vibrant red fruits, then a highly strung palate of redcurrant, plum, raspberry and blueberry with liquorice and wild fennel peeking beneath. A very bright, high-acid line keeps the flavours sharply honed, ensuring the slender palate line remains taut and prim. An earthy foil chimes in on the long finish.
Drinking Window: 2020 - 2050
Reviewer Name: David Sly
Review Date: 9th April 2020
A very profound sage note here with wild brambleberries, bay leaf and subtle oak influence, cast across a green-peppercorn and mint-tea nuance with such bright red berries and plums. The palate has a super plush and elegant shape and fine, velvety-tannin texture with plush, long red plums. Such poise and elegance with length and concentration here. An exceptional vintage for Mount Edelstone. Drink or hold.
Reviewer Name: James Suckling
Review Date: 2nd December 2019
Details

Year

2015

Colour

Red

Country

Australia

Region

South Australia

Sub Region

Eden Valley

Designation

Classification

Pack Size

6x75cl

ABV

14.5°

Drinking Window

2020 - 2050

Drinking Recommendation

Drinking Now, will improve

LWIN

100290420150600750

Reviews (4)

Deepish red colour with just a trace of purple in its rim, the bouquet is pungent raspberry, squashed overripe raspberry, classic Mt Edelstone. The wine is succulently fruit-sweet: gorgeously extravagant fruit floods the palate. It's almost jammy, the fine but persistent tannins just pulling it together on the finish so the aftertaste and follow-through are clean and balanced and refreshing. Lush fruit flavour, astonishing texture, very old-viney, a very impressive Edelstone. A stand-out vintage for this wine.

Reviewer Name: Huon Hooke

Review Date: 2nd April 2019

This was the first wine sold in bottle ('52) by Henschke, although it has had to play second fiddle to Grange since '58 when the latter came on stream. New oak is only 22%, and the majority of the oak is French. The vintage was excellent, the flavours deep, with soft blackberry and plum fruits wending their way across the palate, cushioned by cedary oak and carefully polished tannins. It's utterly classic drinking, with unalloyed pleasure now but no less in another 20 years.

Drinking Window: 2019 - 2047

Reviewer Name: James Halliday

Review Date: 7th March 2019

Outstanding old-vine Shiraz doesn't need to shout to be heard. From the 103-year-old Mount Edelstone Vineyard, this opens to a mild, measured nose of vibrant red fruits, then a highly strung palate of redcurrant, plum, raspberry and blueberry with liquorice and wild fennel peeking beneath. A very bright, high-acid line keeps the flavours sharply honed, ensuring the slender palate line remains taut and prim. An earthy foil chimes in on the long finish.

Drinking Window: 2020 - 2050

Reviewer Name: David Sly

Review Date: 9th April 2020

A very profound sage note here with wild brambleberries, bay leaf and subtle oak influence, cast across a green-peppercorn and mint-tea nuance with such bright red berries and plums. The palate has a super plush and elegant shape and fine, velvety-tannin texture with plush, long red plums. Such poise and elegance with length and concentration here. An exceptional vintage for Mount Edelstone. Drink or hold.

Reviewer Name: James Suckling

Review Date: 2nd December 2019

Producer

Stephen and his wife Prue are the the fifth generation in a history spanning over 140 years. Prue's viticultural management has revitalised production on their old vines. They are regarded as one of the top producers in Australia and their wines are highly collectable.

Value Comparison