L'If 2014 (6x75cl)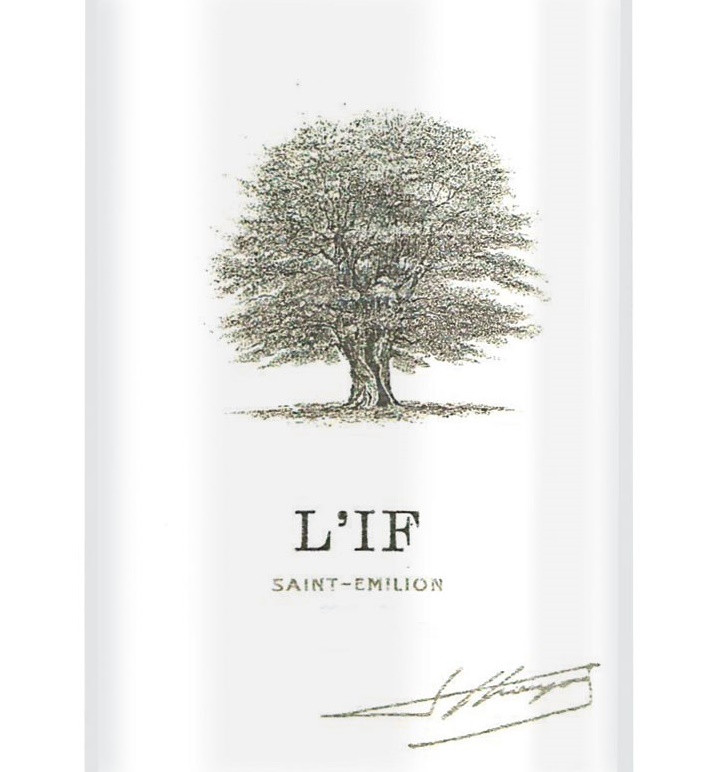 A full-bodied wine but showing so much in finesse and beauty. It slowly builds on the palate to give an crescendo of subtle fruit and fine tannins. Subtle undertones of oyster shell and iodine. Unique. This only has 9% cabernet franc. Rest is merlot.

Licorice, truffle, smoke and tobacco with fully ripened red and black fruits, there is a real purity to the produce and a sensuality to the tannins that was very, very pleasing. This wine was produced with a blend of 91% Merlot and 9% Cabernet Franc and reached 14% alcohol. This is a wine to watch. 93-94 Pts

Drinking Window: 2017 - 2030

Review Date: 1st March 2015

The Château L'If 2014, the Saint Emilion estate that Jacques Thienpont and Fiona Morrison MW bought in 2010, is a blend of 91% Merlot and 9% Cabernet Franc picked between 9 and 17 October, aged in 50% new oak and 50% one-year old. The nose offers up enticing licorice scents: detailed, vivacious and fresh with plenty of black fruit mixed with black olive. The palate is tightly wound with chalky tannin, that licorice note continuing through to the finish that is linear and crisp. This is an splendid Saint Emilion unapologetically elegant in style, one that as Jacques himself quipped, is the kind of bottle you finish. This is a very impressive Saint Emilion...in fact, comparing them side-by-side it might be just as good as Le Pin!

Drinking Window: 2017 - 2030

Review Date: 1st April 2015

94

Antonio Galloni - Vinous

The 2014 L'If is one of the most flamboyant wines I tasted during my recent trip to Bordeaux. A rush of dark cherry jam, chocolate and sweet spice hits the palate. Ripe and unctuous to the core, the 2014 possesses an almost extreme level of concentration for the vintage. There is just enough Cabernet Franc in the blend to add a touch of aromatic lift and structure. At times, the alcohol peeks out a bit. This is an especially opulent style. The blend is 91 % Merlot and 9 % Cabernet Franc. In a very short amount of time, Cyrille and Jacques Thienpont have done a terrific job with L'If.
Details

Year

2014

Colour

Red

Country

France

Region

Bordeaux

Sub Region

Saint-Emilion

Designation

Classification

Pack Size

6x75cl

Drinking Window

2020 - 2031

Drinking Recommendation

Drinking Now, will improve

LWIN

119199220140600750

Reviews (4)

A full-bodied wine but showing so much in finesse and beauty. It slowly builds on the palate to give an crescendo of subtle fruit and fine tannins. Subtle undertones of oyster shell and iodine. Unique. This only has 9% cabernet franc. Rest is merlot.

Licorice, truffle, smoke and tobacco with fully ripened red and black fruits, there is a real purity to the produce and a sensuality to the tannins that was very, very pleasing. This wine was produced with a blend of 91% Merlot and 9% Cabernet Franc and reached 14% alcohol. This is a wine to watch. 93-94 Pts

Drinking Window: 2017 - 2030

Review Date: 1st March 2015

The Château L'If 2014, the Saint Emilion estate that Jacques Thienpont and Fiona Morrison MW bought in 2010, is a blend of 91% Merlot and 9% Cabernet Franc picked between 9 and 17 October, aged in 50% new oak and 50% one-year old. The nose offers up enticing licorice scents: detailed, vivacious and fresh with plenty of black fruit mixed with black olive. The palate is tightly wound with chalky tannin, that licorice note continuing through to the finish that is linear and crisp. This is an splendid Saint Emilion unapologetically elegant in style, one that as Jacques himself quipped, is the kind of bottle you finish. This is a very impressive Saint Emilion...in fact, comparing them side-by-side it might be just as good as Le Pin!

Drinking Window: 2017 - 2030

Review Date: 1st April 2015

94

Antonio Galloni - Vinous

The 2014 L'If is one of the most flamboyant wines I tasted during my recent trip to Bordeaux. A rush of dark cherry jam, chocolate and sweet spice hits the palate. Ripe and unctuous to the core, the 2014 possesses an almost extreme level of concentration for the vintage. There is just enough Cabernet Franc in the blend to add a touch of aromatic lift and structure. At times, the alcohol peeks out a bit. This is an especially opulent style. The blend is 91 % Merlot and 9 % Cabernet Franc. In a very short amount of time, Cyrille and Jacques Thienpont have done a terrific job with L'If.

Producer

Value Comparison