La Gravette de Certan 2016 (12x75cl)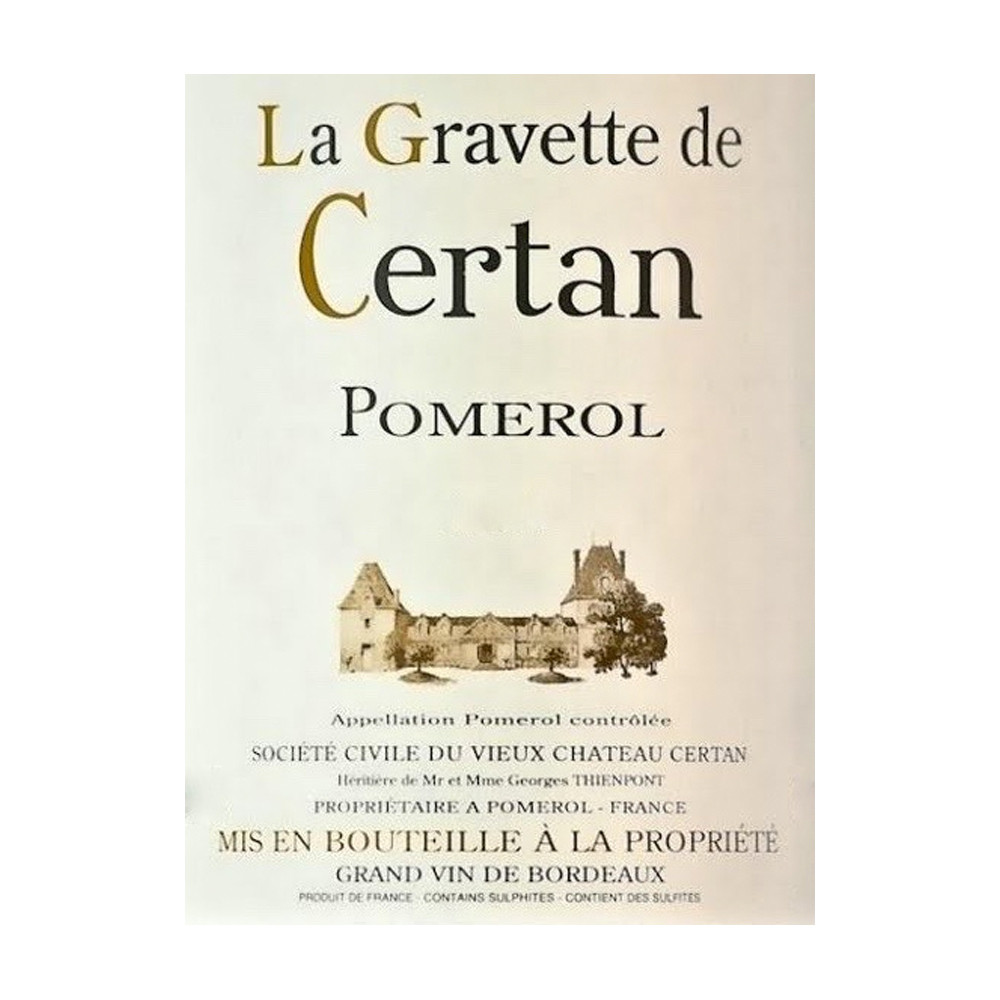 Made up of 75% Merlot, 18% Cabernet Franc and 7% Cabernet Sauvignon, the 2016 La Gravette de Certan has a deep garnet-purple color and features lovely redcurrants, black raspberries and black cherries notes with a beautiful floral background of lavender and rose hip tea plus suggestions of sandalwood, cinnamon stick and menthol. Medium-bodied, refreshing, elegant and beautifully seamless, it offers layers of perfumed red and black fruits with a satiny texture and very impressive length.
Drinking Window: 2020 - 2050
Reviewer Name: Lisa Perrotti-Brown
Review Date: 30th November 2018
Darker and denser than the 2015, the 2016 La Gravette de Certan reveals a similar profile yet has more obvious structure as well as full-bodied notes of smoked tobacco, black fruits, earth, and spice box. Deep, powerful, and shockingly good for a second wine, it's well worth your time and money. Drink it over the coming 20+ years.
Drinking Window: 2019 - 2039
Review Date: 28th February 2019
Lovely finesse and clarity of ripe fruit, leather, spice and leaves on the nose and palate. Medium body, elegance and balance. It just floats on the palate. One of best ever of the second wine of Vieux Chateau Certan. Drinkable now, but even better in 2023.
The second wine of Vieux Château Certan defines young vines as those that are less than 25 years old, which gives you some idea of how different things are from your usual Bordeaux property. This has an amazing depth of fruit on the nose, with powerful cassis and bilberry softened by raspberry leaf and tobacco notes. It's a beautifully well balanced wine, extremely well constructed, precise and great quality, but pretty austere right now. Around 40% of overall production. 50% new oak.

Drinking Window: 2024 - 2036
Reviewer Name: Jane Anson
The 2016 La Gravette de Certan is flat-out gorgeous. Supple, creamy and beautifully textured, the 2016 possesses striking density and class to burn. Readers will find all of the sensuality of the Grand Vin in this striking, sumptuous second wine. A rush of blue fruits, lavender, spice, menthol and rose petal builds in a silky, beautifully perfumed Pomerol. Readers who can find the Gravette should not hesitate, as it is sublime. The 2016 is 75% Merlot, 18% Cabernet Franc and 7% Cabernet Sauvignon taken from young vines, those under 25 years of age. Because young vines struggle a bit more under heat stress, the Gravette has a slightly exotic character. It is a fabulous and arrestingly beautiful wine by any measure.
Drinking Window: 2022 - 2041
Reviewer Name: Antonio Galloni
Details

Year

2016

Colour

Red

Country

France

Region

Bordeaux

Sub Region

Pomerol

Designation

Classification

Pack Size

12x75cl

ABV

14°

Drinking Window

2024 - 2050

Drinking Recommendation

Not Ready

LWIN

101099220161200750

Reviews (5)

Made up of 75% Merlot, 18% Cabernet Franc and 7% Cabernet Sauvignon, the 2016 La Gravette de Certan has a deep garnet-purple color and features lovely redcurrants, black raspberries and black cherries notes with a beautiful floral background of lavender and rose hip tea plus suggestions of sandalwood, cinnamon stick and menthol. Medium-bodied, refreshing, elegant and beautifully seamless, it offers layers of perfumed red and black fruits with a satiny texture and very impressive length.

Drinking Window: 2020 - 2050

Reviewer Name: Lisa Perrotti-Brown

Review Date: 30th November 2018

Darker and denser than the 2015, the 2016 La Gravette de Certan reveals a similar profile yet has more obvious structure as well as full-bodied notes of smoked tobacco, black fruits, earth, and spice box. Deep, powerful, and shockingly good for a second wine, it's well worth your time and money. Drink it over the coming 20+ years.

Drinking Window: 2019 - 2039

Review Date: 28th February 2019

Lovely finesse and clarity of ripe fruit, leather, spice and leaves on the nose and palate. Medium body, elegance and balance. It just floats on the palate. One of best ever of the second wine of Vieux Chateau Certan. Drinkable now, but even better in 2023.

The second wine of Vieux Château Certan defines young vines as those that are less than 25 years old, which gives you some idea of how different things are from your usual Bordeaux property. This has an amazing depth of fruit on the nose, with powerful cassis and bilberry softened by raspberry leaf and tobacco notes. It's a beautifully well balanced wine, extremely well constructed, precise and great quality, but pretty austere right now. Around 40% of overall production. 50% new oak.


Drinking Window: 2024 - 2036

Reviewer Name: Jane Anson

The 2016 La Gravette de Certan is flat-out gorgeous. Supple, creamy and beautifully textured, the 2016 possesses striking density and class to burn. Readers will find all of the sensuality of the Grand Vin in this striking, sumptuous second wine. A rush of blue fruits, lavender, spice, menthol and rose petal builds in a silky, beautifully perfumed Pomerol. Readers who can find the Gravette should not hesitate, as it is sublime. The 2016 is 75% Merlot, 18% Cabernet Franc and 7% Cabernet Sauvignon taken from young vines, those under 25 years of age. Because young vines struggle a bit more under heat stress, the Gravette has a slightly exotic character. It is a fabulous and arrestingly beautiful wine by any measure.

Drinking Window: 2022 - 2041

Reviewer Name: Antonio Galloni

Producer

A small estate by Bordeaux standards, this Pomerol estate has been considered one of the great producers in its appellation for a long time. One of the Thienpont stable, it can be considered a less flashy, elder sibling to the micro-cuvee estate Le Pin. For a wine which is often mentioned in the same breath as Petrus, the Grand Vin is surprisingly good value for money and the second wine, Gravette de Certan is very reasonable indeed.

Value Comparison