Lafite Rothschild 2000 (12x75cl)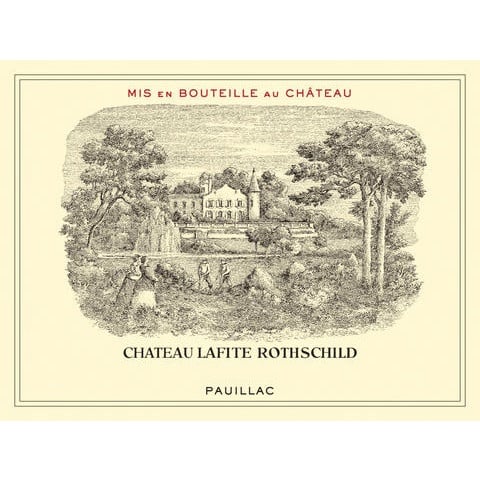 The nose is fresh, bright, and dense. With aromas of violets, minerals, spices, cool stones, mint, dark fruits, and plum skins, this is beautiful. Very much still a baby right now, it needs much more time. This is a wine for the next generation. Finesse and elegance, truly a wine that makes you contemplate life. This is not about power, there is really nothing like it. 93% Cabernet Sauvignon. Do not even think about touching this for another ten years, 2020. 15+25+25+35. Find the wine

Perhaps of all the first growths in the totally un-classic 2000, this retains most of the classic Bordeaux. It is certainly almost black in color, while the new wood flavors are very present. But it shows an impressive restraint, leaving the power of the wine to be revealed over the years rather than immediately. This could well be the longest-lived of the Pauillac first growths.
Reviewer Name: Roger Voss
Review Date: 1st June 2003
This is remarkably young, with a deep well of succulent black currant, fig and blackberry fruit notes that feel 10 years younger than most peers, carried by wave upon wave of velvety tannins. Despite the density and heft, there's glorious length and finesse too, with alluring black tea, smoldering charcoal and warm paving stone notes just starting to emerge. Awesome wine.--Blind 2000 Bordeaux retrospective (December 2015). Best from 2018 through 2043. 16,000 cases made.

98
Antonio Galloni - Vinous
The 2000 Lafite-Rothschild is utterly sublime. Delicate, sensual and wonderfully nuanced, the 2000 is majestic. The purity of the fruit is simply striking.


Since I gave this wine a perfect score, I suppose some could see this as a downgrade. I found everything still there for a perfect rating, but I was just struck by how tight and backward the wine was. A blend of 93.3% Cabernet Sauvignon and the rest Merlot, the wine still has a dark ruby/purple color and an extraordinarily youthful nose of graphite, black currants, sweet, unsmoked cigar tobacco, and flowers. The wine is rich, medium to full-bodied, but has that ethereal elegance and purity that is always Lafite. I originally predicted that it would first reach maturity in 2011, but I would push that back by 5-7 years now, although it has 50-60 years of life in front of it. Owners of this beauty are probably best advised to forget it for 5 years. Tasted next to a 1996 several days after the 2000 tasting, the 1996, which is a perfect wine, was far closer to full maturity than the 2000.
Reviewer Name: Robert M. Parker, Jr.
Review Date: 29th June 2010
A baby, still barely evolved at 20 years old, perhaps the slowest out of the block of all Five Firsts at this point in their lives. Savoury black fruits, elegant yet concentrated, extremely Cabernet and extremely Lafite. The power comes slowly, expanding through the palate to show graphite, pencil shavings, cigar smoke, all with firm acidities and a fantastic grip. 46% of the overall crop went into this wine in the 2000 vintage. A brilliant example of the success at Lafite under the longtime triumvirate of owner Baron Éric de Rothschild, CEO Christophe Salin and estate director Charles Chevallier.
Drinking Window: 2020 - 2050
Reviewer Name: Jane Anson
Review Date: 8th July 2020
Details

Year

2000

Colour

Red

Country

France

Region

Bordeaux

Sub Region

Pauillac

Designation

Classification

Pack Size

12x75cl

ABV

12.5°

Drinking Window

2020 - 2050

Drinking Recommendation

Drinking Now, will improve

LWIN

101187220001200750

Reviews (6)

The nose is fresh, bright, and dense. With aromas of violets, minerals, spices, cool stones, mint, dark fruits, and plum skins, this is beautiful. Very much still a baby right now, it needs much more time. This is a wine for the next generation. Finesse and elegance, truly a wine that makes you contemplate life. This is not about power, there is really nothing like it. 93% Cabernet Sauvignon. Do not even think about touching this for another ten years, 2020. 15+25+25+35. Find the wine


Perhaps of all the first growths in the totally un-classic 2000, this retains most of the classic Bordeaux. It is certainly almost black in color, while the new wood flavors are very present. But it shows an impressive restraint, leaving the power of the wine to be revealed over the years rather than immediately. This could well be the longest-lived of the Pauillac first growths.

Reviewer Name: Roger Voss

Review Date: 1st June 2003

This is remarkably young, with a deep well of succulent black currant, fig and blackberry fruit notes that feel 10 years younger than most peers, carried by wave upon wave of velvety tannins. Despite the density and heft, there's glorious length and finesse too, with alluring black tea, smoldering charcoal and warm paving stone notes just starting to emerge. Awesome wine.--Blind 2000 Bordeaux retrospective (December 2015). Best from 2018 through 2043. 16,000 cases made.


98

Antonio Galloni - Vinous

The 2000 Lafite-Rothschild is utterly sublime. Delicate, sensual and wonderfully nuanced, the 2000 is majestic. The purity of the fruit is simply striking.



Since I gave this wine a perfect score, I suppose some could see this as a downgrade. I found everything still there for a perfect rating, but I was just struck by how tight and backward the wine was. A blend of 93.3% Cabernet Sauvignon and the rest Merlot, the wine still has a dark ruby/purple color and an extraordinarily youthful nose of graphite, black currants, sweet, unsmoked cigar tobacco, and flowers. The wine is rich, medium to full-bodied, but has that ethereal elegance and purity that is always Lafite. I originally predicted that it would first reach maturity in 2011, but I would push that back by 5-7 years now, although it has 50-60 years of life in front of it. Owners of this beauty are probably best advised to forget it for 5 years. Tasted next to a 1996 several days after the 2000 tasting, the 1996, which is a perfect wine, was far closer to full maturity than the 2000.

Reviewer Name: Robert M. Parker, Jr.

Review Date: 29th June 2010

A baby, still barely evolved at 20 years old, perhaps the slowest out of the block of all Five Firsts at this point in their lives. Savoury black fruits, elegant yet concentrated, extremely Cabernet and extremely Lafite. The power comes slowly, expanding through the palate to show graphite, pencil shavings, cigar smoke, all with firm acidities and a fantastic grip. 46% of the overall crop went into this wine in the 2000 vintage. A brilliant example of the success at Lafite under the longtime triumvirate of owner Baron Éric de Rothschild, CEO Christophe Salin and estate director Charles Chevallier.

Drinking Window: 2020 - 2050

Reviewer Name: Jane Anson

Review Date: 8th July 2020

Producer

Chateau Lafite-Rothschild is one of the most collectable wines in the world. Purchased in 1868 it has remained continuously in the Rothschild family. The 1996 vintage onwards heralded some of the best wines in their history; 2003 and 2009 are notably outstanding. Elegant, fresh, with great fruit purity and remarkable ageing potential. The second wine, Carruades de Lafite, has also been intensely collected over the past decade.

Value Comparison