Le Chiuse Brunello di Montalcino 2015 (6x75cl)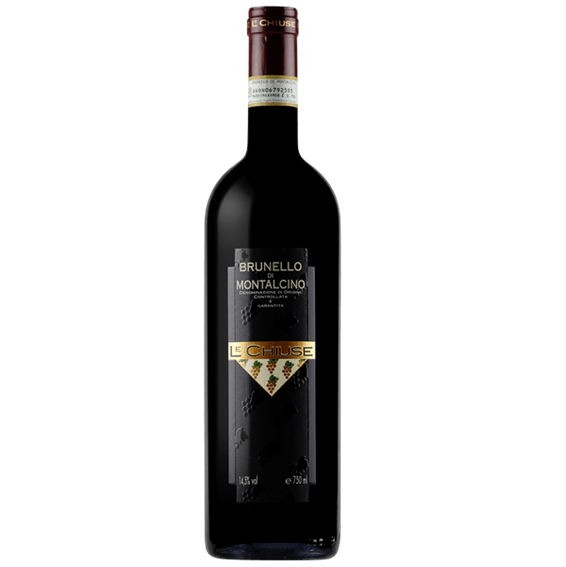 Le Chiuse used to be a 'secret' vineyard. Until the 1990s, this tiny Montalcino estate sold its wonderful grapes to Biondi-Santi to be used in their hugely esteemed top Brunello Riserva. Thankfully, the vineyard now produces wines bottled under their own label. But as the Le Chiuse vineyard is only 8 ha in size, the wines are exceedingly hard-to-find!

Le Chiuse was created when Tancredi Biondi-Santi died and the property was divided between Franco and Fiorella Biondi-Santi. Fiorella was current Le Chiuse owner Simonetta Valiani's mother and allowed her daughter to fulfill her life-long wish to make her own wine. Her son Lorenzo Magnelli runs the estate today.

Le Chiuse is a magical terroir, called a "revered location" by Ian D'Agata at Vinous. This is organically farmed, traditionally-styled Brunello – which spends 36 months in large Slavonian oak vats. "These are wines that speak of Sangiovese purity and Montalcino terroir above all else; they are also some of the best and longest-lived wines coming out of the region" says Eric Guido of Vinous.
Aromas of woodland berry, new leather, blue flower and a baby powder shape the enticing nose on this fragrant red. Juicy and bright, the polished, delicious palate doles out crushed raspberry, cherry compote and baking spice alongside taut, refined tannins. Fresh acidity keeps it balanced while a licorice note graces the finish.

Reviewer Name: Kerin O'Keefe

Review Date: 1st May 2020

Deep red. Initially closed nose opens slowly to showcase damp earth, black cherry, flint, sweet spices and camphor. Enters juicy and vibrant, with flavors of dark plum and cherry with a steely and floral overlay, then turns more austere and elegant with a persistent red and blue fruit set of flavors. Finishes long and balsamic. Really pure and intense but lively, this outstanding wine really speaks of the style of Le Chiuse, always on the refined side. Should also prove very age-worthy.

Drinking Window: 2024 - 2035

Reviewer Name: Ian D'Agata

Review Date: 1st April 2020

The Le Chuise 2015 Brunello di Montalcino opens to a slightly shy and timid bouquet. My feeling is that this reticent quality will serve the wine very well as it continues the course of its aging. The bouquet shows mild fruit with some potting soil, leather, tar and licorice. This Brunello from Le Chiuse is definitely characterized by a savory side as well with a pretty point of saltiness that you don't commonly find in its peers. This is a true beauty—the wine is elegant, shiny and glossy from the inside out. Fruit comes from an eight-hectare parcel with vines that are 26 years old. Some 15,000 bottles will be released in February 2020.

Drinking Window: 2021 - 2040

Reviewer Name: Monica Larner

Review Date: 31st January 2020

The 2015 Brunello di Montalcino seems reluctant at this early stage, yet presents a savory expression of Sangiovese, with dusty black cherries backed by an almost-rustic mix of leather, crushed stone and animal musk. On the palate, silky textures meld into with woodland berry and earth tones, along with notes of tobacco, savory herbs and saline-minerals. Vibrant acids add energy and sweetness to the fruit, along with a mouthwatering quality, as youthful tannins collect on the senses and slowly dry out its profile. The finish is long, structured, and firmly rooted in the earth. Constantly evolving in the glass, the is a real powerhouse Brunello.

Drinking Window: 2024 - 2038

Reviewer Name: Eric Guido

Review Date: 1st April 2020

A beam of black cherry and black currant fruit is at the heart of this red. Supple and balanced, this stays long and complex on the finish, as earth, iron and sanguine notes emerge. A dense swath of tannins lines the finish. Best from 2022 through 2040.

Drinking Window: 2022 - 2040

Reviewer Name: B

Review Date: 30th June 2020
Details

Year

2015

Colour

Red

Country

Italy

Region

Tuscany

Sub Region

Brunello di Montalcino

Designation

Classification

Pack Size

6x75cl

Drinking Window

2024 - 2040

Drinking Recommendation

Not Ready

LWIN

109781620150600750

Reviews (8)

Aromas of woodland berry, new leather, blue flower and a baby powder shape the enticing nose on this fragrant red. Juicy and bright, the polished, delicious palate doles out crushed raspberry, cherry compote and baking spice alongside taut, refined tannins. Fresh acidity keeps it balanced while a licorice note graces the finish.

Reviewer Name: Kerin O'Keefe

Review Date: 1st May 2020

Deep red. Initially closed nose opens slowly to showcase damp earth, black cherry, flint, sweet spices and camphor. Enters juicy and vibrant, with flavors of dark plum and cherry with a steely and floral overlay, then turns more austere and elegant with a persistent red and blue fruit set of flavors. Finishes long and balsamic. Really pure and intense but lively, this outstanding wine really speaks of the style of Le Chiuse, always on the refined side. Should also prove very age-worthy.

Drinking Window: 2024 - 2035

Reviewer Name: Ian D'Agata

Review Date: 1st April 2020

The Le Chuise 2015 Brunello di Montalcino opens to a slightly shy and timid bouquet. My feeling is that this reticent quality will serve the wine very well as it continues the course of its aging. The bouquet shows mild fruit with some potting soil, leather, tar and licorice. This Brunello from Le Chiuse is definitely characterized by a savory side as well with a pretty point of saltiness that you don't commonly find in its peers. This is a true beauty—the wine is elegant, shiny and glossy from the inside out. Fruit comes from an eight-hectare parcel with vines that are 26 years old. Some 15,000 bottles will be released in February 2020.

Drinking Window: 2021 - 2040

Reviewer Name: Monica Larner

Review Date: 31st January 2020

The 2015 Brunello di Montalcino seems reluctant at this early stage, yet presents a savory expression of Sangiovese, with dusty black cherries backed by an almost-rustic mix of leather, crushed stone and animal musk. On the palate, silky textures meld into with woodland berry and earth tones, along with notes of tobacco, savory herbs and saline-minerals. Vibrant acids add energy and sweetness to the fruit, along with a mouthwatering quality, as youthful tannins collect on the senses and slowly dry out its profile. The finish is long, structured, and firmly rooted in the earth. Constantly evolving in the glass, the is a real powerhouse Brunello.

Drinking Window: 2024 - 2038

Reviewer Name: Eric Guido

Review Date: 1st April 2020

A beam of black cherry and black currant fruit is at the heart of this red. Supple and balanced, this stays long and complex on the finish, as earth, iron and sanguine notes emerge. A dense swath of tannins lines the finish. Best from 2022 through 2040.

Drinking Window: 2022 - 2040

Reviewer Name: B

Review Date: 30th June 2020

Value Comparison