Leoville Barton 2009 (12x75cl)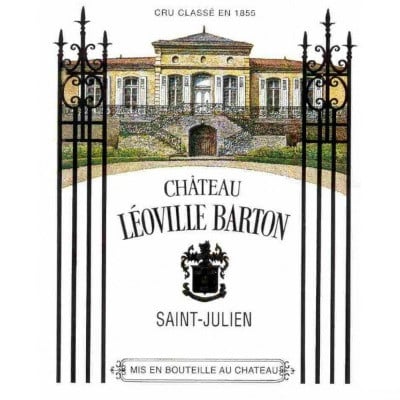 Leoville Barton is a traditional Bordeaux wine; brawny and well structured. The 2009 is a towering long ageing wine that is rich and tannic. It has plenty of dark plum, blackberry, licorice and tobacco. Fruit forward but still complex with good integration and length.
Ripe, sweet but also intensely juicy, a delicious wine, full of sweetness and rich complexity. The new wood element is there, but just brings out the beauty of the fruit.
Drinking Window: 2016 - 2070
Review Date: 9th August 2010
Licorice, berry, grape and currant on the nose turns to crushed fruit. Full-bodied, with very fine tannins, pretty fruit, currant and mineral. A balanced and pretty wine. Not quite the intensity and blockbuster style of the 2005, but excellent. Score range: 92-95 -JS
Drinking Window: 2016 - 2070
This has a fabulous nose of currants, dried flowers, and tons of dark fruits. Full bodied and chewy, with round tannins and a muscular body. This is big and juicy with lively acidity. Barrel sample.
Drinking Window: 2016 - 2070
Review Date: 8th December 2010
Le profil du 2009 évoque le 1989, selon Anthony Barton. Nous pensons qu'il sera supérieur, avec une plus grande définition de fruit encore. C'est le jeune Léoville Barton le plus gourmand que nous ayons vu. Son fruit est savoureux et très expressif, sa bouche nette, avec des tanins polis. Un régal !
Drinking Window: 2016 - 2070
Review Date: 1st January 2011
91-94
Stephen Tanzer - Vinous
(a blend of 77% cabernet sauvignon, 22.5% merlot and 0.5% cabernet franc; 13% alcohol) Deep ruby. Sexy, exotic aromas of spicy blackcurrant, cedar, sweet tobacco and coconut hint at great depth and complexity. Then floral on the palate, with chewy, dense, rich flavors of black fruits, tobacco and chocolate nicely lifted by a distinct flintiness. Initially sweet and voluptuous, this turns slightly dry and chalky on the long, pure, sassafras-and spice-accented finish. A delicious if very young Leoville-Barton-and at a rare-for-the-vintage 13% alcohol.
Drinking Window: 2016 - 2070
Review Date: 1st May 2010
Medium to deep garnet colored, the 2009 Leoville Barton gives up expressive cherry cordial, warm cassis and blackberry tart scents with nuances of menthol, cigar box and fallen leaves. Medium-bodied and elegantly played with loads of freshness and soft tannins, it has a long, perfumed finish.
Drinking Window: 2019 - 2037
Reviewer Name: Lisa Perrotti-Brown
Review Date: 14th March 2019
Details

Year

2009

Colour

Red

Country

France

Region

Bordeaux

Sub Region

Saint-Julien

Designation

Classification

Pack Size

12x75cl

ABV

13°

Drinking Window

2019 - 2070

Drinking Recommendation

Drinking Now, will improve

LWIN

101236120091200750

Reviews (6)

Ripe, sweet but also intensely juicy, a delicious wine, full of sweetness and rich complexity. The new wood element is there, but just brings out the beauty of the fruit.

Drinking Window: 2016 - 2070

Review Date: 9th August 2010

Licorice, berry, grape and currant on the nose turns to crushed fruit. Full-bodied, with very fine tannins, pretty fruit, currant and mineral. A balanced and pretty wine. Not quite the intensity and blockbuster style of the 2005, but excellent. Score range: 92-95 -JS

Drinking Window: 2016 - 2070

This has a fabulous nose of currants, dried flowers, and tons of dark fruits. Full bodied and chewy, with round tannins and a muscular body. This is big and juicy with lively acidity. Barrel sample.

Drinking Window: 2016 - 2070

Review Date: 8th December 2010

Le profil du 2009 évoque le 1989, selon Anthony Barton. Nous pensons qu'il sera supérieur, avec une plus grande définition de fruit encore. C'est le jeune Léoville Barton le plus gourmand que nous ayons vu. Son fruit est savoureux et très expressif, sa bouche nette, avec des tanins polis. Un régal !

Drinking Window: 2016 - 2070

Review Date: 1st January 2011

91-94

Stephen Tanzer - Vinous

(a blend of 77% cabernet sauvignon, 22.5% merlot and 0.5% cabernet franc; 13% alcohol) Deep ruby. Sexy, exotic aromas of spicy blackcurrant, cedar, sweet tobacco and coconut hint at great depth and complexity. Then floral on the palate, with chewy, dense, rich flavors of black fruits, tobacco and chocolate nicely lifted by a distinct flintiness. Initially sweet and voluptuous, this turns slightly dry and chalky on the long, pure, sassafras-and spice-accented finish. A delicious if very young Leoville-Barton-and at a rare-for-the-vintage 13% alcohol.

Drinking Window: 2016 - 2070

Review Date: 1st May 2010

Medium to deep garnet colored, the 2009 Leoville Barton gives up expressive cherry cordial, warm cassis and blackberry tart scents with nuances of menthol, cigar box and fallen leaves. Medium-bodied and elegantly played with loads of freshness and soft tannins, it has a long, perfumed finish.

Drinking Window: 2019 - 2037

Reviewer Name: Lisa Perrotti-Brown

Review Date: 14th March 2019

Producer

Château Léoville Barton is a Saint-Julien estate, one of just fifteen Deuxièmes Crus (Second Growths) in the original 1855 Classification. Along with Château Léoville-Las Cases and Château Léoville-Poyferré, Léoville Barton was once part of the vast Léoville estate. The estate we now know at Léoville Barton was purchased by Hugh Barton in 1826. It is still owned by the Barton family, who were originally of Irish descent. The current owner Anthony Barton began running the estate in 1983, along with its sister property Château Langoa Barton. Many people don't know that Léoville Barton actually doesn't have its own château, and the beautiful façade depicted on its label is is actually that of Château Langoa Barton! Léoville Barton's 116 acres (47 ha) of vineyards are located in the central part of the appellation along the Gironde river. The soil composition is mostly gravel with a subsoil of clay. The plantings are 72% Cabernet Sauvignon, 20% Merlot, and 8% Cabernet Franc.

Value Comparison