Les Carmes Haut-Brion 2020 (3x75cl)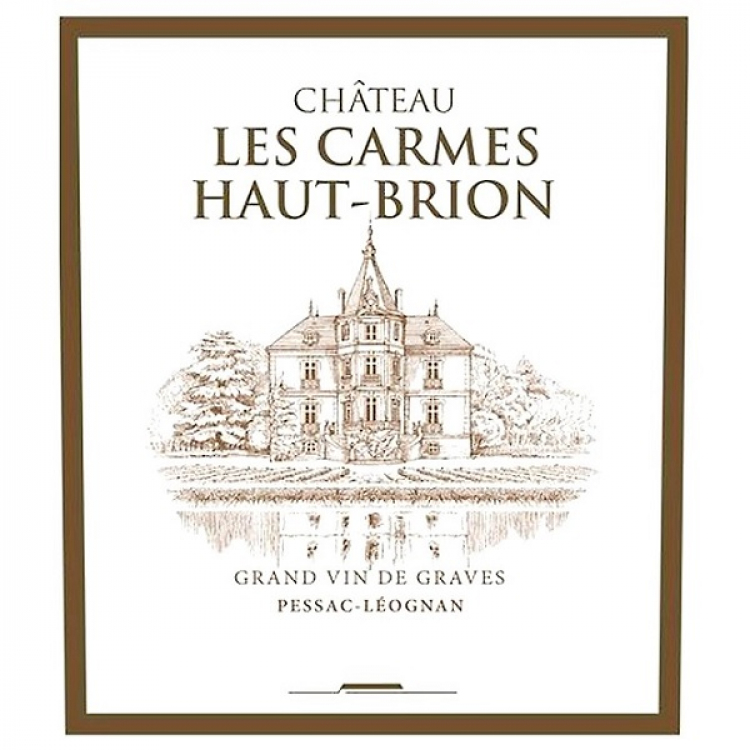 Exotic fruit aromas of blackberry, blueberry, peach and orange peel. It's full-bodied with a vertical flow of layered, chewy tannins that are integrated and intense. Extremely polished and focused. Crushed stone to the fruit in the aftertaste. Some bark and forest flowers, too. Great potential.
Reviewer Name: James Suckling
Review Date: 4th May 2021
On another level, the flagship 2020 Château Les Carmes Haut-Brion is one heck of a dense, backward, concentrated wine that's going to require bottle age. Coming in with the same technical analysis (acidity and alcohol) as the 2018, this full-bodied beauty offers a thrilling nose of blackcurrants, smoked tobacco, charcoal, and gravelly earth. Full-bodied on the palate, with a terrific mid-palate and wonderful purity, it holds things close to its vest yet has flawless balance, impeccable purity, and just a great, lengthy finish. Nevertheless, this is one big bruiser of a wine that's going to demand bottle age. Do your best to hide bottles for 7-8 years, count yourself lucky, and enjoy over the following three to four decades.
Review Date: 23rd May 2021
Clear violet edging to the colour, vibrant and enticing. This is elegant and full of personality, with high floral aromatics, a ton of dark fruits, and a blueberry dominance that gives a classic Carmes Haut Brion feel. Slightly austere, slightly bitter, both in the best possible expression of those terms, where it is mouthwatering and moreish. A juicy salinity ensures this is a wine that doesn't overpower, its flavours are revealed slowly and carefully, tugging backwards, with a texture that heads towards linen rather than silk - meaning that you don't glide through, you carefully step through well-placed tannins and fruits. There is clear delicacy here, and with 55% whole bunch fermentation - the highest level that they have done to date. 3.62pH (they harvested this at almost 1% ABV higher), fermented with their own natural yeasts. Highest percentage of the two Cabernets on recent record (before 2010 Carmes was regularly at 50% Merlot). Strong candidate for the score moving upwards when in bottle.
Drinking Window: 2028 - 2048
Reviewer Name: Jane Anson
Review Date: 1st May 2021
The 2020 Les Carmes Haut-Brion is dazzling, but it is also a wine of reserve and understatement. I image it will be some years, at the very least, be fore the 2020 is ready to show all it has to offer. Today, it is not particularly expressive. The aromatics, which are usually so penetrating are quite shy, although the significant presence of Cabernet Franc that distinguishes this wine comes through in its energy and sense of drive. I can't wait to taste the 2020 from bottle, and won't be at all surprised if it turns out even better than this note suggests.
Drinking Window: 2035 - 2060
Reviewer Name: Antonio Galloni
Review Date: 1st June 2021
The 2020 Les Carmes Haut-Brion was picked at 38hl/ha and matured in 80% new oak, 11% foudres and the remainder in clay amphorae. It has an intense bouquet of blackberry and wild strawberry, plus some light torrefactory scents, undergrowth and black pepper, all delineated and focused. The palate is medium-bodied with beautifully defined black fruit and delicate touches of mint, bell pepper and cracked black pepper. Though it shares the same surname, it is interesting to see how, stylistically, it is cut from a totally different cloth than Haut-Brion and La Mission, which each possess their own distinct attributes. Quite thickly textured and weighty on the finish with a long, spicy aftertaste, this is a serious Les Carmes Haut-Brion with a very long future ahead.
Drinking Window: 2025 - 2050
Reviewer Name: Neal Martin
Review Date: 1st May 2021
Deep garnet-purple colored, the 2020 Les Carmes Haut-Brion issues forth a beguiling array of savory scents—black olives, charcuterie, bouquet garni and Sichuan pepper—over a core of bright redcurrant jelly, black cherries and cassis scents, plus fragrant hints of rose petals and preserved mandarin peel. The medium-bodied palate is refreshing and elegantly styled yet with a rock-solid backbone of firm, finely grained tannins and bags of freshness, finishing long and perfumed. This is a stunning expression of the vintage that should be long lived and age with fantastic grace.
Drinking Window: 2027 - 2057
Reviewer Name: Lisa Perrotti-Brown
Review Date: 20th May 2021
Details

Year

2020

Colour

Red

Country

France

Region

Bordeaux

Sub Region

Pessac-Leognan

Designation

Classification

Pack Size

3x75cl

ABV

13.50°

Drinking Window

2035 - 2060

Drinking Recommendation

Not Ready

LWIN

100780820200300750

Reviews (6)

Exotic fruit aromas of blackberry, blueberry, peach and orange peel. It's full-bodied with a vertical flow of layered, chewy tannins that are integrated and intense. Extremely polished and focused. Crushed stone to the fruit in the aftertaste. Some bark and forest flowers, too. Great potential.

Reviewer Name: James Suckling

Review Date: 4th May 2021

On another level, the flagship 2020 Château Les Carmes Haut-Brion is one heck of a dense, backward, concentrated wine that's going to require bottle age. Coming in with the same technical analysis (acidity and alcohol) as the 2018, this full-bodied beauty offers a thrilling nose of blackcurrants, smoked tobacco, charcoal, and gravelly earth. Full-bodied on the palate, with a terrific mid-palate and wonderful purity, it holds things close to its vest yet has flawless balance, impeccable purity, and just a great, lengthy finish. Nevertheless, this is one big bruiser of a wine that's going to demand bottle age. Do your best to hide bottles for 7-8 years, count yourself lucky, and enjoy over the following three to four decades.

Review Date: 23rd May 2021

Clear violet edging to the colour, vibrant and enticing. This is elegant and full of personality, with high floral aromatics, a ton of dark fruits, and a blueberry dominance that gives a classic Carmes Haut Brion feel. Slightly austere, slightly bitter, both in the best possible expression of those terms, where it is mouthwatering and moreish. A juicy salinity ensures this is a wine that doesn't overpower, its flavours are revealed slowly and carefully, tugging backwards, with a texture that heads towards linen rather than silk - meaning that you don't glide through, you carefully step through well-placed tannins and fruits. There is clear delicacy here, and with 55% whole bunch fermentation - the highest level that they have done to date. 3.62pH (they harvested this at almost 1% ABV higher), fermented with their own natural yeasts. Highest percentage of the two Cabernets on recent record (before 2010 Carmes was regularly at 50% Merlot). Strong candidate for the score moving upwards when in bottle.

Drinking Window: 2028 - 2048

Reviewer Name: Jane Anson

Review Date: 1st May 2021

The 2020 Les Carmes Haut-Brion is dazzling, but it is also a wine of reserve and understatement. I image it will be some years, at the very least, be fore the 2020 is ready to show all it has to offer. Today, it is not particularly expressive. The aromatics, which are usually so penetrating are quite shy, although the significant presence of Cabernet Franc that distinguishes this wine comes through in its energy and sense of drive. I can't wait to taste the 2020 from bottle, and won't be at all surprised if it turns out even better than this note suggests.

Drinking Window: 2035 - 2060

Reviewer Name: Antonio Galloni

Review Date: 1st June 2021

The 2020 Les Carmes Haut-Brion was picked at 38hl/ha and matured in 80% new oak, 11% foudres and the remainder in clay amphorae. It has an intense bouquet of blackberry and wild strawberry, plus some light torrefactory scents, undergrowth and black pepper, all delineated and focused. The palate is medium-bodied with beautifully defined black fruit and delicate touches of mint, bell pepper and cracked black pepper. Though it shares the same surname, it is interesting to see how, stylistically, it is cut from a totally different cloth than Haut-Brion and La Mission, which each possess their own distinct attributes. Quite thickly textured and weighty on the finish with a long, spicy aftertaste, this is a serious Les Carmes Haut-Brion with a very long future ahead.

Drinking Window: 2025 - 2050

Reviewer Name: Neal Martin

Review Date: 1st May 2021

Deep garnet-purple colored, the 2020 Les Carmes Haut-Brion issues forth a beguiling array of savory scents—black olives, charcuterie, bouquet garni and Sichuan pepper—over a core of bright redcurrant jelly, black cherries and cassis scents, plus fragrant hints of rose petals and preserved mandarin peel. The medium-bodied palate is refreshing and elegantly styled yet with a rock-solid backbone of firm, finely grained tannins and bags of freshness, finishing long and perfumed. This is a stunning expression of the vintage that should be long lived and age with fantastic grace.

Drinking Window: 2027 - 2057

Reviewer Name: Lisa Perrotti-Brown

Review Date: 20th May 2021

Producer

About Château Les Carmes Haut-Brion

In 1584, Jean de Pontac, the Lord of Haut-Brion donated several acres of meadows and vines to the Carmelite Order, therein planting the seed that would eventually become Château les Carmes Haut-Brion. A lesser known neighbour of châteaux Haut-Brion and La Mission Haut-Brion in the Pessac-Léognan region of Bordeaux, Les Carmes Haut-Brion is a jewel of a property, positioned on the same bank of gravel (graves) as its more famous namesakes. The estate was confiscated during the French Revolution and purchased by the Léon Colin in 1840. Château les Carmes Haut-Brion remained under the same ownership until 2010, when it was acquired by Patrice Pichet in 2010, who added more acreage to the estate, replanted the vineyards to a higher vine density and improved their winemaking facilities. In addition to producing a red grand vin named Château les Carmes Haut-Brion, the estate produces the red second wine Le C des Carmes.

Viniculture

Named for the order of monks who owned the property in centuries gone by, Château Les Carmes Haut-Brion has the highest proportion of Cabernet Franc planted in its vineyard across the entire Left Bank. Its terroir is classical Pessac-Léognan in all its majesty – two sloping banks of deep gravel bound by rich clay and sand, giving rise to wines which, although requiring patience to unfurl, are amongst the finest expressions of the style in modern Bordeaux.

Under the watchful eye of highly renowned consultant Stéphane Derenoncourt, there has been a significant shift towards biodynamic practices at the estate as well as modern advances in the winery such as aging in clay amphoras. Completed for the 2015 vintage and designed by Philippe Starck, Château Les Carmes Haut-Brion's state-of-the-art winery and cellar are partially submerged under the estate's natural lake to give the impression of a ship's hull.

Vintage Comparison

Valuation Tools

Wine Rating is intended to show the quality of the wine from an investment perspective. It takes into account the prices achieved by the producer, the quality of the vintage and the critics' scores for this wine. AAA is the best rating, and B the most speculative.

Please wait a few seconds whilst we process the market data for this wine...

Calculating...

Investment Rating

Wine Rating is intended to show the quality of the wine from an investment perspective. It takes into account the prices achieved by the producer, the quality of the vintage and the critics' scores for this wine. AAA is the best rating, and B the most speculative.

Show Investment Rating Guide

Graph