(Maison) Louis Jadot Montrachet Grand Cru 2017 (3x75cl)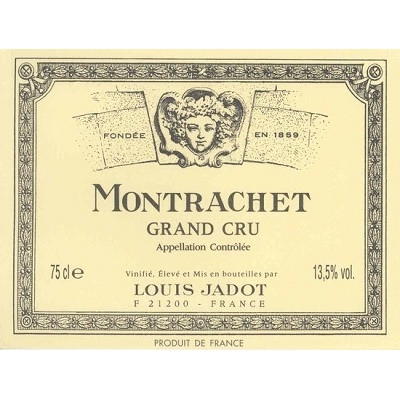 The 2017 Montrachet Grand Cru has a stricter bouquet than the Chevalier-Montrachet, more mineral-driven and, you might argue, meaner and more challenging. But maybe that's what you want from such a noble vineyard. The palate is well balanced with a fine bead of acidity. Quite saline and lightly spiced, touches of ginger developing toward the finish, like the Chevalier. However, this fans out a bit more than its knightly sibling, delivering a touch more salinity on the very long aftertaste.
Drinking Window: 2022 - 2045
Reviewer Name: Neal Martin
Review Date: 1st January 2019
A densely fruited nose that is more complex if less elegant also only grudgingly offers up notes of wet stone, mandarin orange peel, white flowers, pear liqueur and plenty of spice and soft wood nuances. There is an almost painful intensity to the even more concentrated and overtly powerful broad-shouldered flavors that brim with dry extract that simultaneously coats the palate while buffering the extremely firm acid spine on the incredibly long finish. While perhaps not one for the ages, this is still a seriously good Montrachet.
Reviewer Name: Allen Meadows
Aromas of crisp peach, mandarin oil, orange blossom and mint introduce the 2017 Montrachet Grand Cru (Maison Louis Jadot), a full-bodied, ample wine with a broad, textural attack and juicy balancing acids, though it can't match the density or cut of the stunning Chevalier Demoiselles from domaine fruit.
Reviewer Name: William Kelley
Review Date: 31st January 2019
Details

Year

2017

Colour

White

Country

France

Region

Burgundy

Sub Region

Montrachet

Designation

Pack Size

3x75cl

Drinking Window

2022 - 2045

Drinking Recommendation

Not Ready

LWIN

107082020170300750

Reviews (3)

The 2017 Montrachet Grand Cru has a stricter bouquet than the Chevalier-Montrachet, more mineral-driven and, you might argue, meaner and more challenging. But maybe that's what you want from such a noble vineyard. The palate is well balanced with a fine bead of acidity. Quite saline and lightly spiced, touches of ginger developing toward the finish, like the Chevalier. However, this fans out a bit more than its knightly sibling, delivering a touch more salinity on the very long aftertaste.

Drinking Window: 2022 - 2045

Reviewer Name: Neal Martin

Review Date: 1st January 2019

A densely fruited nose that is more complex if less elegant also only grudgingly offers up notes of wet stone, mandarin orange peel, white flowers, pear liqueur and plenty of spice and soft wood nuances. There is an almost painful intensity to the even more concentrated and overtly powerful broad-shouldered flavors that brim with dry extract that simultaneously coats the palate while buffering the extremely firm acid spine on the incredibly long finish. While perhaps not one for the ages, this is still a seriously good Montrachet.

Reviewer Name: Allen Meadows

Aromas of crisp peach, mandarin oil, orange blossom and mint introduce the 2017 Montrachet Grand Cru (Maison Louis Jadot), a full-bodied, ample wine with a broad, textural attack and juicy balancing acids, though it can't match the density or cut of the stunning Chevalier Demoiselles from domaine fruit.

Reviewer Name: William Kelley

Review Date: 31st January 2019

Producer

Domaine Louis Jadot was founded in 1859. Jacques Lardiere, head winemaker since 1970, is a legend in Burgundy. His philosophy focuses on minimal intervention. All their wines bear the same label, with the head of Baccus, showing their commitment to consistent quality across their range. They are popular with wine lovers around the world.

Value Comparison