Masseto 2016 (3x75cl)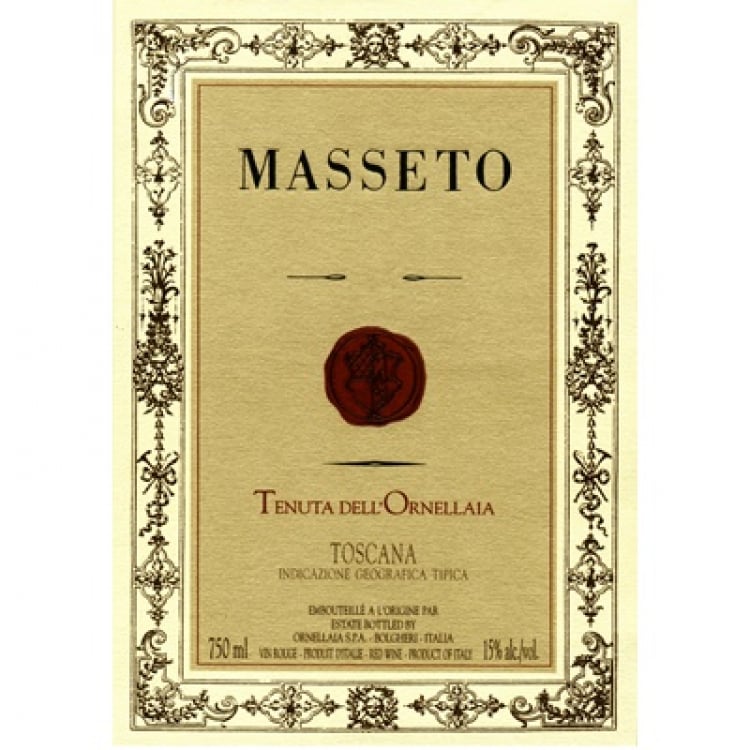 First released in 1984, to immediate critical acclaim, Masseto now has probably the biggest imbalance between supply and demand of any Italian wine. The tiny vineyard produces only 35,000 bottles a year, and with the scores it achieves the wine is almost never available. As with Ornellaia, Masseto has been owned by the Frescobaldis since 2005.

The Masseto 2016 is especially notable because this is the first time any Italian has ever scored back to back 100 point scores from Wine Advocate. And the 2016 has a supporting 100 points from James Suckling also
Not yet released, the 2016 Masseto is sensational and unquestionably one of the greatest expressions of Merlot in the world. As always, it's 100% Merlot from a single vineyard that has a complex, diverse set of soils and expositions, causing harvest at times to be spread over as much as three weeks. Aged two years in oak, its deep purple color is followed by a powerful bouquet of black cherries, cassis, spicy oak, damp earth, green tobacco, and spring flowers. It's full-bodied, concentrated and masculine on the palate, with serious minerality, yet it stays flawlessly balanced with magical purity of fruit. With no shortage of concentration and structure, this primordial powerhouse of a Merlot needs 4-6 years of bottle age yet should evolve for decades. Merlot, or wine for that matter, doesn't get any better!
Drinking Window: 2025 - 2060
Reviewer Name: Jeb Dunnuck
This is so solid and powerful with incredible vertical dense that goes down and down on the palate. Compacted and thick with caressing and polished tannins that are powerful yet refined. Super concentration yet agile and energetic. This is a wine that needs time to come together and resolve all of its amazing components. Reminds me of the legendary 2001. Try after 2023.
Review Date: 16th June 2019
Masseto has pulled off back-to-back home runs. This is the first time that an Italian wine has earned 100 points in successive vintages. The 2016 Masseto is a thunderstorm of emotions, but it manages to keep them under perfect control. Like the 2015 Masseto before it, this vintage is a seamless wine of the highest pedigree. It represents an encore performance, continuing the string of successes that is bringing Italy to the forefront of the wine world. The first thing you'll notice is the thickness and concentration of the fruit that makes an immediate impact on all the senses, in terms of appearance, aroma and mouthfeel. There is no overstating the sheer power and richness of this iconic vintage of Italy's groundbreaking Merlot. Despite that considerable mass, this Masseto remains delicate and graceful. You gain better perspective as the wine opens in the glass and reveals deeper layers that were not immediately apparent on first nose: dark fruit, spice, sweet tobacco and black cherry. There is great tightness and laser focus to the fruit. I tasted the 2016 and 2015 vintages together for comparison when I scored this wine, and then I tasted this 2016 edition alone about a month later to confirm my impressions. These vintages are identical twins, two perfect wines.
Drinking Window: 2022 - 2050
Reviewer Name: Monica Larner
Review Date: 18th April 2019
In the hard-fought rivalry between the 2015 and 2016 vintages in Bolgheri, Merlot grapes add their own weight to the discussion. In this more balanced vintage, this variety had at least two advantages: more refined aromas due to night and day temperature variations, and more complexity due to a longer season. Indeed, the main character of this Masseto is a lower pH and almost tingling acidity. Its cardinal red colour increases the solemnity of the tasting. It's polished on the nose, with a fruit character ranging between cherry and cassis, integrated with straw, pipe tobacco, clove, white chocolate, the first signs of some mint, and earthy notes in depth. The refined palate is dominated by the elegant and refreshing acidity, balancing the 15% alcohol, with obviously ripe, velvety tannins and a mineral graphite aftertaste. It comes really close to the outstanding 2006 Masseto, possibly due to the older age of the vines.
Drinking Window: 2020 - 2045
Reviewer Name: Aldo Fiordelli
Review Date: 24th June 2019
The 2016 Masseto is simply stunning. Fresh, vibrant and full of energy, the 2016 dazzles from start to finish. I can't remember tasting a young Masseto with this combination of fruit density and silkiness. Just as it was from barrel, the 2016 Masseto is a wine of magnificent balance and proportion. The polish and sensuality of the tannins is simply remarkable for a young Masseto, especially compared to just a few years ago, when Masseto was often a bruiser right out of the gate. Two thousand sixteen was a year with a long summer and some drought, but no real extremes. Acidity is in line with vintages like 2006, but gentler winemaking with fewer pumpovers than in the past has given birth to a wine that is more finessed than those of the preceding decade.
Drinking Window: 2026 - 2046
Reviewer Name: Antonio Galloni
Review Date: 1st April 2021
Details

Year

2016

Colour

Red

Country

Italy

Region

Tuscany

Sub Region

Toscana

Designation

Classification

Pack Size

3x75cl

ABV

15.00°

Drinking Window

2026 - 2060

Drinking Recommendation

Not Ready

LWIN

116074320160300750

Reviews (5)

Not yet released, the 2016 Masseto is sensational and unquestionably one of the greatest expressions of Merlot in the world. As always, it's 100% Merlot from a single vineyard that has a complex, diverse set of soils and expositions, causing harvest at times to be spread over as much as three weeks. Aged two years in oak, its deep purple color is followed by a powerful bouquet of black cherries, cassis, spicy oak, damp earth, green tobacco, and spring flowers. It's full-bodied, concentrated and masculine on the palate, with serious minerality, yet it stays flawlessly balanced with magical purity of fruit. With no shortage of concentration and structure, this primordial powerhouse of a Merlot needs 4-6 years of bottle age yet should evolve for decades. Merlot, or wine for that matter, doesn't get any better!

Drinking Window: 2025 - 2060

Reviewer Name: Jeb Dunnuck

This is so solid and powerful with incredible vertical dense that goes down and down on the palate. Compacted and thick with caressing and polished tannins that are powerful yet refined. Super concentration yet agile and energetic. This is a wine that needs time to come together and resolve all of its amazing components. Reminds me of the legendary 2001. Try after 2023.

Review Date: 16th June 2019

Masseto has pulled off back-to-back home runs. This is the first time that an Italian wine has earned 100 points in successive vintages. The 2016 Masseto is a thunderstorm of emotions, but it manages to keep them under perfect control. Like the 2015 Masseto before it, this vintage is a seamless wine of the highest pedigree. It represents an encore performance, continuing the string of successes that is bringing Italy to the forefront of the wine world. The first thing you'll notice is the thickness and concentration of the fruit that makes an immediate impact on all the senses, in terms of appearance, aroma and mouthfeel. There is no overstating the sheer power and richness of this iconic vintage of Italy's groundbreaking Merlot. Despite that considerable mass, this Masseto remains delicate and graceful. You gain better perspective as the wine opens in the glass and reveals deeper layers that were not immediately apparent on first nose: dark fruit, spice, sweet tobacco and black cherry. There is great tightness and laser focus to the fruit. I tasted the 2016 and 2015 vintages together for comparison when I scored this wine, and then I tasted this 2016 edition alone about a month later to confirm my impressions. These vintages are identical twins, two perfect wines.

Drinking Window: 2022 - 2050

Reviewer Name: Monica Larner

Review Date: 18th April 2019

In the hard-fought rivalry between the 2015 and 2016 vintages in Bolgheri, Merlot grapes add their own weight to the discussion. In this more balanced vintage, this variety had at least two advantages: more refined aromas due to night and day temperature variations, and more complexity due to a longer season. Indeed, the main character of this Masseto is a lower pH and almost tingling acidity. Its cardinal red colour increases the solemnity of the tasting. It's polished on the nose, with a fruit character ranging between cherry and cassis, integrated with straw, pipe tobacco, clove, white chocolate, the first signs of some mint, and earthy notes in depth. The refined palate is dominated by the elegant and refreshing acidity, balancing the 15% alcohol, with obviously ripe, velvety tannins and a mineral graphite aftertaste. It comes really close to the outstanding 2006 Masseto, possibly due to the older age of the vines.

Drinking Window: 2020 - 2045

Reviewer Name: Aldo Fiordelli

Review Date: 24th June 2019

The 2016 Masseto is simply stunning. Fresh, vibrant and full of energy, the 2016 dazzles from start to finish. I can't remember tasting a young Masseto with this combination of fruit density and silkiness. Just as it was from barrel, the 2016 Masseto is a wine of magnificent balance and proportion. The polish and sensuality of the tannins is simply remarkable for a young Masseto, especially compared to just a few years ago, when Masseto was often a bruiser right out of the gate. Two thousand sixteen was a year with a long summer and some drought, but no real extremes. Acidity is in line with vintages like 2006, but gentler winemaking with fewer pumpovers than in the past has given birth to a wine that is more finessed than those of the preceding decade.

Drinking Window: 2026 - 2046

Reviewer Name: Antonio Galloni

Review Date: 1st April 2021

Producer

About Masseto

A pure and unrelenting single vineyard wine, the sibling of Ornellaia was the second label founded by the visionary Ludovico Antinori – it is now under the ownership of possibly the finest vinous clan in Italy, the Frescobaldi family.

Masseto was born out of its stubbornness and uncooperative terroir and first released in 1984. In the seismic wake of Sassicaia's success in the 1980s, many ambitious winemakers and landowners pursued the model of crafting genuinely outstanding Bordeaux blend wines across the Tuscan coast.

The Vineyard and The Wine

Masseto, however, was a tiny vineyard of completely anomalous terroir. A single seven-hectare parcel of heavy clay, totally unsuitable for the Cabernets (Sauvignon and Franc) which were used by both Sassicaia and Ornellaia. Despite some reluctance due to it being something of an unknown quantity in the region, André Tchelistcheff persuaded Antinori to plant Merlot.

Made exclusively from Merlot, it became rapidly apparent that Masseto was something quite extraordinary. An increasingly large and receptive domestic audience quickly became a voracious international one even before its first perfect 100 point score in 2001.

A general consensus has emerged amongst not only critics but collectors alike that Masseto is the single greatest expression of Merlot to be found in Italy – without question the most desirable and prestigious. The arrival of super consultant Michel Rolland seal its fate, and Masseto was quickly dubbed "the Pétrus of Italy", thanks to both its breath-taking quality and Rolland's Pomerol roots.

Aged for two whole years in 50% new oak, the fruit has more than enough structure and intensity to easily accommodate and integrate this level. In such a hot climate, the primary concern for the team at Masseto has elevated sugar levels, extreme ripeness which in turn leads to excessively high alcohol. This is a balancing act of the highest order, but one in which current vigneron Axel Heinz walks perfectly each and every vintage.

The tiny vineyard produces only 35,000 bottles a year, and with the scores, it achieves the wine is almost never available.

Vintage Comparison

Valuation Tools

Wine Rating is intended to show the quality of the wine from an investment perspective. It takes into account the prices achieved by the producer, the quality of the vintage and the critics' scores for this wine. AAA is the best rating, and B the most speculative.

Please wait a few seconds whilst we process the market data for this wine...

Calculating...

Investment Rating

Wine Rating is intended to show the quality of the wine from an investment perspective. It takes into account the prices achieved by the producer, the quality of the vintage and the critics' scores for this wine. AAA is the best rating, and B the most speculative.

Show Investment Rating Guide

Graph