Masseto 2018 (3x75cl)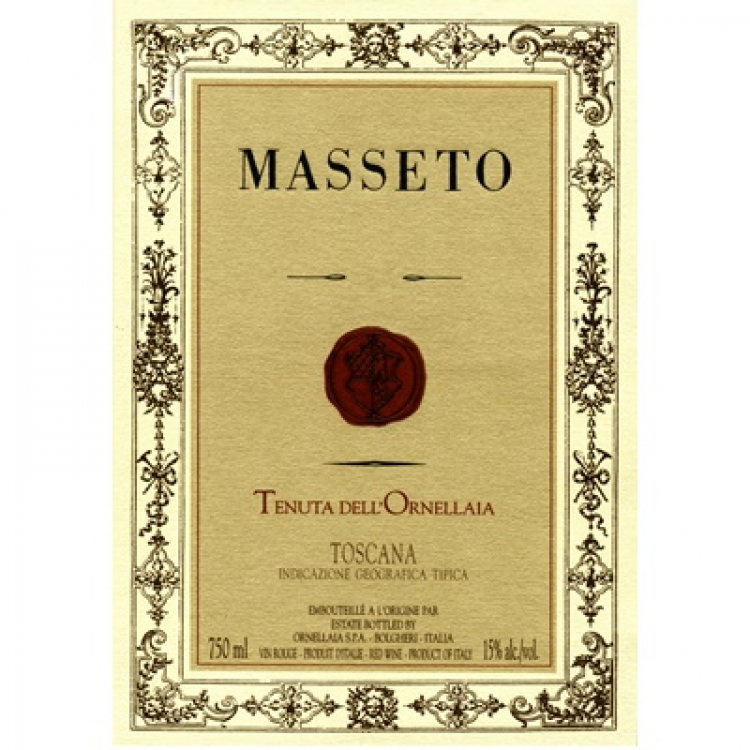 Awarded a huge 98 points by both Antonio Galloni and James Suckling, Masseto 2018 has once again proven its worth as the top Italian Merlot. Boasting "aromatic intensity and classic, refined feel" that reminds Galloni of the perfect-scoring 2004 vintage, the 2018 Masseto is "silky, mid-weight and supremely gracious", thoroughly impressing Galloni with its ripe and well-balanced tannins.
Axel Heinz turning out yet again a wine that is generous and moreish but that goes deeper, offering layers of coffee, smoked herbs, rosemary, saffron, gentle waves of powerful brambled fruits. Mouthwatering, with tension and precision. Finely spun tannin that are elastic in embracing and taming the exuberant fruits yet chewy enough on the finish to show there is plenty of ageing ability ahead. Makes a big impression and yet has that Italian ability to be gulpable at the same time. A more elegant, moreish version of Merlot than you get in the biggest Pomerols, but every bit as beautiful. 11ha.
Drinking Window: 2023 - 2040
This is a showstopper of a wine, and one of the wines of the tasting. Lots of power here but the tannins just glide across the palate, gently with sophistication, with the dense and dark fruit covering the mouth and lingering. Round, ripe and juicy with excellent acidity that enhances the mineral undertones and spicy sides. Extremely well made by winemaker Axel Heinz and one that you just want another glass of immediately. Malolactic fermentation in 100% new oak barrique barrels, keeping the various lots separate for the first 12 months of ageing. The wines are then blended and put back in barrels for another year, totalling 24 months before bottling. Wines are then kept for an additional 12 months before being released.
Drinking Window: 2025 - 2045
Reviewer Name: Georgina Hindle
Review Date: 20th July 2021
This is extremely perfumed with flowers, cherries and blackberries, as well as hints of lavender. It's full-bodied, yet so refined, linear and racy. Pure silk. The texture is every so polished. Succulent and subtle fruit at the end. New wood showing now. A sophisticated Masseto that shows balance and harmony. Builds with tannins at the finish. Needs time to come completely together. Try after 2025.
Review Date: 10th August 2021
The 2018 Masseto is going to be an absolute thrill for readers who follow this iconic Bolgheri Merlot. Silky, mid-weight and supremely gracious, the 2018 reminds me of the 2004 in its aromatic intensity and classic, refined feel. Inky red/purplish fruit, cedar, lavender, espresso, sage and mint are some of the many aromas and flavors that develop with time in the glass. There is so much to like here. More than anything else, I am struck by how ripe and well balanced the tannins are, something that is rare for Masseto, especially in the early going, when the wine can be a bit burly.

As was the case throughout Tuscany, the 2018 Masseto is the product of a cool year with a fair amount of rain in August. The 2018 was made from all of the key vineyard plots, minus the young vine replants. It is the first vintage made at the estate's new winery, which is equipped with concrete fermenters that allow for more flexibility in extraction. Aging was 24 months in French oak, 100% new.
Drinking Window: 2026 - 2043
Reviewer Name: Antonio Galloni
Review Date: 28th February 2021
The 2018 Masseto is the vintage surprise few of us could have expected. The season saw rains just before harvest, and vintners were forced into dramatic last-minute decisions and risks. The expert team at Masseto navigated those challenges with deft precision in this first vintage executed in the new winery that is now fully dedicated and engineered to fulfill the expectations of this iconic Merlot from coastal Tuscany. The new gravity-flow building has angular concrete fermentors and an old-fashioned basket press. Dark fruit and ripe blackberry bleed slowly into spice, leather, chocolate and sweet tobacco. The wine shows generous extraction and concentration; however, it remains light and lifted throughout. Welcome Masseto into your new home.
Drinking Window: 2024 - 2050
Reviewer Name: Monica Larner
Review Date: 6th May 2021
Details

Year

2018

Colour

Red

Country

Italy

Region

Tuscany

Sub Region

Toscana

Designation

Classification

Pack Size

3x75cl

ABV

14.5°

Drinking Window

2026 - 2050

Drinking Recommendation

Not Ready

LWIN

116074320180300750

Reviews (5)

Axel Heinz turning out yet again a wine that is generous and moreish but that goes deeper, offering layers of coffee, smoked herbs, rosemary, saffron, gentle waves of powerful brambled fruits. Mouthwatering, with tension and precision. Finely spun tannin that are elastic in embracing and taming the exuberant fruits yet chewy enough on the finish to show there is plenty of ageing ability ahead. Makes a big impression and yet has that Italian ability to be gulpable at the same time. A more elegant, moreish version of Merlot than you get in the biggest Pomerols, but every bit as beautiful. 11ha.

Drinking Window: 2023 - 2040

This is a showstopper of a wine, and one of the wines of the tasting. Lots of power here but the tannins just glide across the palate, gently with sophistication, with the dense and dark fruit covering the mouth and lingering. Round, ripe and juicy with excellent acidity that enhances the mineral undertones and spicy sides. Extremely well made by winemaker Axel Heinz and one that you just want another glass of immediately. Malolactic fermentation in 100% new oak barrique barrels, keeping the various lots separate for the first 12 months of ageing. The wines are then blended and put back in barrels for another year, totalling 24 months before bottling. Wines are then kept for an additional 12 months before being released.

Drinking Window: 2025 - 2045

Reviewer Name: Georgina Hindle

Review Date: 20th July 2021

This is extremely perfumed with flowers, cherries and blackberries, as well as hints of lavender. It's full-bodied, yet so refined, linear and racy. Pure silk. The texture is every so polished. Succulent and subtle fruit at the end. New wood showing now. A sophisticated Masseto that shows balance and harmony. Builds with tannins at the finish. Needs time to come completely together. Try after 2025.

Review Date: 10th August 2021

The 2018 Masseto is going to be an absolute thrill for readers who follow this iconic Bolgheri Merlot. Silky, mid-weight and supremely gracious, the 2018 reminds me of the 2004 in its aromatic intensity and classic, refined feel. Inky red/purplish fruit, cedar, lavender, espresso, sage and mint are some of the many aromas and flavors that develop with time in the glass. There is so much to like here. More than anything else, I am struck by how ripe and well balanced the tannins are, something that is rare for Masseto, especially in the early going, when the wine can be a bit burly.

As was the case throughout Tuscany, the 2018 Masseto is the product of a cool year with a fair amount of rain in August. The 2018 was made from all of the key vineyard plots, minus the young vine replants. It is the first vintage made at the estate's new winery, which is equipped with concrete fermenters that allow for more flexibility in extraction. Aging was 24 months in French oak, 100% new.

Drinking Window: 2026 - 2043

Reviewer Name: Antonio Galloni

Review Date: 28th February 2021

The 2018 Masseto is the vintage surprise few of us could have expected. The season saw rains just before harvest, and vintners were forced into dramatic last-minute decisions and risks. The expert team at Masseto navigated those challenges with deft precision in this first vintage executed in the new winery that is now fully dedicated and engineered to fulfill the expectations of this iconic Merlot from coastal Tuscany. The new gravity-flow building has angular concrete fermentors and an old-fashioned basket press. Dark fruit and ripe blackberry bleed slowly into spice, leather, chocolate and sweet tobacco. The wine shows generous extraction and concentration; however, it remains light and lifted throughout. Welcome Masseto into your new home.

Drinking Window: 2024 - 2050

Reviewer Name: Monica Larner

Review Date: 6th May 2021

Producer

About Masseto

A pure and unrelenting single vineyard wine, the sibling of Ornellaia was the second label founded by the visionary Ludovico Antinori – it is now under the ownership of possibly the finest vinous clan in Italy, the Frescobaldi family.

Masseto was born out of its stubbornness and uncooperative terroir and first released in 1984. In the seismic wake of Sassicaia's success in the 1980s, many ambitious winemakers and landowners pursued the model of crafting genuinely outstanding Bordeaux blend wines across the Tuscan coast.

The Vineyard and The Wine

Masseto, however, was a tiny vineyard of completely anomalous terroir. A single seven-hectare parcel of heavy clay, totally unsuitable for the Cabernets (Sauvignon and Franc) which were used by both Sassicaia and Ornellaia. Despite some reluctance due to it being something of an unknown quantity in the region, André Tchelistcheff persuaded Antinori to plant Merlot.

Made exclusively from Merlot, it became rapidly apparent that Masseto was something quite extraordinary. An increasingly large and receptive domestic audience quickly became a voracious international one even before its first perfect 100 point score in 2001.

A general consensus has emerged amongst not only critics but collectors alike that Masseto is the single greatest expression of Merlot to be found in Italy – without question the most desirable and prestigious. The arrival of super consultant Michel Rolland seal its fate, and Masseto was quickly dubbed "the Pétrus of Italy", thanks to both its breath-taking quality and Rolland's Pomerol roots.

Aged for two whole years in 50% new oak, the fruit has more than enough structure and intensity to easily accommodate and integrate this level. In such a hot climate, the primary concern for the team at Masseto has elevated sugar levels, extreme ripeness which in turn leads to excessively high alcohol. This is a balancing act of the highest order, but one in which current vigneron Axel Heinz walks perfectly each and every vintage.

The tiny vineyard produces only 35,000 bottles a year, and with the scores, it achieves the wine is almost never available.

Vintage Comparison

Valuation Tools

Wine Rating is intended to show the quality of the wine from an investment perspective. It takes into account the prices achieved by the producer, the quality of the vintage and the critics' scores for this wine. AAA is the best rating, and B the most speculative.

Please wait a few seconds whilst we process the market data for this wine...

Calculating...

Investment Rating

Wine Rating is intended to show the quality of the wine from an investment perspective. It takes into account the prices achieved by the producer, the quality of the vintage and the critics' scores for this wine. AAA is the best rating, and B the most speculative.

Show Investment Rating Guide

Graph