Mouton Rothschild 1998 (1x150cl)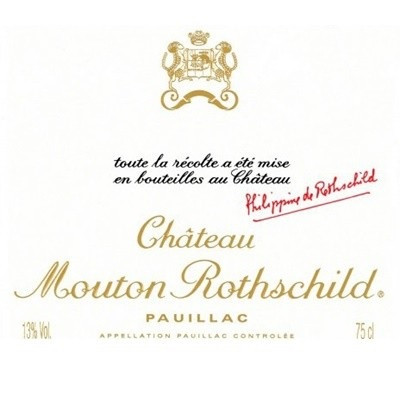 Composed of 86% Cabernet Sauvignon, 12% Merlot and 2% Cabernet Franc, the 1998 Mouton Rothschild is deep garnet-brick in color with lovely crème de cassis, dried roses, hoisin and baking spice notes with underlying notions of dried cherries and mulberries plus touches of wood smoke, incense and forest floor. Medium to full-bodied and packed with rich fruit framed by firm, chewy tannins, it is stacked with complex, evolving flavors and finishes with incredibly long-lasting perfumed notes. According to winemaker Philippe Dhalluin, this needs about three hours of decanting at this stage. I simply love the place this wine is in right now, possessing plenty of mature, tertiary characters yet still sporting bags of fruit. It won't be fading anytime soon either and should cellar nicely for 20-25+ more years.
Drinking Window: 2018 - 2043
Reviewer Name: Lisa Perrotti-Brown
Review Date: 31st May 2018
(86% cabernet sauvignon, 12% merlot and 2% cabernet franc; pH 3.82; IPT 76; 12.3% alcohol; a 57% selection): Very deep saturated ruby. Archetypical cabernet sauvignon-dominated nose offers fresh blackcurrant, lead pencil and flowers complicated by strong spice notes. Bright and juicy on entry, with very pure flavors of dark berries, underbrush and dried herbs, then slightly austere and linear in the middle palate. Finishes with a lingering saline nuance and very good length. A very refined and impeccably balanced Mouton, but I would have liked a little bit more concentration and opulence for an even higher score. This classic Mouton possesses relatively high acidity and a solid tannic structure; it offers early accessibility but should age effortlessly for another 15 or 20 years. In 1998, after a couple years of experimentation, Mouton began to de-leaf in a systematic fashion on both sides of the vine rows. Another vintage with a large crop, 1998 featured an unsettled September with rain falling during the cabernet sauvignon harvest (one of the reasons why 1998 is widely considered a Right Bank year.)


This is spicy and peppery with dried fruits and currants. It's full and velvety on the palate, showing pretty berries and toasted coffee beans. Long, long finish.

Blackberry and violets on the nose, with hints of roses. Sweet tobacco too. Full-bodied, with a solid core of fruit and round tannins. A little tight and reserved now. Give it time.
The lightest and most developed-looking of the three Pauillacs. Ripe, warm and flattering but one of the most evolved wines of the series on the nose although oddly dry and slightly pinched on the palate. A little lightweight. A bit gawky. Green notes on the finish. Simple and green.

Details

Year

1998

Colour

Red

Country

France

Region

Bordeaux

Sub Region

Pauillac

Designation

Pack Size

1x150cl

ABV

13.5°

Drinking Window

2018 - 2043

Drinking Recommendation

Drinking Now, will improve

LWIN

101354419980101500

Reviews (5)

Composed of 86% Cabernet Sauvignon, 12% Merlot and 2% Cabernet Franc, the 1998 Mouton Rothschild is deep garnet-brick in color with lovely crème de cassis, dried roses, hoisin and baking spice notes with underlying notions of dried cherries and mulberries plus touches of wood smoke, incense and forest floor. Medium to full-bodied and packed with rich fruit framed by firm, chewy tannins, it is stacked with complex, evolving flavors and finishes with incredibly long-lasting perfumed notes. According to winemaker Philippe Dhalluin, this needs about three hours of decanting at this stage. I simply love the place this wine is in right now, possessing plenty of mature, tertiary characters yet still sporting bags of fruit. It won't be fading anytime soon either and should cellar nicely for 20-25+ more years.

Drinking Window: 2018 - 2043

Reviewer Name: Lisa Perrotti-Brown

Review Date: 31st May 2018

(86% cabernet sauvignon, 12% merlot and 2% cabernet franc; pH 3.82; IPT 76; 12.3% alcohol; a 57% selection): Very deep saturated ruby. Archetypical cabernet sauvignon-dominated nose offers fresh blackcurrant, lead pencil and flowers complicated by strong spice notes. Bright and juicy on entry, with very pure flavors of dark berries, underbrush and dried herbs, then slightly austere and linear in the middle palate. Finishes with a lingering saline nuance and very good length. A very refined and impeccably balanced Mouton, but I would have liked a little bit more concentration and opulence for an even higher score. This classic Mouton possesses relatively high acidity and a solid tannic structure; it offers early accessibility but should age effortlessly for another 15 or 20 years. In 1998, after a couple years of experimentation, Mouton began to de-leaf in a systematic fashion on both sides of the vine rows. Another vintage with a large crop, 1998 featured an unsettled September with rain falling during the cabernet sauvignon harvest (one of the reasons why 1998 is widely considered a Right Bank year.)



This is spicy and peppery with dried fruits and currants. It's full and velvety on the palate, showing pretty berries and toasted coffee beans. Long, long finish.


Blackberry and violets on the nose, with hints of roses. Sweet tobacco too. Full-bodied, with a solid core of fruit and round tannins. A little tight and reserved now. Give it time.

The lightest and most developed-looking of the three Pauillacs. Ripe, warm and flattering but one of the most evolved wines of the series on the nose although oddly dry and slightly pinched on the palate. A little lightweight. A bit gawky. Green notes on the finish. Simple and green.


Producer

Mouton-Rothschild was upgraded to First Growth status in 1973. Long before that, in the 1850s Baron Nathaniel de Rothschild – an English member of the by then already wealthy family - had set his heart on acquiring a Bordeaux estate. His gaze fell on Chateau Brane Mouton (Mouton meaning "small hill") and in 1853 acquired it. In 1868, James Rothschild, another member of the family purchased Chateau Lafite. The 5 pointed crest of the labels of the Rothschild family wines symbolises the five sons of the first generation of the family. The modern history of Mouton Rothschild really begins with the young Baron Philippe Rothschild. In the 1920s he was the first in Bordeaux to insist on bottling at the estate. Artist designed unique annual labels then appeared from 1924. He relentlessly drove up the quality and prestige of the estate until the famous 'upgrade' in 1973. The Mouton vineyard is older than most in Bordeaux, with vines averaging 50 years, and some going back over 100! It is one of the world's truly 'great' wine estates.

Value Comparison