Mouton Rothschild 2010 (6x75cl)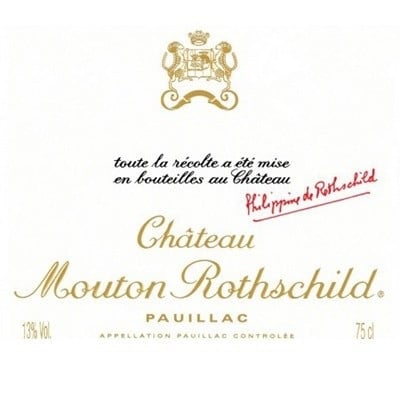 A wine of noble bearing and exceptional beauty, the 2010 Mouton Rothschild is a flat-out stunner. The aromatics alone are beguiling. On the palate, the wine is every bit as thrilling, with myriad layers of flavor that continue to open up in the glass. Graphite, gravel, smoke, plum, black cherry and savory herbs are all strikingly delineated throughout. Vivid and crystalline, the 2010 is a jewel of a wine, but it is impossibly young now. Readers who can be patient will be treated to a fabulous wine. Today, the 2010 reminds me of a more civilized version of the 1986. The 2010 is 94% Cabernet Sauvignon (the highest amount of Cabernet ever here). Dollops of Merlot round out the blend. Harvest took place between September 29 and October 13.
Clearly a perfect wine that shows incredible depth of fruit with currants, dark chocolate, minerals and licorice. Full-bodied, tight and wound up with ripe tannins that let go and seduce you. Makes me want to drink it now. But this is a wine for the long term. Extraordinary. 94% cabernet sauvignon. Better in 2020.
This remains the stunner, a battleship of a wine, brimming with cassis, blackberry and fig fruit that has melded together now, with the backdrop of alder, bay leaf and menthol starting to emerge a bit more. The long finish is loaded with grip, pulling the fruit and other components together. And then there's that flash of iron at the very end. Awesome wine.
Deep garnet in color, the 2010 Mouton Rothschild is a little closed to begin, slowly unfurling to reveal notes of baked black cherries, crème de cassis, blackberry compote and bouquet garni with suggestions of sweaty leather, pencil lead, cedar chest and black truffles plus a hint of crushed rocks. Full-bodied, the palate is solidly constructed of super firm, ripe, grainy tannins and lively acidity, framing the densely packed black fruit, finishing on a persistent mineral note.
Drinking Window: 2023 - 2060
Reviewer Name: Lisa Perrotti-Brown
Review Date: 5th March 2020
96-98. An impressively powerful wine, its tannins dense, while still retaining softness. The wine has the acme of elegance, with its great Cabernet Sauvignon flavors (94%), while hinting at spice and tannins.
Drinking Window: 2018 - 2045
Review Date: 25th June 2011
Details

Year

2010

Colour

Red

Country

France

Region

Bordeaux

Sub Region

Pauillac

Designation

Classification

Pack Size

6x75cl

ABV

13.5°

Drinking Window

2023 - 2060

Drinking Recommendation

Not Ready

LWIN

101354420100600750

Reviews (5)

A wine of noble bearing and exceptional beauty, the 2010 Mouton Rothschild is a flat-out stunner. The aromatics alone are beguiling. On the palate, the wine is every bit as thrilling, with myriad layers of flavor that continue to open up in the glass. Graphite, gravel, smoke, plum, black cherry and savory herbs are all strikingly delineated throughout. Vivid and crystalline, the 2010 is a jewel of a wine, but it is impossibly young now. Readers who can be patient will be treated to a fabulous wine. Today, the 2010 reminds me of a more civilized version of the 1986. The 2010 is 94% Cabernet Sauvignon (the highest amount of Cabernet ever here). Dollops of Merlot round out the blend. Harvest took place between September 29 and October 13.

Clearly a perfect wine that shows incredible depth of fruit with currants, dark chocolate, minerals and licorice. Full-bodied, tight and wound up with ripe tannins that let go and seduce you. Makes me want to drink it now. But this is a wine for the long term. Extraordinary. 94% cabernet sauvignon. Better in 2020.

This remains the stunner, a battleship of a wine, brimming with cassis, blackberry and fig fruit that has melded together now, with the backdrop of alder, bay leaf and menthol starting to emerge a bit more. The long finish is loaded with grip, pulling the fruit and other components together. And then there's that flash of iron at the very end. Awesome wine.

Deep garnet in color, the 2010 Mouton Rothschild is a little closed to begin, slowly unfurling to reveal notes of baked black cherries, crème de cassis, blackberry compote and bouquet garni with suggestions of sweaty leather, pencil lead, cedar chest and black truffles plus a hint of crushed rocks. Full-bodied, the palate is solidly constructed of super firm, ripe, grainy tannins and lively acidity, framing the densely packed black fruit, finishing on a persistent mineral note.

Drinking Window: 2023 - 2060

Reviewer Name: Lisa Perrotti-Brown

Review Date: 5th March 2020

96-98. An impressively powerful wine, its tannins dense, while still retaining softness. The wine has the acme of elegance, with its great Cabernet Sauvignon flavors (94%), while hinting at spice and tannins.

Drinking Window: 2018 - 2045

Review Date: 25th June 2011

Producer

Mouton-Rothschild was upgraded to First Growth status in 1973. Long before that, in the 1850s Baron Nathaniel de Rothschild – an English member of the by then already wealthy family - had set his heart on acquiring a Bordeaux estate. His gaze fell on Chateau Brane Mouton (Mouton meaning "small hill") and in 1853 acquired it. In 1868, James Rothschild, another member of the family purchased Chateau Lafite. The 5 pointed crest of the labels of the Rothschild family wines symbolises the five sons of the first generation of the family. The modern history of Mouton Rothschild really begins with the young Baron Philippe Rothschild. In the 1920s he was the first in Bordeaux to insist on bottling at the estate. Artist designed unique annual labels then appeared from 1924. He relentlessly drove up the quality and prestige of the estate until the famous 'upgrade' in 1973. The Mouton vineyard is older than most in Bordeaux, with vines averaging 50 years, and some going back over 100! It is one of the world's truly 'great' wine estates.

Value Comparison