Mouton Rothschild 2016 (6x75cl)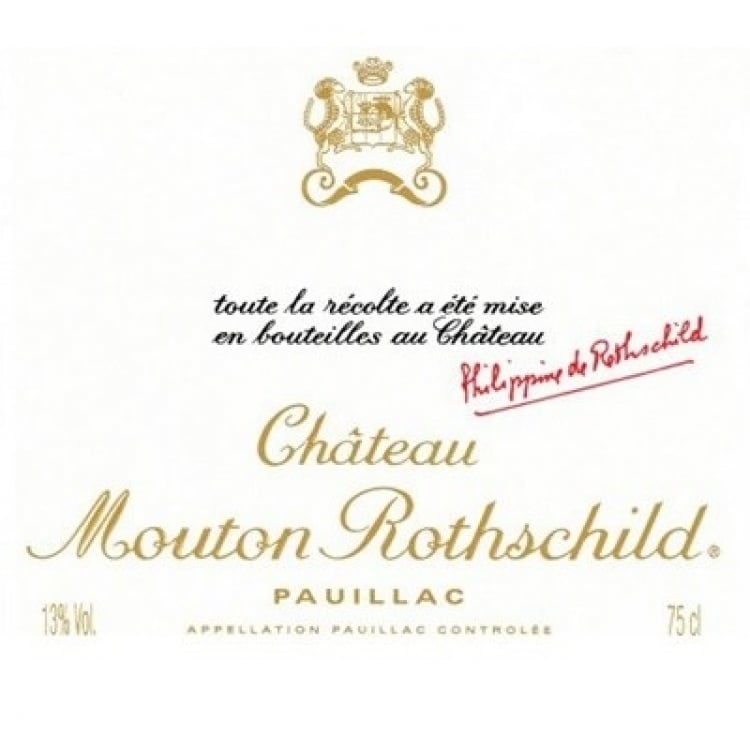 A classic vintage for this Pauillac legend. Bramble and a lot of fresh flowers on the nose. A bit less forward than expected but nice bit of crushed stone and polished wood. Crunchy acidity with lovely firm tannins. Loads of tannin to resolve but overall effect is balanced, fully ripe and fresh. Good lift and a nice monolithic finish.
Along with the Château Lafite, the 2016 Château Mouton Rothschild is the wine of the vintage from the Médoc and is a truly profound, magical, blockbuster wine in every sense. It's based on 83% Cabernet Sauvignon, 15% Merlot, and the rest Cabernet Franc and Petit Verdot, raised in new French oak. Boasting a saturated purple color as well as an extraordinary bouquet of thick black fruits, lead pencil shavings, new saddle leather, and burning embers, with just a hint of its oak upbringing, this beauty hits the palate with a mammoth amount of fruit and texture yet stays fresh, pure, and light on its feet, with a thrilling sense of minerality as well as building tannins on the finish. It's one of the most profound young wines I've ever tasted, and while it will probably keep for three-quarters of a decade, it offers pleasure even today. Bravo!
Drinking Window: 2023 - 2098
Review Date: 28th February 2019
This is a phenomenal, muscular red that shows incredible power and depth. Full-bodied and with great concentration of tannins but this remains agile and polished. The form to this is stupendous. Such precision and clarity. The new 1986 but better.
The 2016 Mouton Rothschild bowled me over when I tasted it from barrel. Philippe Dhalluin compares it to the 1986 in terms of intensity of fruit, although there is more maturity and refinement in the tannins apropos of the 2016. Bottled in July 2018, this has an intense bouquet with pixelated black fruit, crushed stone, hints of blue fruit and a touch of India ink. But it is the delineation and focus that take your breath away. The palate is medium-bodied with very supple tannin framing the pure black currant and cassis fruit. The acidity is pitch-perfect, and there is a gentle but insistent grip toward the extraordinarily long finish. Racking my brains to think of another Mouton Rothschild that I have tasted over the last 20 years that was as good as this, I simply cannot come up with one. Drink 2030-2080.
100
Vinous-Antonio Galloni
A towering, thrilling wine, the 2016 Mouton Rothschild is unbelievably beautiful today. Aromatics, fruit density and vertical structure all come together. In the glass, the 2016 is remarkably vivid and powerful, and yet a gentler, more feminine side emerges with time in the glass. The intense, mineral, savory profile recalls the 1986, but the 2016 has more grace, inner sweetness and sophistication than that wine. Even so, the 2016 is going to need at least a number of years in bottle before it starts drinking well, although it won't be the bruiser the 1986 remains to this day. This is breathtaking wine from Mouton, Tecnical Director Philippe Dhalluin and his team. Drink 2026 - 2041.
Composed of 83% Cabernet Sauvignon, 15% Merlot, 1% Cabernet Franc and 1% Petit Verdot, the 2016 Mouton Rothschild has an opaque garnet-purple color. WOW—the nose explodes from the glass with powerful blackcurrant cordial, black raspberries, blueberry pie and melted chocolate notions, plus suggestions of aniseed, camphor, lifted kirsch and the faintest waft of a subtle floral perfume in the background. Full-bodied, concentrated, bold and totally seductive in the mouth, it has very fine-grained, silt-like tannins, while jam-packed with tightly wound fruit layers, finishing in this wonderful array of mineral sparks. Magic.
Drinking Window: 2022 - 2085
Reviewer Name: Lisa Perrotti-Brown
Review Date: 31st October 2019
A higher level of acidity than is usual for Mouton is buttressed by waves of fruit and tannin. It's a modern take on 1986 that shows the most wonderful precision of creme caramel, liquorice, blackcurrant, creme de cassis and cedar. it's opulent but also has great tension through the palate - a monumental Mouton that for me has gained in stature over the past two years of ageing. The idea of a drinking window almost feels like a mirage - the perfect moment is likely to recede into the distance time and time again. It could be drunk in the next decade perhaps, but it's going to take 20 years or more to really get into its stride. Easily one of the wines of the vintage, for me this is showing even better than during en primeur. 1% Cabernet Franc completes the blend.

Drinking Window: 2028 - 2045
Details

Year

2016

Colour

Red

Country

France

Region

Bordeaux

Sub Region

Pauillac

Designation

Classification

Pack Size

6x75cl

ABV

13.50°

Drinking Window

2028 - 2098

Drinking Recommendation

Not Ready

LWIN

101354420160600750

Reviews (6)

Along with the Château Lafite, the 2016 Château Mouton Rothschild is the wine of the vintage from the Médoc and is a truly profound, magical, blockbuster wine in every sense. It's based on 83% Cabernet Sauvignon, 15% Merlot, and the rest Cabernet Franc and Petit Verdot, raised in new French oak. Boasting a saturated purple color as well as an extraordinary bouquet of thick black fruits, lead pencil shavings, new saddle leather, and burning embers, with just a hint of its oak upbringing, this beauty hits the palate with a mammoth amount of fruit and texture yet stays fresh, pure, and light on its feet, with a thrilling sense of minerality as well as building tannins on the finish. It's one of the most profound young wines I've ever tasted, and while it will probably keep for three-quarters of a decade, it offers pleasure even today. Bravo!

Drinking Window: 2023 - 2098

Review Date: 28th February 2019

This is a phenomenal, muscular red that shows incredible power and depth. Full-bodied and with great concentration of tannins but this remains agile and polished. The form to this is stupendous. Such precision and clarity. The new 1986 but better.

The 2016 Mouton Rothschild bowled me over when I tasted it from barrel. Philippe Dhalluin compares it to the 1986 in terms of intensity of fruit, although there is more maturity and refinement in the tannins apropos of the 2016. Bottled in July 2018, this has an intense bouquet with pixelated black fruit, crushed stone, hints of blue fruit and a touch of India ink. But it is the delineation and focus that take your breath away. The palate is medium-bodied with very supple tannin framing the pure black currant and cassis fruit. The acidity is pitch-perfect, and there is a gentle but insistent grip toward the extraordinarily long finish. Racking my brains to think of another Mouton Rothschild that I have tasted over the last 20 years that was as good as this, I simply cannot come up with one. Drink 2030-2080.

100

Vinous-Antonio Galloni

A towering, thrilling wine, the 2016 Mouton Rothschild is unbelievably beautiful today. Aromatics, fruit density and vertical structure all come together. In the glass, the 2016 is remarkably vivid and powerful, and yet a gentler, more feminine side emerges with time in the glass. The intense, mineral, savory profile recalls the 1986, but the 2016 has more grace, inner sweetness and sophistication than that wine. Even so, the 2016 is going to need at least a number of years in bottle before it starts drinking well, although it won't be the bruiser the 1986 remains to this day. This is breathtaking wine from Mouton, Tecnical Director Philippe Dhalluin and his team. Drink 2026 - 2041.

Composed of 83% Cabernet Sauvignon, 15% Merlot, 1% Cabernet Franc and 1% Petit Verdot, the 2016 Mouton Rothschild has an opaque garnet-purple color. WOW—the nose explodes from the glass with powerful blackcurrant cordial, black raspberries, blueberry pie and melted chocolate notions, plus suggestions of aniseed, camphor, lifted kirsch and the faintest waft of a subtle floral perfume in the background. Full-bodied, concentrated, bold and totally seductive in the mouth, it has very fine-grained, silt-like tannins, while jam-packed with tightly wound fruit layers, finishing in this wonderful array of mineral sparks. Magic.

Drinking Window: 2022 - 2085

Reviewer Name: Lisa Perrotti-Brown

Review Date: 31st October 2019

A higher level of acidity than is usual for Mouton is buttressed by waves of fruit and tannin. It's a modern take on 1986 that shows the most wonderful precision of creme caramel, liquorice, blackcurrant, creme de cassis and cedar. it's opulent but also has great tension through the palate - a monumental Mouton that for me has gained in stature over the past two years of ageing. The idea of a drinking window almost feels like a mirage - the perfect moment is likely to recede into the distance time and time again. It could be drunk in the next decade perhaps, but it's going to take 20 years or more to really get into its stride. Easily one of the wines of the vintage, for me this is showing even better than during en primeur. 1% Cabernet Franc completes the blend.


Drinking Window: 2028 - 2045

Producer

About Château Mouton Rothschild

A name which requires little introduction to even those with a passing interest in fine wine, Château Mouton Rothschild is perhaps most famous for being the sole property to ascend the precarious ladder of the 1855 Classification and gain promotion to the promised land of First Growth status.

Located one of the finest gravel beds in Pauillac, the Grand Plateau de Mouton, Mouton Rothschild is often differentiated from its appellation peers, Lafite Rothschild and Latour, as the most flamboyant and sensual of the trinity. There is an undeniable sense of joie-de-vivre surrounding this hallowed estate, extending to its famous labels designed by the world's finest artists from Picasso to Warhol.

Even the winery, a vast and imposing shimmering white temple to the vinous arts was designed sv by the beloved Baroness Philippine de Rothschild to feel like a theatre with sweeping corridors and ram's headlight fixtures.

One of only two Châteaux to remain in the hands of the same family since 1855, this estate has long been a figurehead for how Bordeaux is perceived around the world and how it conducts its business. The first producer in the region to bottle the entirety of its production itself, it is thought that the initially denied First Growth status was due to politics of ownership and certainly not as a result of quality nor renown.

The Mouton vineyard is older than most in Bordeaux, with vines averaging 50 years, and some going back over 100! It is one of the world's truly 'great' wine estates.

Vintage Comparison

Valuation Tools

Wine Rating is intended to show the quality of the wine from an investment perspective. It takes into account the prices achieved by the producer, the quality of the vintage and the critics' scores for this wine. AAA is the best rating, and B the most speculative.

Please wait a few seconds whilst we process the market data for this wine...

Calculating...

Investment Rating

Wine Rating is intended to show the quality of the wine from an investment perspective. It takes into account the prices achieved by the producer, the quality of the vintage and the critics' scores for this wine. AAA is the best rating, and B the most speculative.

Show Investment Rating Guide

Graph