Ornellaia 2006 (1x150cl)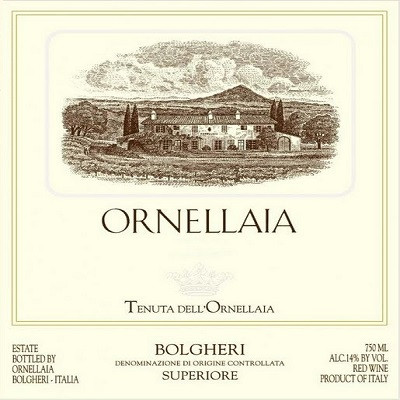 This is complex and fascinating. At first taste it is like a great California Cabernet mixed with a first growth Bordeaux. Delicious licorice, mint, and currants on the palate. Full bodied, chewy, with ultra fine tannins. A gorgeous, classy wine that needs to be left in the cellar for at least 5 years. Have fun with this one after 2015.


97

Antonio Galloni - Vinous

The 2006 Ornellaia (magnum) is a massive, towering masterpiece. There is awesome depth and richness to be found in the glass. Flowers, minerals, tar smoke and dark fruit are all woven in an intricate fabric of almost indescribable elegance and power. Tonight the 2006 Ornellaia is absolutely moving in its beauty and expressiveness. Vintage 2006 will go down as one of the all-time greats in Tuscany, and Bolgheri in particular, as all of that region's benchmark wines are spectacular. The 2006 shows the intensity of the small berries that were harvested that year, with exceptional concentration, acidity and freshness, qualities that are precious and exceedingly rare when they are found in a single wine. In 2006 the final blend is 56% Cabernet Sauvignon, 27% Merlot, 12% Cabernet Franc and 5% Petit Verdot. Simply put, the 2006 Ornellaia is a must-have bottle.



The 2006 Ornellaia flows from the glass in a profound expression of ripe, dark fruit. With time in the glass layers of minerals, cassis, tar, sweet herbs and French oak emerge, adding further complexity. This harmonious Ornellaia combines the richness of the vintage with superb freshness and awesome balance. Today the wine's sheer density almost manages to hide the tannins, but they are there, and the wine will ultimately benefit from a few years in the cellar. The 2006 Ornellaia is one of the highlights of this sensational Tuscan vintage. Anticipated maturity: 2016-2026.

Drinking Window: 2016 - 2026

Reviewer Name: Antonio Galloni

Review Date: 31st August 2009

Dark in color, showing loads of dark fruits on the nose, as well as licorice and berries and hints of mint and cedar. Full-bodied, with refined yet chewy tannins and a ripe berry, coffee and chocolate aftertaste. New wood barrels shine through. But it will all come together with bottle age. Cabernet Sauvignon, Merlot, Cabernet Franc and Petit Verdot.

Deep crimson. The funny thing is that this wine smells first and foremost Tuscan rather than like the Bordeaux blend that it is. A good thing! Very savoury with real tang and I could swear there was some Sangiovese in here. Zings with life but there is no obvious sweetness at all (cf its stablemate Masseto). Great, glamorous life and concentration. The alcohol is very well hidden. Tannins are clearly there but are all but completely hidden by the ripe but savoury fruit. The overall balance is definitely helped by the defiantly high acidity. Delicious young wine that should age beautifully.

Details

Year

2006

Colour

Red

Country

Italy

Region

Tuscany

Sub Region

Bolgheri

Designation

Classification

Pack Size

1x150cl

ABV

15.00°

Drinking Window

2016 - 2026

Drinking Recommendation

Drinking Now

LWIN

110202420060101500

Reviews (5)

This is complex and fascinating. At first taste it is like a great California Cabernet mixed with a first growth Bordeaux. Delicious licorice, mint, and currants on the palate. Full bodied, chewy, with ultra fine tannins. A gorgeous, classy wine that needs to be left in the cellar for at least 5 years. Have fun with this one after 2015.


97

Antonio Galloni - Vinous

The 2006 Ornellaia (magnum) is a massive, towering masterpiece. There is awesome depth and richness to be found in the glass. Flowers, minerals, tar smoke and dark fruit are all woven in an intricate fabric of almost indescribable elegance and power. Tonight the 2006 Ornellaia is absolutely moving in its beauty and expressiveness. Vintage 2006 will go down as one of the all-time greats in Tuscany, and Bolgheri in particular, as all of that region's benchmark wines are spectacular. The 2006 shows the intensity of the small berries that were harvested that year, with exceptional concentration, acidity and freshness, qualities that are precious and exceedingly rare when they are found in a single wine. In 2006 the final blend is 56% Cabernet Sauvignon, 27% Merlot, 12% Cabernet Franc and 5% Petit Verdot. Simply put, the 2006 Ornellaia is a must-have bottle.



The 2006 Ornellaia flows from the glass in a profound expression of ripe, dark fruit. With time in the glass layers of minerals, cassis, tar, sweet herbs and French oak emerge, adding further complexity. This harmonious Ornellaia combines the richness of the vintage with superb freshness and awesome balance. Today the wine's sheer density almost manages to hide the tannins, but they are there, and the wine will ultimately benefit from a few years in the cellar. The 2006 Ornellaia is one of the highlights of this sensational Tuscan vintage. Anticipated maturity: 2016-2026.

Drinking Window: 2016 - 2026

Reviewer Name: Antonio Galloni

Review Date: 31st August 2009

Dark in color, showing loads of dark fruits on the nose, as well as licorice and berries and hints of mint and cedar. Full-bodied, with refined yet chewy tannins and a ripe berry, coffee and chocolate aftertaste. New wood barrels shine through. But it will all come together with bottle age. Cabernet Sauvignon, Merlot, Cabernet Franc and Petit Verdot.

Deep crimson. The funny thing is that this wine smells first and foremost Tuscan rather than like the Bordeaux blend that it is. A good thing! Very savoury with real tang and I could swear there was some Sangiovese in here. Zings with life but there is no obvious sweetness at all (cf its stablemate Masseto). Great, glamorous life and concentration. The alcohol is very well hidden. Tannins are clearly there but are all but completely hidden by the ripe but savoury fruit. The overall balance is definitely helped by the defiantly high acidity. Delicious young wine that should age beautifully.


Producer

On the unspoilt coast of Tuscany, the Ornellaia winery was founded in 1981. Located by the sea but sheltered by neighbouring hills, they have a microclimate excellent for ripening conditions and stunning views. The grapes are hand harvested, rigorously sorted and microvinified. These rigorous standards help them make some of the finest Super Tuscans.

Value Comparison