Penfolds Bin 169 Cabernet Sauvignon 2018 (6x75cl)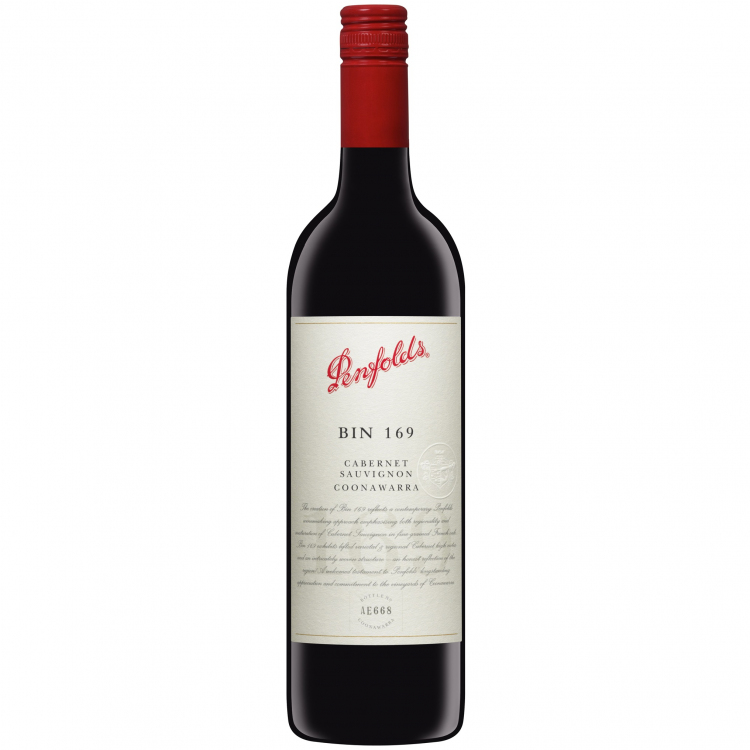 First released in 2008, Penfolds created the Bin 169 as an extension of Bin 707 – to showcase the unique expression of Cabernet Sauvignon from Coonawara. The Bin 169 has been a critical triumph since its foundation, and the 2018 vintage is another stupendous achievement:

"This is a purist's cabernet, turning its face on the mastery of the regional blending that is the birthmark of the Penfolds red wine style." – James Halliday (97 points, Halliday Wine Companion)

"Everything alluring about Cabernet is on show here." – David Sly (96 points, Decanter)
Very deep, dark, youthful purple/red colour, impressive in the glass. The bouquet is reserved and understated, with more earthy, savoury aromas coming first followed by cassisy cabernet-like nuances, the palate more elegant than expected with lovely purity of concentrated blackberry, blackcurrant cabernet fruit skilfully welded to neatly integrated oak characters. A cracking wine, concentrated but in no way heavy or overwrought. Indeed, it has real elegance. A delicious wine, and there's much more to come for those who are patient.
Drinking Window: 2022 - 2043
Reviewer Name: Huon Hooke
Review Date: 10th July 2020
97
Halliday Wine Companion
This is a close relative of RWT Bin 798 – single region and 100% French oak – and is dramatically different from Bin 707. This is a purist's cabernet, turning its face on the mastery of the regional blending that is the birthmark of the Penfolds red wine style. Vive la difference. Tannin is the heartbeat here, cassis and olive tapenade wrapped around the tannin, not vice versa. A roasted side of baby lamb is the way to go.
Reviewer Name: James Halliday
Review Date: 1st November 2020
A very elegantly complex nose with meticulously fresh aromas that range from red florals to violets, blueberries, redcurrants, blackcurrants and such sweetly perfumed cedary-oak spice. The palate has a very elegant, focused and piercingly central delivery of fine tannins,carrying pristine redcurrant and blackcurrant flavors. Seamlessly long, super fine and really packed with concentrated, contained, red-cherry and redcurrant flavors. Impressive. Drink or hold.
Review Date: 22nd July 2020
Everything alluring about Cabernet is on show here: regal lift and power on the nose, then a more subtle reveal on the palate through gossamer layers of cranberry, cassis, raspberry and fresh-cut herbs. Nothing showy but every component is in its right place. This proud declaration speaks deliberately of region and varietal character, and its bedrock of firm black tannins suggests that it has much more to reveal as it matures. Not available in the UK.
Drinking Window: 2022 - 2040
Reviewer Name: David Sly
Review Date: 7th July 2020
I always feel with this wine that you are getting to know Cabernet Sauvignon all over again, with its purity of grape expression, and here you get powerful cassis notes combined with liqourice root, bitter orange peel and crushed mint. Bin 169 can sometimes get lost among the Penfold's range, but this deserves to have its own place at the table. 4,000-5,000 cases overall, was initially released last year but is having a wider release through the Place this September.
Review Date: 6th September 2021
In effect, this is to Bin 707 as RWT is to Grange, a single-region expression of a classic regional variety, aged in 100% French oak. Would that it were priced similarly to RWT, but production is more limited, and the Chinese have seemingly fallen in love in Cabernet. The 2018 Bin 169 Coonawarra Cabernet Sauvignon (there was no 2017 bottled) boasts sumptuous aromas of ripe cassis, accented by hints of vanilla, cedar shavings, tobacco and baking spices. It's full-bodied, plush and velvety, but with a firm spine at its core that drives home the lengthy finish and strong varietal identity. Ideally, it needs a few years in the cellar to show its best, with potential longevity of two decades or more.
Drinking Window: 2025 - 2045
Reviewer Name: Joe Czerwinski
Review Date: 22nd July 2020
Veering Napawards in style on the nose ... though it's drier on the finish than any luxury California Cabernet is likely to be. Hint of blackberry fruit and still quite youthful plus a tiny bit of mintiness. For once I'm aware of the alcohol – unusual for wines in this Penfolds Collection 2020. Tannins quite insistent on the end. Just a tiny bit skinny. Nose and palate not quite integrated at present.
Drinking Window: 2023 - 2038
Review Date: 30th June 2020
Details

Year

2018

Colour

Red

Country

Australia

Region

South Australia

Sub Region

Coonawarra

Designation

Classification

Pack Size

6x75cl

ABV

14.5°

Drinking Window

2025 - 2045

Drinking Recommendation

Not Ready

LWIN

117912920180600750

Reviews (7)

Very deep, dark, youthful purple/red colour, impressive in the glass. The bouquet is reserved and understated, with more earthy, savoury aromas coming first followed by cassisy cabernet-like nuances, the palate more elegant than expected with lovely purity of concentrated blackberry, blackcurrant cabernet fruit skilfully welded to neatly integrated oak characters. A cracking wine, concentrated but in no way heavy or overwrought. Indeed, it has real elegance. A delicious wine, and there's much more to come for those who are patient.

Drinking Window: 2022 - 2043

Reviewer Name: Huon Hooke

Review Date: 10th July 2020

97

Halliday Wine Companion

This is a close relative of RWT Bin 798 – single region and 100% French oak – and is dramatically different from Bin 707. This is a purist's cabernet, turning its face on the mastery of the regional blending that is the birthmark of the Penfolds red wine style. Vive la difference. Tannin is the heartbeat here, cassis and olive tapenade wrapped around the tannin, not vice versa. A roasted side of baby lamb is the way to go.

Reviewer Name: James Halliday

Review Date: 1st November 2020

A very elegantly complex nose with meticulously fresh aromas that range from red florals to violets, blueberries, redcurrants, blackcurrants and such sweetly perfumed cedary-oak spice. The palate has a very elegant, focused and piercingly central delivery of fine tannins,carrying pristine redcurrant and blackcurrant flavors. Seamlessly long, super fine and really packed with concentrated, contained, red-cherry and redcurrant flavors. Impressive. Drink or hold.

Review Date: 22nd July 2020

Everything alluring about Cabernet is on show here: regal lift and power on the nose, then a more subtle reveal on the palate through gossamer layers of cranberry, cassis, raspberry and fresh-cut herbs. Nothing showy but every component is in its right place. This proud declaration speaks deliberately of region and varietal character, and its bedrock of firm black tannins suggests that it has much more to reveal as it matures. Not available in the UK.

Drinking Window: 2022 - 2040

Reviewer Name: David Sly

Review Date: 7th July 2020

I always feel with this wine that you are getting to know Cabernet Sauvignon all over again, with its purity of grape expression, and here you get powerful cassis notes combined with liqourice root, bitter orange peel and crushed mint. Bin 169 can sometimes get lost among the Penfold's range, but this deserves to have its own place at the table. 4,000-5,000 cases overall, was initially released last year but is having a wider release through the Place this September.

Review Date: 6th September 2021

In effect, this is to Bin 707 as RWT is to Grange, a single-region expression of a classic regional variety, aged in 100% French oak. Would that it were priced similarly to RWT, but production is more limited, and the Chinese have seemingly fallen in love in Cabernet. The 2018 Bin 169 Coonawarra Cabernet Sauvignon (there was no 2017 bottled) boasts sumptuous aromas of ripe cassis, accented by hints of vanilla, cedar shavings, tobacco and baking spices. It's full-bodied, plush and velvety, but with a firm spine at its core that drives home the lengthy finish and strong varietal identity. Ideally, it needs a few years in the cellar to show its best, with potential longevity of two decades or more.

Drinking Window: 2025 - 2045

Reviewer Name: Joe Czerwinski

Review Date: 22nd July 2020

Veering Napawards in style on the nose ... though it's drier on the finish than any luxury California Cabernet is likely to be. Hint of blackberry fruit and still quite youthful plus a tiny bit of mintiness. For once I'm aware of the alcohol – unusual for wines in this Penfolds Collection 2020. Tannins quite insistent on the end. Just a tiny bit skinny. Nose and palate not quite integrated at present.

Drinking Window: 2023 - 2038

Review Date: 30th June 2020

Producer

Established in 1844, Penfolds is Australia's most important winery with a star-studded cast of wines, including Grange, St Henri and Bin 707 Cabernet to name just a few. The wines are famed for their cellaring potential and are derived from vineyards across the Barossa region and South Australia. Penfolds wines quite rightly dominate the auction house, Langton's, Classification of Australian Wines.

Vintage Comparison

Valuation Tools

Wine Rating is intended to show the quality of the wine from an investment perspective. It takes into account the prices achieved by the producer, the quality of the vintage and the critics' scores for this wine. AAA is the best rating, and B the most speculative.

Please wait a few seconds whilst we process the market data for this wine...

Calculating...

Investment Rating

Wine Rating is intended to show the quality of the wine from an investment perspective. It takes into account the prices achieved by the producer, the quality of the vintage and the critics' scores for this wine. AAA is the best rating, and B the most speculative.

Show Investment Rating Guide

Graph