Pontet Canet 2020 (6x75cl)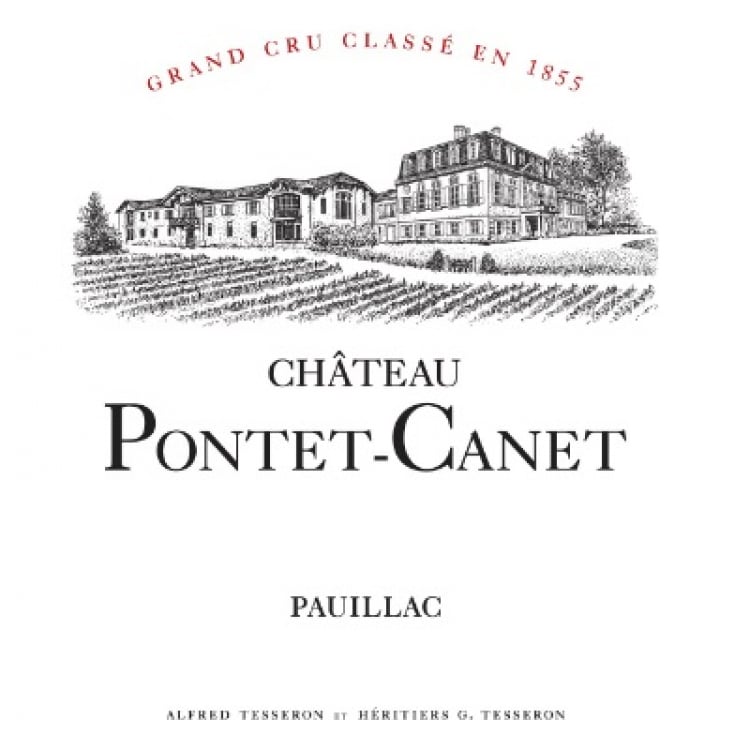 Well-situated in Pauillac with their principal vineyards located directly next to Château Mouton Rothschild, Pontet-Canet has risen rapidly to rival many First Growths for quality whilst remaining very reasonably priced.
Hailed as a "highly successful Pontet" that "overperforms on its 2019" (97 points DC) in the words of Jane Anson, the 2020 exudes personality. "A little old school in the best possible way", it's showing complex notes of "graphite pencil lead and cassis bud…hawthorn, sage, rosemary and wild mint".
Also scoring 98-99 points from James Suckling and 96-98+ points from the Wine Advocate, we concur with the major critics in unequivocally recommending this to all wine lovers.
This is integrated, with superb density and beauty, offering blackcurrant, mineral and some bark. Full-bodied, yet so polished and refined. Crushed stone. Lots of expression and texture to this wine. Creamy. Pure and precise. Elegant, yet layered. Slightly plusher than the 2019. Dense, yet agile. Fresh as always. 60% cabernet sauvignon, 32% merlot, 4% cabernet franc and 4% petit verdot. 50% new oak 15% old oak and 35% concrete amphorae.
Review Date: 4th May 2021
Highly successful Pontet, one of the few Pauillacs that, for me, overperforms on its 2019. Inky purple with ruby reflections in colour. Lots of firm but upright tannins, a good dollop of graphite, pencil lead and cassis bud, there is depth through the mid palate shot through with wild blackberry, hawthorn, sage, rosemary and wild mint. It has personality, and is a little old school in the best possible way. Recommended. They have avoided the over-concentrated feel of some Pauillacs in the vintage, while remaining true to the appellation. 4% Petit Verdot completes the blend, 50% new oak 35% amphoras, 15% one-year barrels. First full vintage for Mathieu Bessonnet who replaced the previous long-term director Jean-Michel Comme in 2020. 100% first wine, as it has been for the past four years. 45% will be aged in new oak barrels, 15% one year, 40% in amphoras. The mildew pressure was stressful in the early part of the year, but they had learnt from 2018, and brought in the manpower to get around the whole vineyard in a (very long) day, so their yields ended up being close to normal.
Drinking Window: 2028 - 2042
Reviewer Name: Jane Anson
Review Date: 1st May 2021
The 2020 Pontet-Canet is a blend of 60% Cabernet Sauvignon, 32% Merlot, 4% Cabernet Franc and 4% Petit Verdot, aging in 50% new French oak barriques, 35% concrete amphorae and 15% in one-year-old barrels. Harvest began on the 14th September for the Merlot, and the final lot of Cabernet Sauvignon was harvested on 30th September.

Opaque purple-black in color, it needs significant aeration and swirling to coax out evocative notes of black cherry preserves, raspberry pie, blackcurrant pastilles and damp soil, before launching into gorgeous floral and spice notions of red roses, cinnamon stick, star anise and cardamom, with a waft of crushed rocks. The medium to full-bodied palate reveals a lot of depth and polish, delivering mouth-coating red and black fruits with loads of fragrant earth and floral sparks, framed by velvety tannins and seamless freshness, finishing long and mineral tinged. This is a singular, fascinating expression of the vintage and highly recommended!

"The difference in our wine is really how we work in the vineyard," said Justine Tesseron, who now works very closely with her father Alfred Tesseron, owner of Château Pontet-Canet. "Every year we go to another level. First, we have great terroir. My grandfather was avant-garde when he chose our site. Then with the approach my father developed—biodynamics. But, as you know, every year is challenging because of the conditions. In 2018, we lost two-thirds of production because of mildew. In 2020 we were very scared. We didn't want to have the same situation. Our vineyard people were very motivated. We didn't miss any treatments—even on Saturday and Sunday. We HAD to be in the vineyard. Everyone was there. In the end, we didn't lose any crops due to mildew. We kept it contained and it did not spread to the grapes."

"It was also challenging because of the very warm, dry days," she added. "We had a bit of drought. But all the treatments we use, based on plants, have meant that the vineyard is in good balance. It was not too much affected by the drought. At Pontet-Canet we don't deleaf or do green harvest. The leaves protected the grapes."

I asked Justine about the rains that occurred in mid-August—85 millimeters (3.35 inches)—nearly a month after the start of veraison. She said, "Yes, I think we managed the rain well. Mathieu Bessonnet, our technical director, decided to leave the grass growing between the rows this year, in anticipation of water. The grass was quite high. It managed to soak up a lot of the water. The berries were in good condition afterwards. We did not get dilution."

In the end, Pontet-Canet came through with yields that were just slightly lower than 2019, which was a relatively generous year for this estate. And the wine? Absolutely singular. Absolutely Pontet-Canet.

Drinking Window: 2026 - 2056
Reviewer Name: Lisa Perrotti-Brown
Review Date: 20th May 2021
The 2020 Pontet-Canet is captivating effort from the Tesseron family. The intensely perfumed, savory bouquet is immediately alluring. Deep and substantial, the 2020 is luxuriously rich from start to finish. Swaths of incisive tannin wrap around a core of dark red cherry fruit, gravel, dried herbs and rose petal, and a whole range of floral and savory accents lend aromatic presence. The Pontet-Canet is often a charmer en primeur, but the 2020 comes across as quite serious. I can't wait to see how it develops. As always, one of the signatures of Pontet-Canet is a high proportion of Merlot vis-à-vis its peers among top Left Bank châteaux that lends tremendous midpalate weight. In 2020 production is within historical norms. Mildew pressure was high, but not as severe as in 2018, when two-thirds of the crop was lost in a single day. Harvest took place September 14–30, a bit more of a compact time frame than normal, and a good 7–10 days earlier than is typically the case. Aged in 50% new oak, 35% amphora and 15% once-used barrels.
Drinking Window: 2035 - 2060
Reviewer Name: Antonio Galloni
Review Date: 1st June 2021
The 2020 Pontet Canet, picked from 14 to 30 September, has a well-defined bouquet with scents of black cherries, raspberry, crushed iris and violet. This is demonstrating more delineation than the 2018 that was tasted just a couple of days previously. The palate is medium-bodied with quite a spicy entry, a liberal sprinkling of black pepper and a hint of cedar. Fine structure and focus here. It is fresh with a touch of pencil lead towards the finish, and a touch of pepper lingering on the aftertaste. Here, I can taste Pauillac DNA, which has been my pet peeve in recent vintages. I look forward to revisiting this in bottle. Tasted at the estate with Alfred and Justine Tesseron.
Drinking Window: 2027 - 2053
Reviewer Name: Neal Martin
Review Date: 1st May 2021
60% Cabernet Sauvignon, 32% Merlot, 4% Cabernet Franc, 4% Petit Verdot. Cask sample.
Dark, dense and very ripe on the nose. Riper than most Pauillacs tasted. Suave attack then a firm charge of grainy tannin. Fresh and persistent but some chew on the finish. (JL)
Drinking Window: 2027 - 2040
Reviewer Name: James Lawther MW
Review Date: 26th April 2021
Video

Details

Year

2020

Colour

Red

Country

France

Region

Bordeaux

Sub Region

Pauillac

Designation

Classification

Pack Size

6x75cl

ABV

12.50°

Drinking Window

2035 - 2060

Drinking Recommendation

Not Ready

Certified Organic

Yes

Certified Biodynamic

Yes

LWIN

101430720200600750

Reviews (6)

This is integrated, with superb density and beauty, offering blackcurrant, mineral and some bark. Full-bodied, yet so polished and refined. Crushed stone. Lots of expression and texture to this wine. Creamy. Pure and precise. Elegant, yet layered. Slightly plusher than the 2019. Dense, yet agile. Fresh as always. 60% cabernet sauvignon, 32% merlot, 4% cabernet franc and 4% petit verdot. 50% new oak 15% old oak and 35% concrete amphorae.

Review Date: 4th May 2021

Highly successful Pontet, one of the few Pauillacs that, for me, overperforms on its 2019. Inky purple with ruby reflections in colour. Lots of firm but upright tannins, a good dollop of graphite, pencil lead and cassis bud, there is depth through the mid palate shot through with wild blackberry, hawthorn, sage, rosemary and wild mint. It has personality, and is a little old school in the best possible way. Recommended. They have avoided the over-concentrated feel of some Pauillacs in the vintage, while remaining true to the appellation. 4% Petit Verdot completes the blend, 50% new oak 35% amphoras, 15% one-year barrels. First full vintage for Mathieu Bessonnet who replaced the previous long-term director Jean-Michel Comme in 2020. 100% first wine, as it has been for the past four years. 45% will be aged in new oak barrels, 15% one year, 40% in amphoras. The mildew pressure was stressful in the early part of the year, but they had learnt from 2018, and brought in the manpower to get around the whole vineyard in a (very long) day, so their yields ended up being close to normal.

Drinking Window: 2028 - 2042

Reviewer Name: Jane Anson

Review Date: 1st May 2021

The 2020 Pontet-Canet is a blend of 60% Cabernet Sauvignon, 32% Merlot, 4% Cabernet Franc and 4% Petit Verdot, aging in 50% new French oak barriques, 35% concrete amphorae and 15% in one-year-old barrels. Harvest began on the 14th September for the Merlot, and the final lot of Cabernet Sauvignon was harvested on 30th September.

Opaque purple-black in color, it needs significant aeration and swirling to coax out evocative notes of black cherry preserves, raspberry pie, blackcurrant pastilles and damp soil, before launching into gorgeous floral and spice notions of red roses, cinnamon stick, star anise and cardamom, with a waft of crushed rocks. The medium to full-bodied palate reveals a lot of depth and polish, delivering mouth-coating red and black fruits with loads of fragrant earth and floral sparks, framed by velvety tannins and seamless freshness, finishing long and mineral tinged. This is a singular, fascinating expression of the vintage and highly recommended!

"The difference in our wine is really how we work in the vineyard," said Justine Tesseron, who now works very closely with her father Alfred Tesseron, owner of Château Pontet-Canet. "Every year we go to another level. First, we have great terroir. My grandfather was avant-garde when he chose our site. Then with the approach my father developed—biodynamics. But, as you know, every year is challenging because of the conditions. In 2018, we lost two-thirds of production because of mildew. In 2020 we were very scared. We didn't want to have the same situation. Our vineyard people were very motivated. We didn't miss any treatments—even on Saturday and Sunday. We HAD to be in the vineyard. Everyone was there. In the end, we didn't lose any crops due to mildew. We kept it contained and it did not spread to the grapes."

"It was also challenging because of the very warm, dry days," she added. "We had a bit of drought. But all the treatments we use, based on plants, have meant that the vineyard is in good balance. It was not too much affected by the drought. At Pontet-Canet we don't deleaf or do green harvest. The leaves protected the grapes."

I asked Justine about the rains that occurred in mid-August—85 millimeters (3.35 inches)—nearly a month after the start of veraison. She said, "Yes, I think we managed the rain well. Mathieu Bessonnet, our technical director, decided to leave the grass growing between the rows this year, in anticipation of water. The grass was quite high. It managed to soak up a lot of the water. The berries were in good condition afterwards. We did not get dilution."

In the end, Pontet-Canet came through with yields that were just slightly lower than 2019, which was a relatively generous year for this estate. And the wine? Absolutely singular. Absolutely Pontet-Canet.


Drinking Window: 2026 - 2056

Reviewer Name: Lisa Perrotti-Brown

Review Date: 20th May 2021

The 2020 Pontet-Canet is captivating effort from the Tesseron family. The intensely perfumed, savory bouquet is immediately alluring. Deep and substantial, the 2020 is luxuriously rich from start to finish. Swaths of incisive tannin wrap around a core of dark red cherry fruit, gravel, dried herbs and rose petal, and a whole range of floral and savory accents lend aromatic presence. The Pontet-Canet is often a charmer en primeur, but the 2020 comes across as quite serious. I can't wait to see how it develops. As always, one of the signatures of Pontet-Canet is a high proportion of Merlot vis-à-vis its peers among top Left Bank châteaux that lends tremendous midpalate weight. In 2020 production is within historical norms. Mildew pressure was high, but not as severe as in 2018, when two-thirds of the crop was lost in a single day. Harvest took place September 14–30, a bit more of a compact time frame than normal, and a good 7–10 days earlier than is typically the case. Aged in 50% new oak, 35% amphora and 15% once-used barrels.

Drinking Window: 2035 - 2060

Reviewer Name: Antonio Galloni

Review Date: 1st June 2021

The 2020 Pontet Canet, picked from 14 to 30 September, has a well-defined bouquet with scents of black cherries, raspberry, crushed iris and violet. This is demonstrating more delineation than the 2018 that was tasted just a couple of days previously. The palate is medium-bodied with quite a spicy entry, a liberal sprinkling of black pepper and a hint of cedar. Fine structure and focus here. It is fresh with a touch of pencil lead towards the finish, and a touch of pepper lingering on the aftertaste. Here, I can taste Pauillac DNA, which has been my pet peeve in recent vintages. I look forward to revisiting this in bottle. Tasted at the estate with Alfred and Justine Tesseron.

Drinking Window: 2027 - 2053

Reviewer Name: Neal Martin

Review Date: 1st May 2021

60% Cabernet Sauvignon, 32% Merlot, 4% Cabernet Franc, 4% Petit Verdot. Cask sample.
Dark, dense and very ripe on the nose. Riper than most Pauillacs tasted. Suave attack then a firm charge of grainy tannin. Fresh and persistent but some chew on the finish. (JL)

Drinking Window: 2027 - 2040

Reviewer Name: James Lawther MW

Review Date: 26th April 2021

Producer

There's an old show business saying it takes twenty years of hard work to be an overnight success. If this is the case, in the past few stellar Bordeaux vintages, Pontet Canet has been the leading star stealing the limelight from its illustrious Pauillac neighbours, including Lafite and Mouton. Not bad for a mere cinquième (5th) cru. In reality, it has been 20 - 30 years of hard work by owner Alfred Tesseron, through implementing radical concepts such as biodynamics and even employing horses from Brittany to cultivate the precious vines. Techniques other wineries are chasing to catch up.

Vintage Comparison

Valuation Tools

Wine Rating is intended to show the quality of the wine from an investment perspective. It takes into account the prices achieved by the producer, the quality of the vintage and the critics' scores for this wine. AAA is the best rating, and B the most speculative.

Please wait a few seconds whilst we process the market data for this wine...

Calculating...

Investment Rating

Wine Rating is intended to show the quality of the wine from an investment perspective. It takes into account the prices achieved by the producer, the quality of the vintage and the critics' scores for this wine. AAA is the best rating, and B the most speculative.

Show Investment Rating Guide

Graph