Chapel Down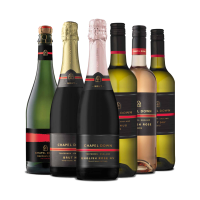 About Chapel Down
Found in the quintessentially English area of Tenterdon in Kent, Chapel Down has led the charge to enhance both the fortunes and reputation of English wine around the globe.
Having been established now for well over two decades, Chapel Down is rivalled only by Nyetimber as the leading producer of Champagne-method sparkling wines in the entire country, an accolade earned through dedicated hard work and excellence in both the vineyard and the winery.
The potential of the South of England as terroir for cultivating the same noble grapes are found in the legendary wines of Champagne has been well recognised for a number of decades. Kit's Coty vineyard is a 95 acre vineyard on the North Downs of Kent. Its southerly aspect ensures the vines capture the sunshine all year long whilst the warm, free-draining chalk soils provide the perfect terroir for producing well balanced, intensely flavoured fruit. Yields are kept ruthlessly low, as is to be expected of such an ambitious team, which helps to maintain vine balance therefore allowing vines to fulfil their potential.
Chapel Down's wines
Chapel Down have given it a remarkably good go in such a short space of time. Kit's Coty Blanc de Blancs is, in essence, the logical continuation of an ambitious project to emulate the practices of legendary producers such as Krug, whose equivalent wine would be the mythical Clos de Mesnil. Both beautiful wines are crafted from grapes sourced entirely from a single vineyard, the best vineyard available to either in fact, and both made entirely of Chardonnay.