Conti Costanti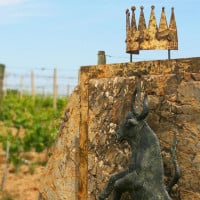 About Conti Costanti
The Costanti family has owned this 10 hectare estate for more than 200 years. The current proprietor, Andrea Costanti, has ushered in a new age of unparalleled excellence at the property through hard graft and savvy upgrades to the cellar and vineyard management. Now at the very zenith of Montalcino, Conti Costanti is consistently rivalling its most illustrious neighbour, Biondi Santi.
Located in the cooler North-Eastern area of Montalcino, Conti Costanti has historically found ripeness difficult to achieve at the lofty 380 and 450 meter altitude at which their vines sit. When Andrea originally began working in the vineyards in the early eighties, this was seemingly an inevitability with which the estate was forced to live. Today, however, with an increasing number of regions expressing concern regarding the advance of Global Warming, increased temperatures in the region are balanced by the cold currents that blow through the hillside vineyards of Conti Costanti at night. One man's loss is another's gain, and this tension between warm and cool is allowing the Constanti family to produce incredibly perfumed, ripe and concentrated fruit which becomes breathtaking wine.
There are no products matching the selection.