Doyard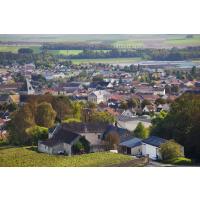 About Doyard
The Doyard family can trace their vinous roots to at least 1677. A marriage licence from that year lists a Jean-Baptiste Doyard's occupation as "winegrower", and the family have had a presence in the Côte de Blancs village of Vertus ever since.
It was not until 1927, however, that Maurice Doyard broke new ground for the family and crafted Champagne under their own label, thus signifying the official creation of Champagne Doyard almost a century ago. Four generations have now toiled amongst the most beautiful Chardonnay (and to a lesser extent Pinot Noir) vines in Grands and 1er Crus such as Le Mesnil-Sur-Oger, Avize and Vertus itself as both winegrowers and winemakers.
Guillaume Doyard currently helms his family estate following the tragic death of his older brother Charles in 2017 at the age of just 31. Recognised as an energetic and hugely talented vigneron, we are honoured to offer a selection of some of the final wines the young maestro crafted from his hallowed ancestral vineyards.
Viniculture
10 hectares in total, all of which are Grand or 1er Cru level, are farmed with strictly biodynamic processes including some diligent and ever-trusty Shire horses in lieu of tractors. This respect for the terroir is undoubtedly the first step in the long and painstaking process which results in incredible Champagnes of unfathomable concentration, complexity and depth. This house style has garnered Doyard one of the most zealous and consistent followings amongst those in the know.
In the cellar, state-of-the-art Coquard PAI presses are employed to extract the cleanest and most delicate juice from individual parcels, which are all vinified separately in barrel. Extraordinarily, and a testament to the relentless drive for perfection, every single cuvée undergoes a minimum 48 months of lees aging prior to disgorgement, developing the beguiling characteristics which can only be achieved using this method.
Prices:
Year
Wine
Region
Format
Qty
Score
Price
Wishlist

Doyard Grand Cru Les Lumieres 2008 (1x75cl)

Inc. VAT: £425.83

2008
Champagne
1x75cl
1
98 (WA)

Read Review/Description

Inc. VAT: £425.83
Year
Wine
Region
Format
Qty
Score
Price
Wishlist

Doyard Grand Cru Les Lumieres 2008 (1x75cl)

In Bond: £352.00

2008
Champagne
1x75cl
1
98 (WA)

Read Review/Description

In Bond: £352.00