Château Ducru-Beaucaillou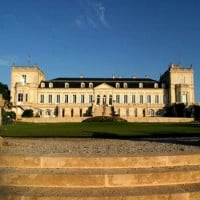 Château Ducru-Beaucaillou
Château Ducru-Beaucaillou is 2ème Grand Cru Classé property in Saint Julien on Bordeaux's Left Bank. The word "Beaucaillou" translates as "beautiful stones" because of the large pebbles which cover the soils of the estate. This property can trace its roots back to the C13th, making it one of Bordeaux's most historic estates.
Bertrand Ducru purchased the estate in 1795. He added his name to the winery which quickly earned fame under the name of Château Ducru-Beaucaillou. Successful Bordeaux wine merchant Francis Borie acquired the estate in 1941 (there is hope for us all!). Since 2003, Bruno Borie has been the proprietor and he is firmly in charge of everything that takes place here. Bruno is largely responsible for the recent stratospheric rise of this estate.
The 75 hectare Saint Julien vineyard is planted with a neatly proportioned 70% Cabernet Sauvignon and 30% Merlot, Bruno's arrival was swiftly followed by a ruthless yet necessary reduction in yields, resulting in production dropping from 13,000 cases to 9,000 cases in his first vintage (2003) alone. The relentless quest to elevate what was already one of the region's great wines to amongst the very best hasn't ceased some 17 years later.
All manner of non-intrusive technology is employed at Ducru-Beaucaillou, from GPS and electrode growth-tracking to the introduction of laser-based sorting tables in the winery. All plots are, as is the case with most of the serious Bordeaux producers, vinified separately according to the fruit's very individual needs. Aged almost entirely (90%+) in new oak, it is a testament to both the prowess of the Ducru team, aided by revered consultant Eric Boissenot, as well as the transcendent terroir that this wine remains so restrained, polished, pure and ultimately elegant.