Guy Breton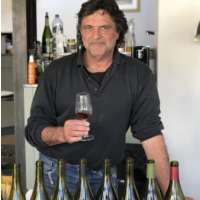 About Guy Breton
One of the most dynamic, beloved and well-respected vignerons in the famous region of Beaujolais, Guy Breton is affectionately known as P'tit Max by friends and admirers of his work alike. The talented winemaker and character took the helm of his family estate in 1986, at the height of Beaujolais' unfortunate descent into reliance on mass-produced, rapidly bottled generic wines shipped without thought all over the world.
Breton was disheartened by the prevalence of vast cooperative wineries, which had for a number of years been importing non-native yeast cultures and implementing high-tech carbonic maceration techniques to speed up the process of vinification whilst robbing the wines of all sense of place and structure – Beaujolais had, for all intents and purposes, no terroir...
Viniculture
Taking their lead from the staunch traditionalist Jules Chauvet, Guy formed what became known as the "Gang of Four" alongside Marcel Lapierre, Jean-Paul Thévenet and Jean Foillard. The Gang called for a return to the old practices of viticulture and vinification, commencing first and foremost with old vines. Discarding the damaging practices of synthetic herbicides and pesticides, the four favoured late harvesting, rigorous sorting to remove all but the healthiest grapes, adding minimal doses of sulfur dioxide or none at all, and refusing both chaptalization and filtration. The end result, in P'tit Max' case, allows the appellation of Morgon to express itself naturally.
Managing a relatively small estate of just over four hectares, Breton subsidises his fruit with grapes sourced from trusted growers who share his philosophy of terroir expression but may lack his winemaking skill.
A gorgeous expression from Morgon appellation, the "Vielles Vignes" cuvée is sourced from old vines planted in Saint Joseph and Grand Cras subzones – incidentally, the epithet "old vine" is no idle brag, the average age of Gamay in this blend is a staggering 80 years.
Prices:
Year
Wine
Region
Format
Qty
Score
Price
Wishlist

Guy Breton Regnie 2019 (12x75cl)

Inc. VAT: £332.14

2019
Beaujolais
12x75cl
1
92 (VN)

Read Review/Description

Inc. VAT: £332.14
Year
Wine
Region
Format
Qty
Score
Price
Wishlist

Guy Breton Regnie 2019 (12x75cl)

In Bond: £250.00

2019
Beaujolais
12x75cl
1
92 (VN)

Read Review/Description

In Bond: £250.00